Executive summary:
From 50 Most Attended Stocks, ETFs on Seeking Alpha.
13 Best-ranked near-future price gain prospects by Market-Maker Forecasts.
12 Worst-ranked by credibility of forecasts vs. prior gain achievements.
Win-Loss Odds on Good vs. Ugly, name by name, now.
Odds and Price Payoffs of market average (NYSEARCA:SPY), stock and ETF population of 2500.
_________________________________
Wall Street opinions are in oversupply, honesty in shortage. How to discriminate (not a bad word) between the two?
Follow the money. When a product is bought - for cash, not on credit and returnable - then the buyer means business. That's what market-makers [MMs] do with price insurance to hedge the market risks they must temporarily expose their capital to in order to be competitive in their business.
Those purchases tell the truth about how far they think prices will get pushed by their big-money fund clients - clients that need their help in getting into, and getting rid of, stock positions in big enough volume to make a difference in their billion-dollar portfolios.
We use logic and understanding of how markets work to translate, via intelligent behavior analysis, the MMs' self-protective actions into specific price range forecasts. Then we keep book on how well their previous forecasts were subsequently borne out in the reality of the marketplace.
That's what produced this table of the stocks and ETFs of greatest interest to readers, contributors, and commenters at Seeking Alpha.
The "Good" scoring names are those where, at current forecast levels, the MMs have demonstrated skill in being able to foresee what was likely to be coming in specific prices. The "Ugly" names showed just the opposite. Not that the companies, their managements, nor even their competitive skills and prospects were ugly - just that at these prices and prospects, the results of an investment commitment of capital is likely to be undesirable.
That's as the MMs see it. Now.
Tomorrow will be some different, and weeks from now, maybe even the reverse of now.
Those changes are called opportunities by wealth-building active investors. They are called time-assassins for the buy and hold deluded. Which perspective and strategy is your choice, so go to it!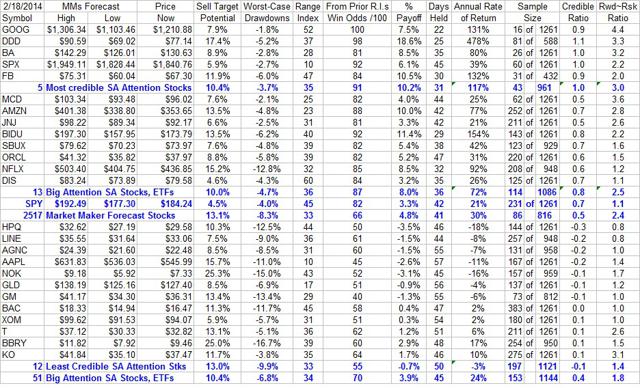 Google, Inc. (NASDAQ:GOOG) is the reliable high-reward vs. low-risk stock, even priced at mid-range. One month to sell targets has produced triple-digit rates of return.
3D Systems Corp. (NYSE:DDD) has ridden new-technology enthusiasm to double-digit gains in little five-week holding periods for incredible rates of return, and MMs see it continuing.
Boeing (NYSE:BA) is a big-cap surprise with recovery afoot from big-fund commitments anticipated and small drawdowns from current price levels foreseen.
Facebook Inc. (NASDAQ:FB) now seems to finally have it in gear and is building on former widespread skepticism. Double-digit payoff achievements in 6-week holding periods make for more triple digit annual rate expectations.
But attention may be deserved for concerns, too
Some big-name stocks are closely watched because their MM forecasts may have unsupportable future upside expectations. Check out the disparities between sell-target promises and past actual gains (or losses in some cases) from forecasts just like today's in the 12 issues listed below those blue-row totals and averages in mid-table. There have been many disappointments.
Better buys may be in the future, rather than now.
Disclosure: I have no positions in any stocks mentioned, and no plans to initiate any positions within the next 72 hours. I wrote this article myself, and it expresses my own opinions. I am not receiving compensation for it (other than from Seeking Alpha). I have no business relationship with any company whose stock is mentioned in this article.