Pengrowth Energy (NYSE:PGH) continues to represent one of the best value and growth at a reasonable price plays in the Canadian oil patch. I first wrote about Pengrowth last July when the stock had fallen below $5.00 a share and the investor sentiment was frankly awful. Frequently, that is the best time to buy a stock and that certainly was the case with Pengrowth. Since that article was published a little over 6 months ago Pengrowth stock has risen about 36% in price in addition to paying out about $0.24 or about 6% in dividends for the period.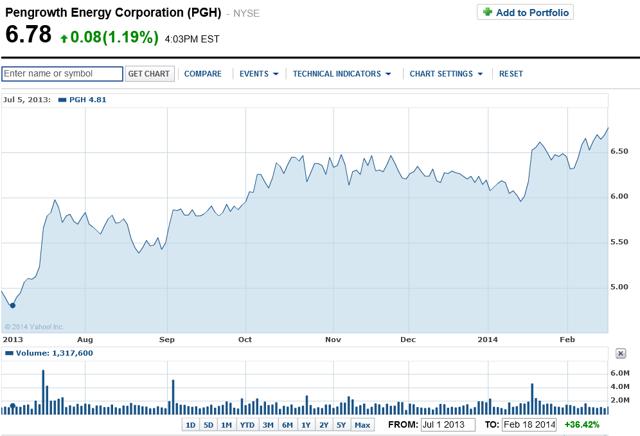 Pengrowth entered 2013 with too much debt and what appeared to be an unsustainable dividend after a few dismal years where the stock fell from the teens and a lot of investors lost money. I was one of them. But during 2013, management changed and the new team impressed me so I did a classical "double down" an increased my position from about 50,000 shares to 160,000 shares. The new team planned to reduce debt by selling "non-core" assets; develop a sustainable capital plan; and, focus on the long term development of the Lindbergh Steam Assisted Gravity Drainage ("SAGD") project in the Pengrowth portfolio. Initial pilot rests showed promise and the company had a plan so I bought in.
During 2013 the dividend rate was cut in half to the current $0.04 (Canadian) per month and $1 billion of assets were divested. Lindbergh met its objectives and is on track for 12,500 barrels a day of production beginning in 2015. Pengrowth entered 2014 with over $400 million cash on hand and a solid plan to fund not only its capital program but also to pay the reduced dividend.
A few tailwinds have not hurt. Oil prices have been relatively firm, natural gas prices have risen with the very cold winter and the Canadian dollar has fallen against the U.S. currency effectively reducing operating costs. The benefits of these tailwinds are somewhat muted by the hedging program management has in place to ensure it can meet its obligations and fund its capital programs even if commodity prices fall, but they remain tailwinds and point to an upside surprise when the company reports earnings for the next quarter or two.
My July 2013 article drew only a handful of comments, most positive and most by readers who held positions in Pengrowth. I wrote again January 24, 2014 after the stock had enjoyed a good run and received a few more comments, again mostly positive and again from investors who had the patience to stay with it.
SA publishes the performance of a given stock versus ETF alternatives on the first page of every article, a practice that encourages investors to make informed choices. In the case of Pengrowth that chart looks like this: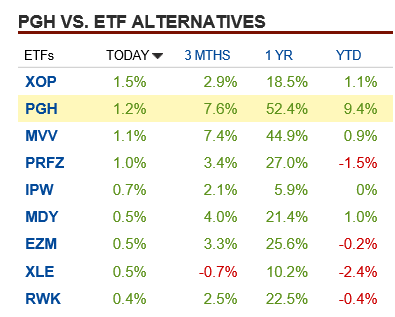 I mention the chart because it shows the value of patience. Pengrowth is the best performing alternative on the list for one day, for three months, for a year and for year to date, and not by a small margin.
Yielding 6.5% and trading at about 7 times my estimate of 2014 cash flows, the stock is reasonably priced for a small cap oil name
The message is clear. Investors who do their homework, buy out of favor stocks where there are catalysts for positive change and who stay with their investment for more than a trade do very well. In my view, the positive trend for Pengrowth has legs. If the company keeps executing against its plan as they have been doing; sustains its transparency in investor reporting (something that came with the new management team); and commodity prices don't fall out of bed, there is no reason this stock cannot rebuild itself back into the high teens or low $20's over the next year or two.
Pengrowth will release 2013 results March 3, 2014. I expect the company to guide higher at that time based on the tailwinds I mentioned, and of course we will get new data on the success or failure of their drilling programs. Full year results are often catalysts for stock price changes where management has a story to tell and tells it well. I expect to hear quite positive news on the release.
I hope so. I have a little over $1 million riding on it.
Disclosure: I am long PGH. I wrote this article myself, and it expresses my own opinions. I am not receiving compensation for it (other than from Seeking Alpha). I have no business relationship with any company whose stock is mentioned in this article.