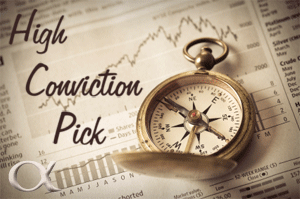 Gary Gordon is president of Pacific Park Financial in Aliso Viejo, Calif., a registered investment advisor that focuses on asset protection and guarding against downside risk. A CFP, Gary has more than 20 years of experience as a personal coach in various money matters, including risk assessment, small business development and portfolio management, and has consulted as an educator in several countries. He also hosts the ETF Expert podcast.
Seeking Alpha recently got the chance to ask him about his highest-conviction position.
What is your current highest-conviction U.S. stock position, whether long or short?
My company Pacific Park Financial is an RIA, and for a great many moderate growth and income clients, I am currently long Energy Transfer Partners (NYSE:ETP). An important note: Longtime followers know that I do not "buy and hold" any market-based security for any reason, including those positions that I may have held for the last 15 months or more, like ETP.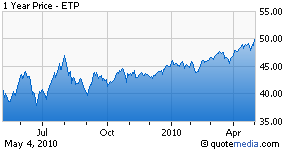 Dallas-based Energy Transfer Partners is a master limited partnership engaged primarily in the gathering, processing, storage and transportation of natural gas. Fundamentally speaking, the U.S. has monstrous demand for the infrastructure to transport energy products throughout the U.S.
No company in this space is in better shape to use existing pipeline structures and recently approved pipeline structures both to grow and to consistently pay a rewarding income stream of 7.25% annually. In fact, since few companies can even get the land to approve for pipeline projects, Energy Transfer Partners has a noticeably "wide moat" to keep competitors at bay.
Tell us a little more about ETP's position against competitors.
Energy Transfer effectively embodies a wide moat as the untouchable intrastate gas pipeline system in Texas. It moves liquid anywhere within Texas at the best price - and other companies can't touch them in their backyard.
Meanwhile, ETP is taking its proven intrastate Texas model on the "interstate" road. For example, in a highly regulated environment, Energy Transfer secured approval for a pipeline loop project between East Texas and seven interstate pipelines at different locations in Louisiana. There are no competitors with this type of reach in natural gas price and distribution in the region.
So nobody is competing very effectively with ETP... are there other companies in the space that are at least trying to match what it's accomplishing?
Sure. I think Enbridge (NYSE:EEP) and Kinder Morgan (NYSE:KMP) are good companies… and I like most of the MLP space, including these companies. Yet it is less likely that these two can complete projects or make acquisitions and boost cash flow, whereas it is more likely ETP can do just that! Either the yield or capital appreciation could possibly suffer on EEP and KMP, so monitoring them is even more crucial. Moreover, EEP has a questionable track record for spending free cash in the past.
Bottom line? ETP is the safer decision, and arguably the better rated MLP for financial health.
How much is this an "industry pick" as opposed to a pure bottom-up pick?
If forced to choose here, it's at least as much an industry pick as it is a bottom-up pick. In fact, ETF investors might be intrigued by the prospect of the Alerian MLP Index ETN (NYSEARCA:AMJ), which is not a bad proxy for those seeking 6%-plus income from a sector that is dominated by a handful of transporters.
By the same token, I view Energy Transfer Partners as one of the top three master limited partnerships. Not only does it boast one of the premier natural gas systems, it has consistency of income distribution, low debt, clear growth prospects and competitive advantages.
How does valuation compare to the competitors?
On a strictly price-to-forward earnings projection, Energy Transfer may be around the average of 16 or so. And its profit margins of 6% may not be all that exceptional; nothing to write home about.
Yet this is as much as an income investment as anything else. These are reliable margins on increasing revenue. And 7.25% annually is about as good as it gets.
When you look at the total return alternatives out there - you see REITs, you see preferred stock shares. Many of them are still tied to a financial/real estate world that seems a bit speculative and volatile, let alone yields that aren't as impressive as MLP yields.
When you're collecting 7.25% annually with the potential for price appreciation, well… it's hard to argue with it. At least for the present.
What could go wrong with this pick?
There are some studies that suggest the best value for MLPs occurs when there's a spread of 300 basis points between MLPs and the 10-year note. The 10-year note at 3.75% and rising over the medium term may present a challenge, especially if Energy Transfer Partners doesn't raise the distributions to keep pace with probable capital appreciation. I'd start to worry about a 7.25% yield dropping to a 6.25% yield.
Even the Alerian MLP ETN could struggle if rates rise more significantly. My belief is that investors are still stretching for yield right now, though. Until and unless the 10-year makes a serious push at 4.25%-plus, MLPs should still be worthy. That said, you better believe that I'll be watching charts and 200-day moving averages.
Commodity prices might also rattle Energy Transfer. Since they do a bit more than transport natgas alone, risks in pricing could cause some unforeseen hiccups. And then there's always the possibility of a breakdown or explosion, not unlike what happened in BP's (NYSE:BP) offshore debacle.
Thanks, Gary, for sharing your thesis with us.
Disclosure: Pacific Park Financial is long ETP in client accounts.
Read more High Conviction Picks »
If you are a fund manager and interested in doing an interview with us on your highest conviction stock holding, please email Rebecca Barnett.