Gogo Inc. (NASDAQ:GOGO) shares were awarded nearly a 9% haircut on Friday after news that WestJet selected Panasonic for its in-flight entertainment and internet service.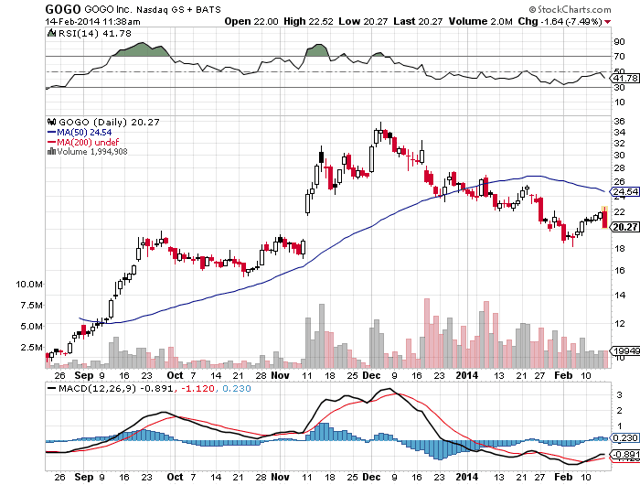 This should be viewed more as a positive given that a federal judge in California recently allowed a suit alleging "monopoly" over Gogo's long-term contracts to move forward. It lends evidence that there are other players creating competition.
Gogo, also, recently announced it had surpassed 2000 Gogo Biz system installations in the business aviation market.
There are a number of catalysts that could affect the stock price one way or the other, but the most recent pull back in the stock price has nothing to do with what is occurring in the company and, once again, lends itself to Abusive Naked Short Selling.
Since June of 2013, short selling has plagued Gogo even as the stock reached a 52 week high of just over $35.00 a share in December of 2013. Since June the short position has grown by over 1000% from 647,000 shares to nearly 7 million shares in just 5 months. This is extremely curious given that only 11 million shares were sold in the IPO.
Let's break down what has been occurring with some additional potential abusive short selling violations; most IPO underwriters are prohibited from lending shares to be shorted in the first 30 days of trading, yet within the first month of trading, 2.7 million shares were shorted or 24% of the float right out of the gate! Before the lock-up expiration in mid-December, there was an open short position of 4.4 million shares or 40% of the float and that is after multiple Reg SHO violations in October and November when the short position reached as high as 5.1 million shares or 46% of the total float in less than 90 days of the IPO.
Even with the addition of 30 million shares that have now traded into the float since December, the short position is still substantial at 20+% and is still throwing off intraday Reg SHO violations. The abusive short traders have been very mindful to not let the Reg SHO occur 5 days in a row as that would roll Gogo shares onto the threshold list and would raise a substantial number of eyebrows at the SEC and FINRA for a company that recently sold shares to the public.
Moreover, in the past 9 trading sessions alone, an additional 2.9 million shares were shorted according to FINRA's Reg SHO daily reporting site, bringing the total intra-day short position to roughly 9.6 million shares and throwing off a Reg SHO violation for multiple fails to deliver by institutional traders. It will be interesting to see how the Reg SHO ratio breaks down after Friday's trading session, and should push the shares further into Reg SHO territory by another 700,000 shares. For those retail investors that lack access to electronic data feeds that show the intraday short position for Reg SHO in real time, shares of Gogo have been constantly teetering in and out of a Reg SHO violation since its IPO.
For a company like Gogo, the short position is now quite significant, whereas there are only 52 million shares in the float with 84 million shares outstanding or a 20% open short interest against the float as earnings tee up the first week of March 2014.
It is also important to note that the lock-up period for insider selling expired in December of 2013 and there was additional short selling into the market with the intent on covering with locked up shares in an attempt to secure profits while the equity was in the $30.00-$35.00 range. This kind of rotation is quite normal after a lock-up expiration, and it is apparent that the uncovered short sellers got carried away with the expiration of additional shares potentially coming into the float. Approximately 40 million of those shares have now made it into the float, so it is no longer likely that the short selling is due to the lock-up expiration.
Regardless of the recent short selling, Gogo's prospects are stellar even with looming legalities that will most likely take years to work through the backlog of cases in the California court system.
Gogo has had two positive earnings surprises in August and November with a 37.8% positive surprise and a 25.4% positive surprise, respectively. The company is forecasting revenue between $395-415 million for 2014, a 49% increase over 2013. The company grew earnings per share 94% QoQ and is slated to complete its infrastructure build out in Canada and go live Q1 of 2014. With revenue growth trending at 36.2% and gross margins at 33.4%, it is apparent why today's bear raid is occurring. There is a substantial short position that is on the wrong side of the trade, and when the Feb $22.50 uncovered short calls delta was triggered this morning, short sellers were opened to unlimited loss potential with virtually no open hedge to cover.
Because of institutional failure to manage the open short exposure in their trading activity, they have now thrown off the Reg SHO violation, which additionally endangers the legitimate short position that had already been growing in Gogo's equity.
The equities market as a whole is beginning to see more and more Abusive Naked Short Selling, and there is no real reason for today's drop fundamentally or in the news.
Shorting shares is a fundamental market gear and is used for a variety of reasons, whether to hedge or simply because an investor is speculating that a stock will reverse course to profit from the decline and only becomes abusive and hence illegal when it becomes coordinated and violates various regulations to prevent manipulation.
The Reg SHO intra-day violation and the subsequent bear raid is now on regulator's radar screens and, once again, Reg SHO has proven that manipulation still continues to occur by institutional traders, however, FINRA and the SEC have finally started to fine and investigate these illegalities, with a recent $12 Million fine against UBS Securities. Perhaps eventually the fines will become greater than the illicit profits gained from this widespread activity. Recent short and distort campaigns by a few broker/dealers should be mindful as compliance departments are becoming more aggressive in curbing potential threats to regulatory oversight and fines.
I would wager that legitimate short sellers are quite tired of defending their trading activities against those few institutions, hedge funds, and trading desks that continue to violate various covenants of Reg SHO. FINRA should be wise to the shenanigans as it is the same institutional traders and firms that continue to give legitimate trading desks a black eye!
Perhaps it is time for regulators to start looking at those firms that have clearing arrangements with large institutions and start fining them for the failure to adequately monitor the trading activities of those that have clearing agreements on their books.
It is quite apparent that institutional traders began betting against Gogo, Inc. on day one, and took positions opposite their clients on the equity underwriting, and for those institutions that didn't get IPO shares allocated, or were left out of the underwriting syndicate? Well, you get the picture...
Disclosure: I have no positions in any stocks mentioned, but may initiate a long position in GOGO over the next 72 hours. I wrote this article myself, and it expresses my own opinions. I am not receiving compensation for it. I have no business relationship with any company whose stock is mentioned in this article.