Dividend growth investors are a group of individuals that fill their portfolios with stocks that have a strong history of increasing their dividends every year. The allure of dividend growth investing is pretty clear; every year you get more cash than you received the year before. That money received can either be used to live off of, or to buy more shares in dividend paying companies. The latter choice provides a strong compounding effect that dividend growth investors get to enjoy. Usually, companies with some of the strongest moats and most reputable brands form the foundation of a dividend growth portfolio.
Take Coca-Cola (NYSE:KO) and Procter & Gamble (NYSE:PG) for example. These two stalwarts have been raising their dividends every year for over five decades. Procter & Gamble has been paying a dividend for well over 100 years! These are the kind of companies you want to be the backbone of your DG portfolio. They are almost guaranteed to provide investors with annual dividend raises of 5-10%, which sometimes can be a higher raise than you receive at your day job! While 5-10% annual dividend raises are great, dividend investors need to have stocks with higher dividend growth rates as well. Abbott Laboratories (NYSE:ABT) just might be that missing link in your portfolio that will add some high dividend growth in the next few years.
I first became intrigued with Abbott Laboratories after reading how Grace Groner put $180 into the company in 1935 and turned it into $7,000,000 by the time she died. She demolished the returns of the S&P with a simple buy and hold strategy. However, that was the past and the future is what matters. While the rapid growth of Abbott is over, it still has strong growth ahead. After splitting off its proprietary pharmaceutical division, AbbVie (ABBV), Abbott Labs is now leaner and more focused on expanding its reach around the globe.
The company has more than proved itself as shareholder friendly dividend stock with 359 consecutive dividend payments and 41 straight years of dividend increases. Even with that track record, many dividend growth investors have either sold off their Abbott shares post split or have been staying on the sidelines. Considering dividend growth investors search for companies that provide a growing stream of income from dividends, one would wonder why they would not love ABT. The reason a DGI may have shied away from Abbott was that its starting yield was too low. Many investors usually have a minimum yield requirement of anywhere from 2% to 3% for any given stock. The reasoning behind this is that they need the dividend income for life's expenses or to purchase additional shares of companies. However, after the recent 57% increase of the dividend to $0.88 annually, Abbott Labs is back on many investors' radars. It is a stock that definitely belongs in any DG portfolio and I'm expecting another large increase in the dividend in 2014 that investors will love.
Fundamentals
Abbott Labs is in great financial shape with cash keeping steady around $8-9 billion throughout the year and total debt also remaining steady around $7-8 billion. This is a great sign for two reasons. The first being that debt has not been increasing and the second is the net debt position is essentially zero. Additionally, EPS growth is estimated to be around 11-12% annually over the next 5 years which is excellent for the long-term investor.
The strong growth of Abbott is a story of emerging markets and mostly low sales growth in developed nations. Mr. Miles White, CEO and Chairman, laid out his expectations for 2014 in the 4Q 2013 conference call. The global nutrition business is expected to have high single digit sales growth in 2014 due to strong demand. Three manufacturing facilities are expected to come online in 2014, one in China, India and the United States, respectively.
The global diagnostics business is expected to see mid to high single digit sales growth. Abbott's vision care division is experiencing rapid growth and is expected to grow sales in the double digits this year. The generic pharmaceutical division is expected to see low single digit growth mainly due to foreign exchange. It should be noted that this business segment only operates outside the US, amplifying the exchange troubles since most other divisions are global.
The diabetes care business is expected to have global sales about flat due to solid international growth, but a decline in US sales as a result of reduced reimbursement in healthcare as well as competition. From all of this, it is clear that Abbott is experiencing robust growth from almost every business segment and that should bode well for the future.
Dividends and Buybacks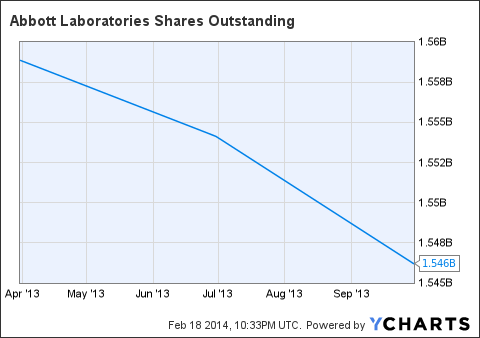 ABT Shares Outstanding data by YCharts
As you can see, Abbott's buybacks actually do reduce the number of shares, a feat which cannot be said for all companies. There is slight dilution from compensation, but it is minor compared to the buyback. As a result of the split in January of 2013, only Q1 through Q3 counts were included. In the Q4 results, Abbott pledged to repurchase at least $2 billion worth of shares in 2014. With a market cap of about $60 billion, a 2 billion dollar repurchase equates to about 3.33% of the outstanding shares.
Right now at a share price of $38-39, the dividend yield is only about 2.3%. However, the most recent increase in its dividend was an enormous 57%, and I'm expecting another large increase in 2014. With its current dividend, Abbott will be paying about $1.36 billion a year (.22 cents * 1.54 billion shares * 4 quarters). According to the CFO Tom Freyman in the Q4 2013 conference call, the company is expecting to increase that payout to $1.7 to $1.8 billion for 2014. We can use this info to estimate the 2014 dividend raise.
Considering the mammoth share buyback, I'm expecting Abbott to have about 1.51 billion shares outstanding by October 2014, the time of the year they usually raise the dividend. We will do the math reverse this time using the midpoint of $1.75 billion for dividends. $1.75 billion divided by 1.51 billion shares outstanding = about $1.16 per share. I expect the next dividend to be $1.16 plus or minus a few cents. This would equate to an outstanding 32% increase in the dividend.
I have made a table of future yield on cost (YOC) with a couple of assumptions. In the dividend column, I used the estimated 2014 dividend of $1.16 that was calculated above (32% increase from the current dividend of $0.88). For 2015 through 2018, I assumed a dividend growth rate of 11% (in line with estimated EPS growth). Furthermore, I included a column of today's prices and one at a price I would like to buy the company at. As shown, a respectable yield on cost of around 5% can be reached in only a few years.
| | | | |
| --- | --- | --- | --- |
| | Dividend | YOC at $34 | YOC at $38.5 |
| 2014 | $1.16 | 3.4% | 3% |
| 2015 | $1.29 | 3.8% | 3.4% |
| 2016 | $1.43 | 4.2% | 3.7% |
| 2017 | $1.59 | 4.7% | 4.1% |
| 2018 | $1.76 | 5.2% | 4.6% |
*Table is no guarantee of future dividend raises. Future dividend amounts are educated guesses made by myself, not Abbott Laboratories management.
Conclusion
Over the next few years, the dividend increases of Abbott will most likely be higher than other safe names like Coke and Procter & Gamble. With a low payout and high EPS growth, ABT may be in a sweet spot of dividend growth. A good dividend growth portfolio should include strong companies with lower but still inflation beating dividend raises like PG and KO, yet it should also contain higher growth names like ABT. This will provide just the right mix of dividend raises for a conservative investor.
The future is bright for Abbott Laboratories via solid EPS growth, rising dividends and strong buybacks. With analysts estimating 2014 EPS to come in between $2.16 and $2.26, the current price of Abbott coincides with a 2014 PE of 17-18. This is a little too rich for my tastes. If an investor waits for the $34-$35 per share range, they could buy Abbott with a 2014 PE of about 15. Additionally, if instead an investor wants to dollar cost average into ABT for free, they can through Computershare for as little as $25 per month. The new ABT is the definition of shareholder friendly and deserves a spot in your portfolio.
Disclosure: I am long PG. I wrote this article myself, and it expresses my own opinions. I am not receiving compensation for it (other than from Seeking Alpha). I have no business relationship with any company whose stock is mentioned in this article.
Additional disclosure: I may initiate a long position in KO over the next 72 hours.