Now is a great time to add Ensco (NYSE:ESV) to your dividend investment portfolio.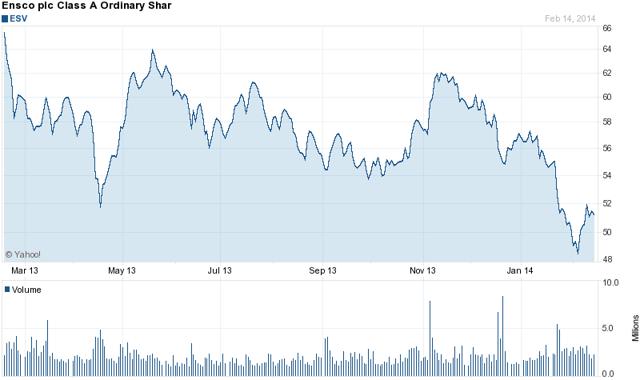 The stock is near its 52 week low and safely sustains an impressive $3.00 per share dividend. If you were to guess which is the only S&P 500 company to have 2 year EPS growth over 10%, total debt to capital ratio below 30%, dividend yield over 5% and payout ratio less than 50%, Ensco probably wouldn't come to mind.
Ensco is the second largest offshore driller with 71 active rigs and 6 more under construction. The company's stock price and the offshore drilling market as a whole have been under pressure from downgrades by analyst as the market tries to digest a glut of new rigs coming on the market over the next 2 years. Companies and analysts expect this additional supply may lead to downward pressure on dayrates and in turn decrease margins. This has led to Ensco's stock price hitting 52 week lows, but in this article I'll discuss why this short-term weakness presents a great opportunity for the long-term dividend investor.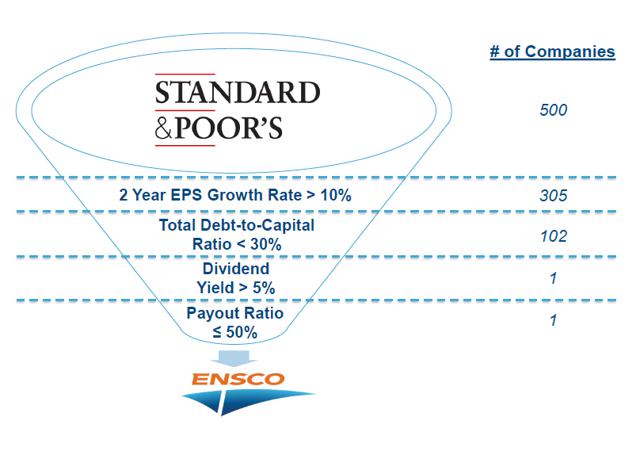 Source: Credit Suisse Energy Summit February 2014
Dividend Growth
Ensco has done a remarkable job of growing its dividend over the last 4 years. In 2013 the company increased its dividend by 50% to $3.00/share giving Ensco an attractive forward dividend yield of 5.85%. This gives the company the third highest dividend payout in the offshore drilling industry just behind Seadrill (NYSE:SDRL) and Diamond Offshore (NYSE:DO).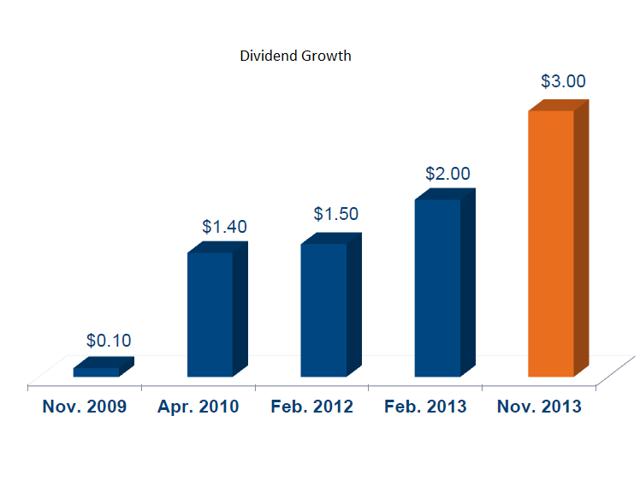 Revenue Growth
Nine months ending 9/30/13

2013

2012

Y/Y % change

Sales

$ 3,664

$ 3,215

14%

Expenses

$ 2,353

$ 2,032

16%

Operating Income

$ 1,310

$ 1,183

11%

Net Income

$ 1,063

$ 955

11%

EPS

$ 4.53

$ 4.10

10%
The company has seen steady revenue and net income growth over the past several years. A strong backlog of $11 billion and 6 newbuilds being delivered through 2016 will continue this growth. The majority of weakness in the offshore drilling industry is expected to be the most pronounced for older standard jackups. Ensco has been continually divesting from this area with 13 older rigs sold since 2010 netting $80 million. The company has reinvested these proceeds in its premium jackup fleet, which is the largest in the world. Ensco also boasts the second youngest ultra-deep water fleet just behind Seadrill with an average age of 3.8 years.
Diversification
Another strength of the company is its diversification across 47 companies in 22 countries. This means Ensco shouldn't feel the effects of geographical weakness as much as other companies in the industry.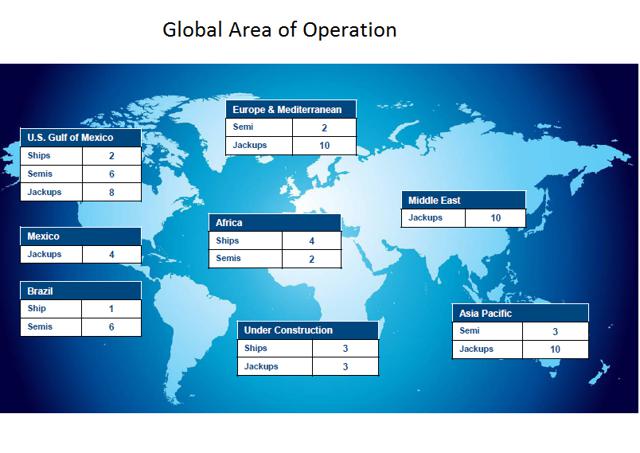 Source: Credit Suisse Energy Summit February 2014
Payout Ratio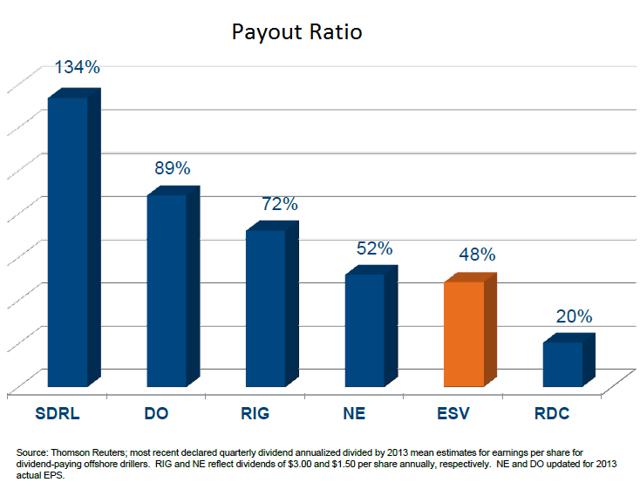 What really sets Ensco apart from other offshore drillers is its safe payout ratio. This means only 48% of Ensco's earnings go toward sustaining their $3.00/share dividend. When you compare this to other stocks in its industry, Ensco is head and shoulders above the rest. The 2 companies close to Ensco's payout ratio are Rowan Companies (NYSE:RDC) and Noble (NYSE:NE). Rowan offers a forward dividend yield of just over 1% and Noble a dividend yield of 4.8% (1% lower than Ensco). The dividend yield and payout ratio is also favorable when comparing Ensco to other well known large dividend paying companies across multiple industries.
| | | |
| --- | --- | --- |
| | Fwd. Dividend Yield | Payout Ratio |
| Ensco | 5.8% | 48% |
| Philip Morris(NYSE:PM) | 4.7% | 68% |
| Altria (NYSE:MO) | 5.4% | 81% |
| AT&T (NYSE:T) | 5.6% | 53% |
| Microsoft (NASDAQ:MSFT) | 3.0% | 36% |
| Coca-Cola (NYSE:KO) | 2.9% | 57% |
| McDonalds (NYSE:MCD) | 3.4% | 56% |
| General Electric (NYSE:GE) | 3.4% | 58% |
| Consolidated Edison (NYSE:ED) | 4.6% | 70% |
| Southern Company (NYSE:SO) | 4.8% | 108% |
| Procter & Gamble (NYSE:PG) | 3.0% | 64% |
| Conoco Philips (NYSE:COP) | 4.2% | 37% |
| Exxon (NYSE:XOM) | 2.7% | 33% |
| Realty Income (NYSE:O) | 5.3% | 217% |
| Plains All American Pipeline (NYSE:PAA) | 4.6% | 82% |
Source: Yahoo Finance
Capital Expenses and NewBuilds
Maybe more impressive than Ensco's high dividend and low payout ratio is the fact that the company is winding down a successful multi-year newbuild program that has delivered 20 new rigs since 2004 and will deliver 6 more through 2016. Over the past 6 years the company has invested close to $4 billion in the construction of new rigs. This aggressive newbuild program has driven growth and will continue to do so going forward.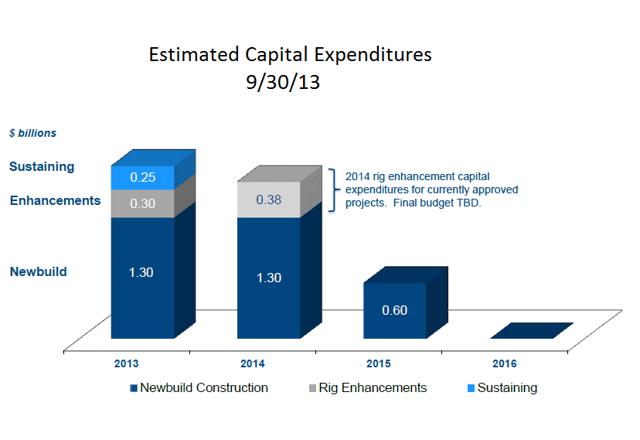 Source: Credit Suisse Energy Summit February 2014
The company expects to pay around $1.3 billion for newbuild construction in 2014, but this number falls drastically in 2015 as the newbuild program comes to an end. Although management could easily approve future newbuilds, 2015 is set up for extremely strong free cash flow as capital expenses should drop by around $700 million. This will give the company additional financial flexibility to either build new rigs, pay off debt or increase dividends again. Ensco's dividend yield and payout ratio is already extremely competitive with other mainstay dividend stocks, but with their new rigs being delivered in 2014 and 2015 and capital expenses going down at the same time, Ensco is set up a strong couple of years.
Conclusion
With a depressed stock price, dividend investors should strongly consider adding Ensco to their portfolio. Investors will enjoy a 5.8% dividend yield while waiting for the short-term weakness in the offshore drilling industry to sort itself out. Ensco compares favorably to many stocks that are widely considered to be cornerstones of dividend investment portfolios. A high dividend yield, low debt and a low payout ratio make Ensco an attractive long-term investment on all levels.
Ensco is set to deliver 4Q2013 earnings on February 20, 2014.
Disclosure: I have no positions in any stocks mentioned, but may initiate a long position in ESV over the next 72 hours. I wrote this article myself, and it expresses my own opinions. I am not receiving compensation for it (other than from Seeking Alpha). I have no business relationship with any company whose stock is mentioned in this article.