The homebuilder "sentiment" index for February released Tuesday morning hit the market with a surprise 8 point drop to 48. The decline was from both January's 56 index reading and Wall Street's expected 56 reading for this month. As the data shows, this drop in builder sentiment is the largest month to month drop on record. My view is that this big "break" in builder sentiment reflects the reality that the housing market is in big trouble.
I have been making the argument for several months now that the key factors which support the housing market have been deteriorating (for instance, see this article). Furthermore, the bounce we saw over the past 18-24 months was largely fueled by historically low interest rates and unprecedented investor buying, both of which would be unsustainable and non-recurring once the affect from both of those factors had subsided.
This graph shows the magnitude in yesterday's drop in homebuilder sentiment (source Bloomberg, edits in red are mine):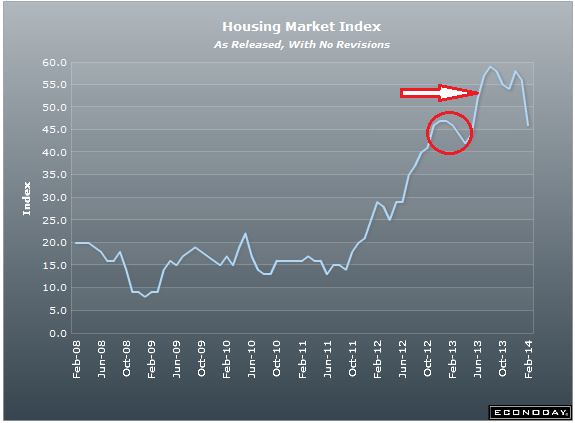 The sentiment level is back to where it was in late 2012 before interest rates pushed to all-time record lows in 2013. The red arrow indicates the spike up in sentiment that occurred as interest rates fell last spring. The current drop in the sentiment index has corrected this "over exuberance" in expectations. Furthermore, I believe that we will see a continuation in the downtrend for this metric that started in late 2012 (red circle). As I detailed in this article on December new home sales, the market is showing a measurable decline in sales volume and yesterday's sentiment reading reflects this reality.
Many analysts and media outlets are blaming poor housing market data on the cold weather that has been hitting certain regions unusually hard this year. Although on any given specific day, frigid weather might affect someone's decision to shop for a home on that specific day or week, it has not been cold like that every day this year. In fact, this research report sourced from "Time" magazine shows that the weather has not been much different from historical norms. As it turns out, Goldman Sachs agrees with this view (December pending home sales).
I would argue that bad weather might cause someone to briefly defer their home search but it would not altogether derail it. In fact, it was reported in January that home sales in the San Francisco area plunged to a six-year low. If you look at the research report linked above, the greater Bay Area in California had warmer weather than average during January. Clearly it wasn't cold weather that precipitated that drop in sales. Instead, the demand for homes is in decline and the research presented dispels the cold weather narrative that has been broadly dispatched by the media to explain the weak housing data over the past two months. Yesterday's builder sentiment data is thus further evidence in support of my thesis that the housing market is in trouble.
I have backed up my assertions on the housing market with a short position in selected homebuilder stocks. I have been detailing my positions since I first initiated my short in DR Horton (NYSE:DHI) last January (my average cost of the short is around $25 now). Although I never expected the homebuilder index I track (DJUSBH) to be hanging around 500 at this point in time (it was 515 last January), I have been explicit about the fact that the homebuilders are heavily shorted and shorting them requires the patience to build a position when the market runs higher. To be sure, the big move in the S&P 500 over the last year has helped keep the homebuilders moving higher. However, the DJUSHB has significantly underperformed the S&P 500: DJUSHB +.7% vs SPX +19% since February 19, 2013.
I continue to like and hold short positions in DHI, Ryland (NYSE:RYL) and KB Home (NYSE:KBH). I also think that shorts in Lennar (NYSE:LEN), Beazer (BHZ) and Pulte (NYSE:PHM) are compelling. As I continue to scan through homebuilder recent 10-Q's, inventories are building, sales are slowing and cancellation rates are rising. In light of this, I am confident that when/if the stock market rolls over, shorting the homebuilders will outperform the overall market to the downside.
Disclosure: I am short KBH, DHI, RYL. I wrote this article myself, and it expresses my own opinions. I am not receiving compensation for it (other than from Seeking Alpha). I have no business relationship with any company whose stock is mentioned in this article.