It will be some time until Costco Wholesale Corporation (NASDAQ:COST) announces its next quarter results, but I have some promising thoughts that may put the company at a good offering platform to investors. Costco provides one of the best near term cash flow visibilities. Membership revenue is the prime driver of the company's operating profit and subscriptions paid in advance have allowed the company to book its profit 12 months in advance, permitting better projections of cash flows and return measure. The stock price peaked at $125 at the end of December but has been falling since then and now provides a good entry point for new investors.
The Previous Quarter
Before we determine how Costco is valuable in terms of future investment, let me go through its recent past. Excluding the effect of deflation in gasoline prices and the adverse impact of foreign currency fluctuations, Costco's comparable store sales for the last quarter rose 5%, reflecting comparable sales growth of 4% in the US and 6% at its international outlets. Membership fees increased 7% to $549 million primarily due to membership sign-ups at both new and existing warehouses, and the total sales figure jumped to $24.5 billion.
Costco opened 13 new stores, expanding its operations mainly in the US and less abroad. This expansion has proven positive as the company experienced increasing revenue per square foot of its stores natively in the last 5 years (see graph below).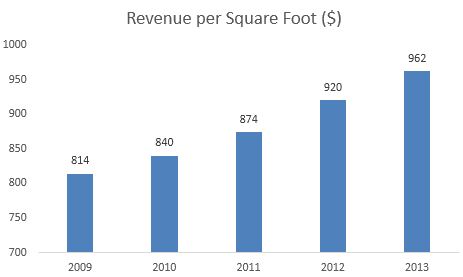 Source: Trefis
Gasoline price deflation brought the major increase in gross margin that jumped 13 bps to 10.81%. The gas business has been good for the company as it drives frequency year over year and has always been profitable though volatile. This quarter, gas impacted earnings by a little more than $0.02 per share.
SG&A percentage in the first quarter increased by 17 basis points to 10.22% this year compared to 10.05% during the first quarter of the previous year. This increase was explained by the IT modernization process Costco is going through. The project that brought $12 million as additional expenditure to the company this quarter will continue impacting SG&A negatively throughout 2014 and a little beyond that, especially as the new systems are brought online and depreciation begins. However, the installation is going to bring future cost efficiency in terms of savings, so the temporary profit damage is not a material thing to raise concern.
Interest expense increased year over year by $14 million pre-tax or $0.02 per share as a result of last December's $3.5 billion debt offering. Net income for the quarter was $425 million or $.96 per diluted share staying stable and near $0.95 per diluted share last year.
Even though the quarter did not bring results that could be considered very impressive, the performance was stable and certain expenses such as IT modernization and debt offering reduced EPS.
The Future
Costco's High Renewal and Untapped International Markets Provide Good Future Opportunities
With regards to future opportunities, Costco's 90% renewal rate in the US and 87% renewal rate abroad are strong signs. Following the trend the 17% new sign ups this quarter should promise a stable top line for the company. The company's ability to provide products such as rotisserie chicken at $5, whereas typically it sells for more than $8, is a measure for not boosting profits as the company experiences losses due to rising poultry costs but retains customers who like buying what they love.
This high ratio will support future top line growth as the company expands internationally. This year, Costco plans to open 30 new stores with nearly half that amount planned abroad. The rising significance of international markets despite currency fluctuation was demonstrated to the company through the same measure we used to look at its domestic sales (see graph below).
Source: Trefis
The new store openings plan includes the opening of the first two new stores in Spain, as well as already penetrated markets. New stores have larger sign ups as members in the vicinity pour in. This will result in fast-growing membership revenue. As far as competition from the domestic market is concerned it will be difficult to penetrate unless there is a visible and clear value demonstration by new entrants.
Solving this concern, Costco appeals more to business members who account for the majority of the company's merchandise sales. These sophisticated customers are likely to identify savings opportunities by purchasing at warehouse clubs that the company owns. Therefore, it is easier for Costco to establish its customer base in newer markets compared to discount stores or supermarket retailers.
Good Opportunities Abound so why is the Price Depressed?

Source: Ycharts
The major decline in the share price is a result of investors paying attention to analysts' expectations. I just mentioned one point of how international top line growth can occur but IT modernization could also bring in bottom line savings in the future. Since the company operates at strict margins, even a small amount of savings may translate into major returns for investors.
Presently, selling at cheaper prices brings short term damage to revenue and comparable store sales that translate poorly for analysts who expect a higher figure. Following them, investors selling their stock put a negative dent on the share price.
However, for long term investors, Costco's strategy will deliver stable returns at the expense of short term fluctuation. If we take a 5 year interval, the company has given more than 150% in price appreciation and it has experienced revenue and net income growth of 10.5% and 16.1% during the last 3 years, beating the industry by more than two fold. This just conveys how strong the company has been in the long term.
Bottom Line
I believe the company's strategy to earn revenue by growing its membership base through keeping shoppers happy is going to be fruitful, if you give it time to come to fruition. My expectations for this stock are high and I have faith that the implementation of certain modernization and cost control techniques will boost profits. Taking advantage of the current price situation, I give Costco a long-term buy rating.
Disclosure: I have no positions in any stocks mentioned, and no plans to initiate any positions within the next 72 hours. I wrote this article myself, and it expresses my own opinions. I am not receiving compensation for it (other than from Seeking Alpha). I have no business relationship with any company whose stock is mentioned in this article.