Towards the end of 2013, I was probably one of the most optimistic people on the 3D printing space, and perhaps I still am. I assumed that a combination of robotics and 3D printing could displace manufacturing labor, and I'm glad to see that some industry insiders agree with me.
The feedback from the reader base was both strong and positive. Heck, I convinced the naysayers, and earned a bit of a reputation for predictive analysis.
How I arrived at my current conclusion
I believe the potential market opportunity for 3D printing and robotics is approximately $3.4 trillion on the basis of global GDP. I arrive at this figure by calculating the amount an average company spends on capital expenditure and manufacturing labor. By applying the percentage of cost to the global GDP figure, I was able to arrive at a somewhat decent conclusion as to the market potential of 3D printing and robotics.
According to the Motley Fool:
Now according to Wilfried Vancraen, the CEO of Belgium-based Materialise was quoted saying how 3-D printing could eventually represent up to 30% of the manufacturing industry. Thinking in terms of worldwide manufacturing GDP, this would imply that the 3-D printing economy could one day be worth more than $3 trillion in worldwide GDP.
I arrived at fairly similar numbers; now I'm not sure if these guys are basing their assessment on some variation of what I wrote several months ago. But I'm very confident about my original assessment on 3D printing. There's no denying the growth potential, and by 2025, I think that as the technology continues to advance, it will unlock market opportunities, therefore accelerating growth. This is something I try to address with this chart below.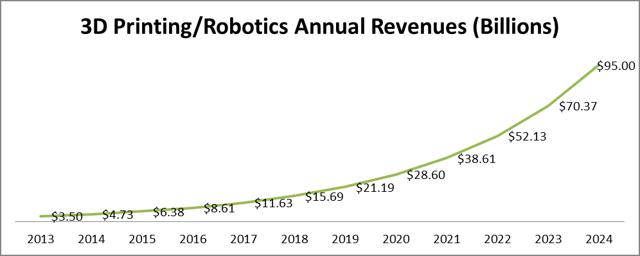 Source: Seeking Alpha/Alex Cho
In the beginning stages, it looks like any other overly-hyped investment opportunity. However, it becomes increasingly obvious to me that as the marginal cost of production declines from 3D printers, the adoption rate should increase. Also, I'm doubtful that consumer application of the device will displace online retail companies or any e-commerce for quite a while. This is because 3D printing devices have been around for quite a while, and for all the hype that surrounds the concept, it's not going to be cost effective enough to make Chinese labor factories or Amazon.com (NASDAQ:AMZN) obsolete anytime soon.
What you will find is that 3D printing in a manufacturing setting will produce hard to find parts, or digitally print layer by layer things that are exceptionally difficult to produce with standard manufacturing. While $95 billion sounds like a breathtaking figure, when compared to global manufacturing GDP, it's actually a drop in the bucket. Therefore, investors should be wary of articles that try to proclaim that there's limited growth, or somehow every quarter from a 3D printing company needs to perfect.
Sure, some have correctly identified that for the stock price to not drop, it may need to meet analysts' earnings estimates. But even if some of the 3D printer names miss earnings [3D Systems (NYSE:DDD), Stratasys (NASDAQ:SSYS), and ExOne (NASDAQ:XONE)], I wouldn't jump off the train and miss the multi-decade trend that is starting to form.
Also, I can understand the skepticism investors have towards 3D printed organs. Unfortunately, companies like Organovo (NASDAQ:ONVO) are way too young, and the technology to print organs is way too far off to be considered a viable investment opportunity at the present moment.
Conclusion
I don't think it's time to jump off the 3D printing train. The technology hasn't reached maturity yet, and there are plenty of opportunities in manufacturing that are yet to be uncovered.
Traditional 3D printing players like 3D Systems and Stratasys have a massive portfolio of patents, and competing with them will be no easy task. Assuming successful competitors like Hewlett Packard (NYSE:HPQ) were to emerge, the industry as a whole would actually grow as a result. I believe that added competition won't negate the earnings potential of pre-existing 3D printing companies by much. Rather, competition may drive product development, and thus accelerate the growth of pre-existing companies further.
Disclosure: I have no positions in any stocks mentioned, and no plans to initiate any positions within the next 72 hours. I wrote this article myself, and it expresses my own opinions. I am not receiving compensation for it (other than from Seeking Alpha). I have no business relationship with any company whose stock is mentioned in this article.