In a recent Seeking Alpha article I made the case that STAG Industrial (NYSE:STAG) could possibly be the next Realty Income (NYSE:O). Although the small-cap REIT is still beginning to find its way in the broader fixed income arena, the Boston-based landlord for big box Industrial facilities has grown into an attractive dividend-paying brand. I added that "STAG may be the next dividend machine. I have been following the REIT since the IPO in April 2011 and since that time the company has built an impressive record of performance - up over 143% in 26 months".
Since mid-December STAG has been on fire (again) - returning over 21% with an increase in stock price of over 19%. The latest earnings period support the strong price performance as STAG generated Cash Net Operating Income (Cash NOI) of $33.4 million compared to $23.4 million for the fourth quarter of 2012, an increase of 43%.
Also the company posted strong Adjusted Funds from Operations (or AFFO) of $18.1 million compared to $13.1 million for the fourth quarter of 2012, an increase of 38%. In addition and as further evidence of earnings reliability, STAG increased the common dividend 5% to $1.26 per share, commencing with the January 2014 dividend. The increase equates to an annualized rate of 6.2%, on the quarter ended share price of $20.39.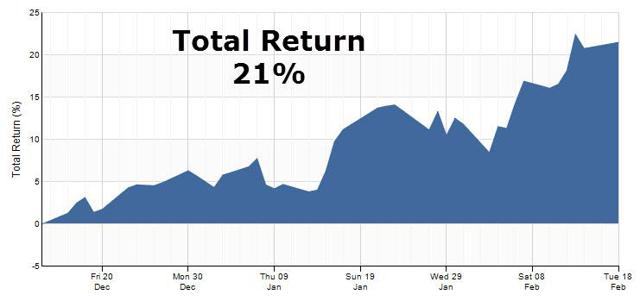 Earlier this week I caught up with the STAG's CEO, Ben Butcher. His company recently announced the relocation of its corporate HQ in Boston to 1 Federal St., 23rd floor and in the midst of unpacking boxes; Butcher was generous enough to share his valuable time. I asked Butcher a few questions in hopes to provide REIT investors with relevant and timely news about STAG. Here's an exclusive Seeking Alpha interview with STAG's CEO, Ben Butcher:
Thomas: With year-over-year growth of around 30% STAG has been on an amazing roll of expansion. Will this continue? What is your guidance for 2014?
Butcher: Our guidance has been to expect that we will continue to grow at 25% a year for the foreseeable future. Our pipeline of deals that have passed initial screening has grown considerably and we are quite confident that this will continue.
Thomas: STAG acquired around $346 million in 2013. Can you tell us about your average transaction and are you seeing more growth on the east coast or west coast?
Butcher: We closed 39 transactions so our average deal remains a bit under $10 million - almost all of these transactions were warehouse properties. We are seeing activity/opportunity over a broad geographic area including both coasts.
Thomas: STAG's occupancy rose significantly during the quarter from 94% to 95.6%; however, tenant retention was 59% for 2013. That seems odd. What is causing the lower level of retention and how are you managing that risk?
Butcher: As we have mentioned on our calls, we believe that we are going through a period of "heightened corporate change activity"... a time when companies are making changes that they didn't make during the global financial crisis and its aftermath. This is reflected in both lower tenant retention and in faster leasing of vacant space - our occupancy gains reflect that. We are managing the leasing risk the same way we always do - by maintaining a highly diversified portfolio so individual tenant/building correlation is kept low and by being in early and constant dialogue with our tenants especially as lease expirations approach.
Thomas: During the fourth quarter STAG began paying monthly dividends. What prompted your management team to move to the monthly pay model?
Butcher: We might suggest that the better question might be why all REITs haven't gone to monthly dividends? We believe that the funds paid out in dividends belong to our shareholders and putting it in their hands sooner is a good thing. There is little to no marginal cost in our paying monthly. Retail investors must pay their bills monthly and most ETFs pay out monthly.
Thomas: STAG's Board of Directors approved a 5% increase in the company's annual common stock dividend from the current annual rate of $1.20 per share to a $1.26 per share commencing with the January 2014 dividend. How much more room does STAG have to grow the dividend?
Butcher: We are committed to paying out 90% of our AFFO in dividends. Since STAG is a growth story (due to the very accretive nature of our acquisitions), we expect our AFFO per share to grow during the year. Our past practice of increasing the dividend annually resulted in our not matching the 90% payout well over the course of this annual growth curve.
Thomas: I overheard on the recent earnings call that your CFO is resigning. What prompted that and when will you hire a new CFO?
Butcher: He is leaving in April to pursue a variety of interests - he will remain a paid advisor to the company for another year after that. As we explained in the call, the company is well prepared to operate during this transition phase. We have hired a search firm and expect to have a new CFO in place in the not too distant future.
Butcher: What about your debt metrics? I know STAG was rated BBB- by Fitch last year. Do you expect to receive similar ratings from the other two rating agencies?
Thomas: As we have previously explained, we sought this rating to enable us to efficiently approach the bond private placement market - the investment grade rating would make any privately issued bonds rated NAIC-2 (this insures advantageous risk capital treatment for the investors). Seeking additional ratings would provide no near-term advantage (and incur significant cost) for the company. When we decide to utilize the public debt markets (larger transaction size - $250+ million), we will approach one of the other rating agencies.
Thomas: Unlike the Triple Net REITs that compete regular with acquisitions, STAG does not have as much "Institutional" competition. Why is that?
Butcher: First, you have to want to buy these kinds of assets which goes against the 'traditional wisdom' of institutional RE investors - only recently has there been much discussion of the desirability of pursuing assets in secondary markets. Then the second hurdle... Identifying, underwriting and acquiring individual, non-homogeneous industrial assets is difficult and requires people, processes and systems to be done efficiently and cost effectively. We have invested 10 years in refining our 'machine' - this advantage is not trivial.
Thomas: On a macro level, what will drive the growth of Industrial-owned real estate in 2014?
Butcher: The simplest answer is the ongoing supply/demand imbalance - it is projected that net absorption will exceed new supply by over 100 million square feet again this year. New supply is being delivered at price points that cannot compete with existing buildings which offer adequate industrial 'utility' for tenants. It is a very good time to be an industrial-RE landlord.
Thomas: Do you source any investments in the sale/leaseback arena? Also, do you provide forward take outs from smaller developers?
Butcher: The sale leaseback area has been a smaller part of our business recently - we still see a fair amount of deals sourced through RE broker channels but his is a fairly competitive area. We are focused on becoming an active player in the BTS takeout arena.
Thomas: Finally, I have to ask you. Red Sox or Yankees?
Butcher: Very hard to repeat as WS champs but I like the Red Sox chances. Yankees have made a lot of good moves but they remain a bit of a broken machine with a very weak farm system.
For more information on STAG and other REITs, check out my monthly REIT newsletter HERE. (STAG is one of the REITs in my SALSA portfolio). STAG pays monthly dividends and I included the REIT in my article yesterday: 12 REITs That Pay Monthly Dividends And 1 Great One That Does Too.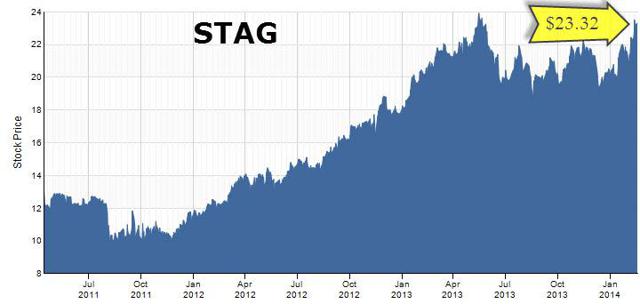 Source: SNL Financial
Disclaimer: This article is intended to provide information to interested parties. As I have no knowledge of individual investor circumstances, goals, and/or portfolio concentration or diversification, readers are expected to complete their own due diligence before purchasing any stocks mentioned or recommended.
Disclosure: I am long O, DLR, VTR, HTA, STAG, UMH, CSG, GPT, ARCP, ROIC, MPW, HCN, OHI, LXP, KIM. I wrote this article myself, and it expresses my own opinions. I am not receiving compensation for it (other than from Seeking Alpha). I have no business relationship with any company whose stock is mentioned in this article.