Today I am covering two homebuilders serving two different kinds of home-buyers. These companies have been trading in a range-bound manner since a consolidation in the housing sector began in May, 2013.
Technical trading patterns are important for long-term investors seeking to build realistic positions, and also for traders who wish to hedge their positions. In the early 1990s, at the advent of the last real estate cycle, the home-builders had a terrific run-up (600%), only to be followed by 4 long years of consolidation and range-bound trading.
We may have entered such a period now, and I think it is good to have a realistic assessment of what may be before us.
M.D.C Holdings (NYSE:MDC)/Richmond American Homes is a builder with a dominant presence in 4 geographies: Denver, CO (57 communities); Phoenix and Tucson, AZ (47 communities), Jacksonville, FL (25 communities); and Seattle, WA (17 communities).
It primarily builds outside of high-cost areas, in what could be called B and even C locations, in order to cast as wide a net as possible for prospective home buyers. It also qualifies its home sales through its in-house mortgage and title divisions: HomeAmerican Mortgage Corp., American Home Title and Escrow, and American Home Insurance. MDC is truly a one-stop shop for homeowners wishing to conveniently consolidate all relevant financial matters at the point of purchase.
I estimate that 90% of Richmond American's homes can be financed under the conforming-limit guidelines of the GSEs and FHA. The company builds at the price point most affordable for the most amount of buyers in their communities; i.e, for the income levels that will produce the most demand in their markets.
This is very different from Tri-Pointe Homes (NYSE:TPH), a builder which focuses primarily on affluent buyers in high-cost areas of Coastal CA. Tri-Pointe could be likened to a young Toll Brothers (a builder focusing on the luxury market), but it also builds affordable townhouses and parkway homes in B+ locations.
M.D.C released a profitable Q4 earnings report on February 5, 2014. Its 2013 net income (not including the tax-deferral granted the home builders after the financial crisis), was $2.56/share, up 99% from $1.29 in 2012. Including the tax-deferral credit, it was $6.34/share.
Home sales increased 41%; home deliveries were up 26%; gross margin from home sales was 17.8% vs. 15.4%, up 240 basis points; SG&A expenses fell 140 basis points to 13.1% of home sales revenues.
The company acquired 7,887 lots in 168 communities, including 128 new communities. The total land acquisition spend was $632.6 million, a sizable amount. The only wrinkle in the report is that net new orders of 4,327 homes were flat vs. 4,342 homes in 2012.
On that one small note, the market knocked M.D.C. Holdings down almost 10% to $28, a previous support level which it has re-visited three times since September, 2013.
This is where the technical aspect of MDC's trading range becomes important. After each drop to support, MDC rallied back $2 or more to $30+/share (closing prices). Although the company has been gaining in profitability and assets for 8 consecutive quarters, its stock is languishing in a highly-defined price range.
| | | | |
| --- | --- | --- | --- |
| 9/4/2013 | $27.32 | 9/19/2013 | $31.47 |
| 10/7/2013 | $28.05 | 10/29/2013 | $30.75 |
| 11/13/2013 | $27.91 | 11/26/2013 | $30.15 |
| 12/12/2013 | $28.41 | 12/31/2013 | $31.96 |
| 2/12/14 | $28.39 | ? | ? |
You'll notice the time duration in this table - from support to resistance - is relatively short, approximately 2 to 3 weeks. However, total points gained during those brief cycles was $12.64. At Thursday's close (2/13/2014), that could have been a 44% estimated gain on a stock that's gone nowhere for 7 months.
Over the previous six months, MDC has underperformed DR. Horton (NYSE:DHI) and Lennar (NYSE:LEN) by -30%; Toll Brothers (NYSE:TOL) and Meritage (NYSE:MTH) by -20%. This is the widest disparity I have seen yet among the builders, and it's been especially pronounced the last 6 weeks.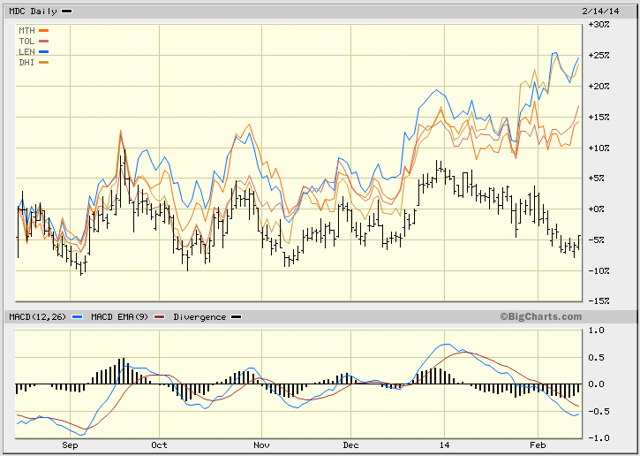 Today we are again at such a juncture with M.D.C.. I think the disparity in under-performance is unwarranted, especially at the advent of the Spring 2014 selling season. Here is management's discussion of its Q42013 results and its forward look for Spring, which is positive.
M.D.C. has the lowest price to book value of the home-builders (1.16x book); pays a $1 annual dividend, and has $14.71/share in cash. It's trailing P/E is 4.6 and its forward P/E is 11.6. MDC is a conservatively-run company. It buys land as it needs it, relies heavily on land-options to control developed lots, and increased its land pipeline in 2013 by 38%.
By my pencil, the company remains undervalued relative to its peers, and I believe there is room (again) for that gap to close.
Tri-Pointe Homes
Tri-Pointe Homes is another case in point. The stock has had three distinct trading ranges since its IPO a year ago.
| | |
| --- | --- |
| Dates | Range |
| 2/1 to 6/1/2013 | $17.50 to $21 |
| 6/1 to 11/7/2013 | $13.50 - $17.00 |
| 11/7 to 2/14/2013 | $17 - $20.00 |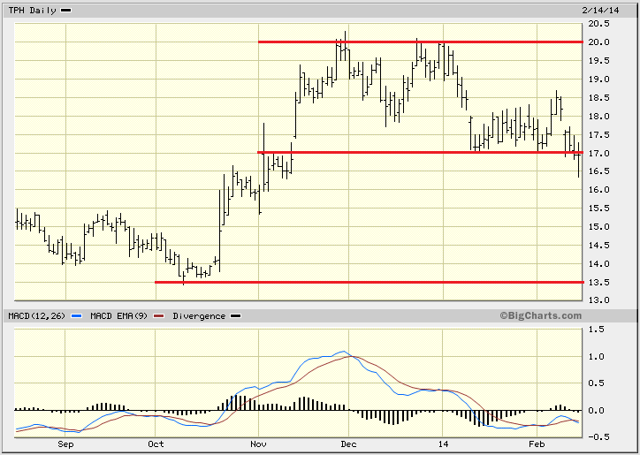 Today it is trading at $17, down $3 YTD (-15%). The company recently reported the acquisition of 892 developed lots in CA and CO. Thirty percent of these lots are in extremely land-constrained Alameda and Milpitas in the SF Bay area.
The company was downgraded on January 9th by an FBR analyst looking for "a more favorable entry point." After the recent lot acquisition, a JMP analyst downgraded them on valuation concerns. The stock is now at three month lows.
Tri-Pointe is fast becoming one of the larger builders in CA, alongside KB Homes (NYSE:KBH), Lennar and Toll Brothers. And this may be where the valuation concerns lie. Government storm clouds now lie on the horizon for builders in high-cost areas.
There are 3 issues facing CA builders vis a vis the mortgage market, especially relating to first-time buyers in the high-cost coastal areas: the monthly payment of a buyer's student loan debt; the new Qualified Mortage rule, and new (lowered) FHA loan ceilings. As the National Association of Realtors wrote recently,
Student loans are of increasing concern in light of qualified mortgage regulations that require a consumer to have a debt to income ratio of no more than 43 percent.
Of particular interest is the significant January drop in FHA loan limits for high-cost areas from $729,750 to $625,500. It is estimated that the new loan limits will eliminate FHA financing in a number of new projects in 18 of the top metropolitan service areas.
Because most single-family homes in the SF Bay Area and coastal CA cost between $550,000 to $850,000 (and the same applies to Washington DC and New York), first-time buyers will now have to contend with two additional barriers to home ownership in these geographies: an extra $100,000 towards the home and an extra 2% in monthly income (to meet the 43% debt/income ratio).
It is not surprising that mortgage originations have fallen to financial crisis lows. (See: Reading Rates: MBA Application Survey, February 12, 2014).
The new QM standards will effectively eliminate about 13% of new mortgage applications. Plus the lowered loan limits could reduce first-time buying in high cost areas to only the affluent and/or their children. It will place downward pressure on all FHA mortgage applications in high-cost areas.
These new government policies are working at cross-purposes with the needs of buyers in a credit-constrained environment. The Federal Reserve wants to see more homebuilding because of its multiplier effect on the local economy. But elevating the path to home ownership til it's out-of-reach for new families (needing a mortgage) doesn't help the economy.
This may be why short sellers have renewed their vigor with Tri-Pointe. Most of its business is in high-cost, inventory-constrained, coastal CA. Short-interest in Tri-Pointe has increased 200% since the company's November, 2013 acquisition of WRECO. It's risen 50% in January 2014 alone; and it's up 700% since Tri-Pointe's IPO a year ago. Of the 8.15ML shares that were traded in January, 2014, 2.3ML were sold short (29%). 36% of the float is now short and it would take over 19 days to cover these positions.
On the flip side, however, inventory in coastal CA is extremely low. There is very little new construction for sale, and new properties that go on the market are sold quickly. Price appreciation continues, although at a slower pace than last year. Builders are planning on a 20+% increase in new home construction this year.
As of February, 2014, the available inventory of homes for sale in CA was at a very low, 3 months of supply. (See: Spring 2014 Beaconomics Full Edition, February, 2014).
Also, from California's Housing Market Recovery and Home Foreclosure Trends, Beaconeconomics, 2013, is a comparison of the cost to rent vs. buy in California:
Rent prices throughout the state (CA) are now higher than they were before the recession...In other words, because the cost of renting has continued to increase, owning a home has become more affordable financially. This should help to buttress the housing market in years to come...

While demand may be rising, there are fewer homes on the market since the number of distressed units is dwindling. Construction of new single-family homes will provide only a small boost to inventories in the coming year (2014).

Ultimately, California still does not have enough housing, which is another reason the housing market has been quicker to bounce back in the state than in other parts of the nation. In fact, California still maintains one of the lowest housing vacancy rates in the nation, despite all the construction that took place during the bubble. This undersupply of housing units has also helped to drive the housing market forward, as there is an imbalance between the demand for housing and the supply of available homes.

There are no signs that home values will decline in the near future: home prices remain affordable, rent prices remain steep, and the excess demand and shortage of supply continue to drive up prices.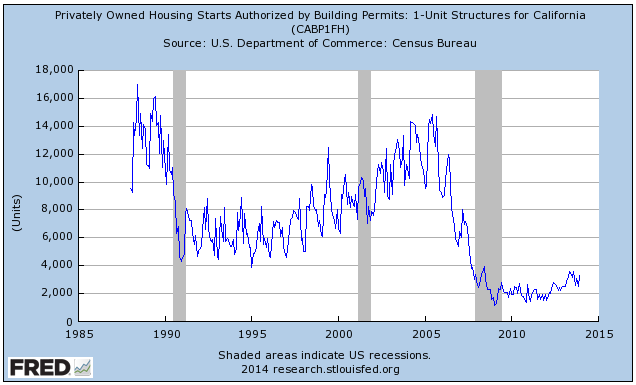 As this chart (above) shows, the current level of CA housing starts is somewhere between 50% to 70% below the median for the last 3 decades, and it has remained in that low range for 5 years.
The emotional nature of the housing market (especially home builder stocks) has intensified during the last 6 weeks, and although I believe the fundamentals remain solid, unintended consequences are beginning to nip at its heels.
The negative mindset created by higher interest rates, regressive government loan qualifications, and the very slow (but gradual) pace of recovery, continues to eat-away at confidence. For a full exposition of recent government interventions in the U.S. Housing market (1991-2013) - and their aftermath - see Peter Walliston's excellent lecture "The Case for Repealing Dodd-Frank", November 26, 2013, American Enterprise Institute.
Investors wishing to go long these two stocks (M.D.C., Tri-Pointe) should look carefully at the support and resistance levels, and place a stop below their buy points.
We may have another long year of consolidation ahead of us; in which the share prices of homebuilders remain in a tight range (while the taper is in progress), and newly regressive government loan policies (2014) work their way into the system (or out of it, if the decision is reconsidered). Ultimately, however, I believe the recovery will resolve to the upside.
Disclosure: I am long TPH, BRP, NLY, WMC. I wrote this article myself, and it expresses my own opinions. I am not receiving compensation for it (other than from Seeking Alpha). I have no business relationship with any company whose stock is mentioned in this article.