Health Care REIT Inc. (HCN), a real estate investment trust (REIT) that operates senior housing and health care real estate, reported first quarter 2010 FFO (funds from operations) of 51 cents per share, compared to 79 cents in the year-earlier quarter. Funds from operations, a widely used metric to gauge the performance of REITs, is obtained after adding depreciation and amortization and other non-cash expenses to net income.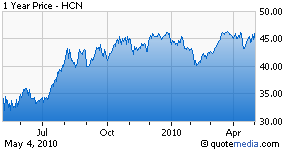 The decrease in year-over-year FFO was primarily due to non-recurring charges of 24 cents per share, primarily related to debt extinguishment charges and termination of a lease. Excluding the one-time items, FFO for the quarter was 75 cents per share compared to 81 cents in the year-ago period.

During the quarter, Health Care REIT completed $585 million of gross new investments in large senior housing properties and state-of-the-art medical facilities. These include the acquisition of 17 medical office buildings in Wisconsin, totaling 1.15 million square feet, through a joint venture with Hammes Company. Also included is the acquisition of a 49% interest in a seven-building life sciences campus spanning across 1.2 million square feet in University Park in Cambridge, Massachusetts, through a joint venture with Forest City Enterprises Inc. (NYSE:FCE.A). The company also completed $164 million worth of development projects during the quarter.

Subsequent to the quarter end, Health Care REIT completed the acquisition of five assisted living properties in Nebraska and Iowa (295 units) for $49 million, and three senior housing facilities in Indiana (300 units) for $36 million. Year-to-date, the company completed gross new investments totaling over $700 million.

For full year 2010, Health Care REIT increased its net investment guidance to a range of $700 million to $1.1 billion from its earlier guidance of $700 million to $900 million.

Health Care REIT raised $40 million in proceeds from asset sale and loan payoffs during the quarter, generating $7 million of gains and prepayment fees. The company also issued $342 million of 3.00% convertible senior notes due 2029, and $300 million of 6.125% senior unsecured notes due 2020. In addition, Health Care REIT repurchased $302 million of 4.75% convertible senior notes due 2026 and 2027. At quarter end, the company had cash and cash equivalents of $36.6 million.

Health Care REIT paid a cash dividend of 68 cents per share during the quarter, which marks the 156th consecutive quarterly dividend payment. For full year 2010, the company has decided to maintain its quarterly dividend at 68 cents per share ($2.72 on an annualized basis). The company revised its recurring FFO guidance for full year 2010 from the range of $3.10 − $3.25 per share to $3.10 – $3.20, primarily due to the issue of $300 million of senior unsecured notes in April.

Health Care REIT is continually investing in assisted and independent living facilities as demand for these facilities is set to increase with an aging Baby Boomer generation. Furthermore, the health care sector is one of the more recession-proof real estate sectors and has persistently fared better than other sectors during the commercial real estate downturn. This offers a strong upside potential for the company.