Executive summary:
Enzymotec (NASDAQ:ENZY) is 28% off its December all-time high, which represents a buying opportunity.
Growth will accelerate in 2H 2014 on the expected capacity expansion.
Vaya segment expansion is on track - a significant growth opportunity.
$37.50 price target represents 48% upside from the current price.
Neptune settlement could reduce 2014 EPS by 10% to 15%.
_________________________________
Enzymotec is trading 28% off its December 2013 all-time high, which can be attributed to the recent general market selloff and in part by profit taking, since the stock has more than doubled since going public. The selloff created a compelling buying opportunity since the company guided for strong growth in 2014, and other developments I will talk about later may be catalysts for a much higher share price in the next six to twelve months. I believe that the initial FY 2014 outlook is conservative, and that it will be raised throughout the year, and I am maintaining my EPS estimates from my prior report. My price target remains $37.50, representing 48% upside from the current price.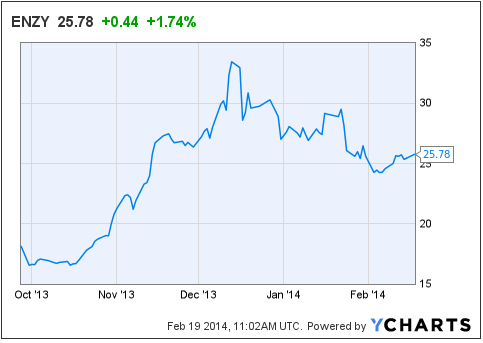 Q4 highlights
Enzymotec reported Q4 revenue of $18.5 million, a 59% increase from Q4 2012 and slightly below analyst estimates, while EPS was $0.24, a significant beat over the $0.11 consensus. Gross margin increased 540 basis points to 58.4% on increased volume of sales of higher margin products, improvements in production efficiency and leveraging of fixed costs.
For the full year:
- Revenue increased 71.6% to $65 million
- Gross margin expanded 290 basis points to 50.6%
- Non-GAAP EPS was $0.79, a significant increase from $0.28 in 2012
The company guided for FY 2014 revenue between $88 million and $95 million, an increase of 35% to 46% over 2013. Non-GAAP EPS is expected between $0.77 and $0.94.
Significant margin expansion leads to higher than expected profitability
As mentioned earlier, Enzymotec delivered a strong increase in profit margins in Q4. The increase was due to a favorable product mix, leverage of fixed costs and production efficiency. Nutrition segment was particularly strong, with a 500 basis point improvement in gross margin and a 450 basis point improvement of adjusted EBITDA margin. Higher volume of sales of INFAT was partly responsible for increased profitability, as INFAT has a higher gross margin than other nutrition products. Another contributor to overall gross margin improvement is the quality and mix of raw materials, as higher quality of krill meal has higher production yields, as was the case in Q4.
Are Q4 margins sustainable in 2014? Maybe not, but the current analyst estimates call for adjusted EBITDA compression in 2014, and the expectations that the company will not surpass 2013 EBITDA margin until 2016. I believe that this is highly unlikely and overly conservative and pessimistic. Even if the company's product mix turns more unfavorable in 2014 (there are no indications of such a case), it would be more than offset by a set of margin tailwinds:
- Higher production efficiency due to manufacturing facility expansion
- Added revenue from the sale of byproducts of the krill extraction process
- Leveraging higher revenue over fixed costs.
Since more revenue growth is expected in 2H 2014, I believe that if margins are negatively affected in the short term, the before-mentioned set of circumstances will drive margin expansion in the second half of 2014 and beyond.
One possible headwind is the Neptune settlement, which might negatively affect profitability, as I will discuss later, but the impact will unlikely cause margin compression and will be partially offset by lower legal costs.
Growth is constrained by capacity rather than by demand
Enzymotec recently completed the manufacturing facility expansion and a successful operating run of the new krill oil extraction process. The expansion will increase the company's capacity and efficiency due to use of new technologies. With the transfer of the krill oil extraction process to its own facilities, the company will be able to sell the marketable byproducts of the krill oil extraction process, which will further increase revenues and profit margins. Management expects net revenue to continue to grow sequentially throughout the year. However, the second half of the year will contribute the majority of the growth in revenues as the new manufacturing capacity becomes available. Therefore, the company's growth is constrained by capacity, rather than by demand. Enzymotec plans to build a new manufacturing plant, which is expected to be finished by the end of 2015. On top of stronger growth in 2H of 2014 on capacity expansion, the company's growth will be enhanced further by the new manufacturing capacity in late 2015, or early 2016.
Vaya Pharma segment - increased sales force and continued market expansion
Vaya Pharma segment's revenue increased 142.6% in Q4 to $1.35 million. While Vaya Pharma still accounts for just a small percentage of total revenue, it is the fastest growing segment and is still in an early stage of expansion. The company has expanded the distribution of Vaya Pharma products to eight states in Q4, up from five states in Q3. It has also increased the sales force by 12 members, and now has 29 sales representatives. Enzymotec plans to engage in targeted educational activities to increase product awareness in order to grow its medical food segment. Additional clinical trials and studies are aimed to enhance the market opportunity for Vaya Pharma products. Approximately 30% of Vaya Pharma product sales in United States received some form of reimbursement from the sales party base. Reimbursements may become an important growth factor for the Vaya Pharma segment, contributing to even stronger growth in the future. The expansion is going according to the company's plans, and Enzymotec plans to grow the Vaya Pharma sales outside the United States, which will be in part driven by strategic partnerships, such as the already developed relations with Teva Pharmaceutical in Israel, Daewon Pharmaceutical in South Korea and Daiichi Sankyo Pharmaceutical in Brazil.
Vaya Pharma is still a drag on the company's bottom line, with a negative adjusted EBITDA of $2.6 million in 2013. However, Vaya Pharma has much higher gross profit margins than the Nutrition segment. In Q4, Vaya Pharma's gross margin was 73.6%, while the Nutrition segment's gross margin was 44.5%. Once Vaya Pharma scales its business, it will have a meaningful impact on the company's profitability.
Potential impact of Neptune settlement
Enzymotec signed a term sheet agreement with Neptune at the end of 2013, but has not yet been able to finalize the settlement agreement. On February 11, Enzymotec and Neptune informed the ITC that they would seek mediation. Whether the settlement would be achieved through mediation is still unknown, and the possible royalty rate is between 3% and 8%. Wells Fargo is assuming a 5% royalty rate and I believe that it would be in the 3% to 5% range. On an absolute basis, this translates into $2 million to $3 million impact on Enzymotec's bottom line, and would reduce EPS by 10% to 15% in 2014.
Secondary offering will raise liquidity
Although I am not a fan of secondary offerings, especially when insiders are cashing out, I believe that the recent announcement is a positive development for the company. It will raise liquidity by 40% (or more if the underwriters decide to purchase up the additional 600,000 shares), since it would increase the share float from 9.4 million shares to 13.4 million shares. The offering would certainly raise trading volume going forward, and make it easier for institutions to make larger purchases, since trading volume on Enzymotec rarely exceeds 100,000 shares a day. The offering price is yet to be determined, and could affect the share price, depending on the pricing. I would wait for the secondary offering to buy, as it might determine the short-term bottom for the stock.
Valuation and price target
Given the new information from the earnings release, I've made some changes in my 2014 and 2015 estimates, but the $37.50 price target remains unchanged. My estimates are above the forecast management provided and I base my optimism on a number of recent growth initiatives that are yet to show in the company's financial statements. These initiatives include:
- "New Food Raw Material" certification in China leading to a more meaningful expansion in the most populated country in the world
- Manufacturing facility expansion leading to higher productivity and which will enable the company to sell the byproducts of the krill oil extraction process
- Polar Omega joint venture
- Higher operational leverage over fixed costs
I also believe that management is being conservative, given that the company just went public two quarters ago, and that they may have left room to further raise expectations in the next earnings report. The potential impact of Neptune royalties would negatively affect profit margins, but this might be partially offset by lower legal costs. I revised my revenue estimates down, but EPS estimates remain unchanged, since I believe that the margin outlook has improved. The previously targeted price range of $37.50 to $45, based on a 2015 forward P/E range of 25 to 30, remains in place, and at the upper end of the forward P/E, shares could rise as much as 78% in the next six to twelve months.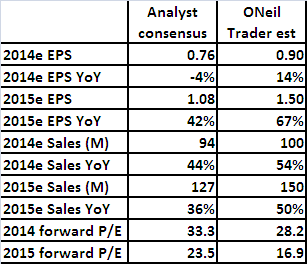 Source: Thomson Reuters, Yahoo! Finance
Downside should be limited to $22 based on a 20x 2015 forward P/E (analyst consensus) and 15x 2015 P/E (my 2015 EPS estimate). The lowest price might be $20, a psychological level of support for the stock. Based on these assumptions, the reward-risk ratio is on the long side, with maximum downside of 13% and 21% and potential upside of 48% to 78%. However, as I mentioned earlier, I would wait for the pricing of the secondary offering, which will likely determine the floor for the share price and might create institutional demand around the price level of the offering.
Conclusion
The recent selloff created a compelling buying opportunity for Enzymotec investors. Once the secondary offering is priced, it will probably determine the short-term bottom of the share price and provide institutional and individual investors with an opportunity to buy a larger number of shares, which were not available due to the low float and low liquidity. The reward-risk ratio is at least 2.5 to 1. This is essentially the price an investor is paying for the growth of the Nutrition segment, and the investor gets a "free call option" on Vaya Pharma growth, which is expected to be a big long-term contributor to Enzymotec's growth.
Disclosure: I have no positions in any stocks mentioned, but may initiate a long position in ENZY over the next 72 hours. I wrote this article myself, and it expresses my own opinions. I am not receiving compensation for it (other than from Seeking Alpha). I have no business relationship with any company whose stock is mentioned in this article.