We are about to get one of the most anticipated earnings reports of the quarter on Wednesday from Tesla Motors (NASDAQ:TSLA). The electric car maker and momentum stock hit another new all-time high on Tuesday prior to the report. Last week, I provided a simple caution to investors about the upcoming report. As both the stock and estimates have continued higher, investors do need to be very careful going into this report. Today, I'll provide the last crucial update before Tesla reports.
Estimates increase again:
As everyone knows by now, Tesla pre-announced 6900 deliveries in Q4, beating the company's original guidance for slightly under 6000. I've continued to detail the rise in analyst estimates, and this week, they hit another high. In the following table, I've tracked estimates going back to the Q3 report in November.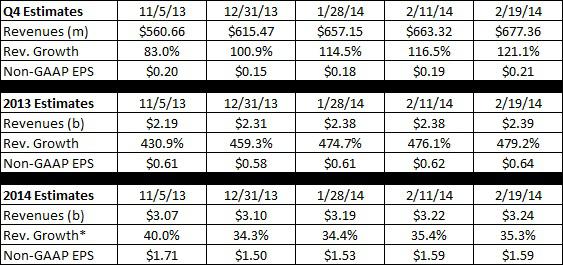 *2014 growth number based on 2013 estimate at that time.
I still think there is room for Tesla to beat, but the size of that potential beat is getting smaller, and there still is some time for estimates to go even higher before earnings. For now, let's assume Tesla reports $700 million in revenues and $0.25 in earnings per share (non-GAAP, of course). When 2014 started, that announcement would have produced a beat of about $85 million in revenues and $0.10 in EPS. Even last week, that beat would have been $37 million and $0.06. Now, that beat would be down to just $23 million and $0.04. Additionally, the stock has continued higher to another all-time high, so investor expectations might be for an even better report than my theoretical numbers. This stock has the perfect set-up for "buy the rumor, sell the news".
Tesla is going to announce a tremendous Q4 result. Revenues are expected to more than double for the quarter, and non-GAAP EPS are expected to swing from a $0.65 loss to a profit of $0.21. Remember, however, that just one year ago, this stock was at $37 a share. Shares are now above $203. Investor expectations might be well above analyst estimates, so there is some room for investor disappointment here.
Can earnings really expand that much?
Tesla certainly did a great job in 2013 of improving profitability, on both a GAAP and non-GAAP basis. However, the Q3 2013 bottom line number was a bit disappointing when compared to the huge revenue beat for the quarter. I do expect Tesla to beat the current Q4 estimate, but how profitable will Tesla be in 2014? Analysts are betting on substantial improvement in 2014, as you can see in the estimates table below, taken from the estimates page I linked to in the prior section of this article.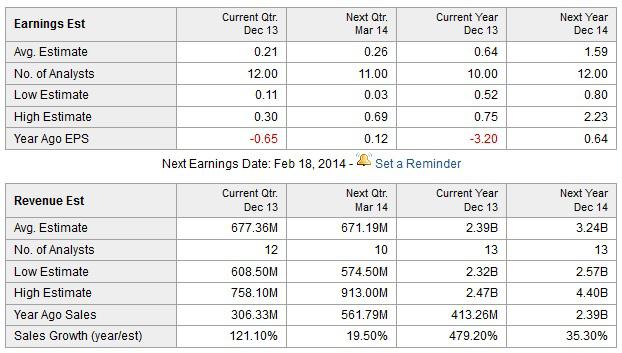 Analysts are currently expecting a 35% increase in revenues this year (over the current 2013 estimate), but earnings per share are expected to rise by nearly 150%. That's a lot of improvement, and Tesla will really have to control costs. Don't forget the other huge headwind Tesla is facing, and that is dilution. In Q3 2013, the diluted share count used to measure GAAP EPS was 121.86 million. A year earlier, that number was 105.56 million. The share count continues to rise each quarter, and that will further dent EPS. It makes that nearly 150% earnings improvement this year even harder to achieve. I'm not saying that Tesla cannot do it, so maybe investors need to temper expectations just a bit.
A price target raise before earnings:
On Tuesday morning, an analyst at Baird reiterated an Outperform rating on Tesla and raised his price target from $187 to $215. The analyst notes that Tesla will definitely exceed his original estimates for 5,950 deliveries and $0.12 in EPS. However, the analyst cautions that higher costs for the build-out of the supercharger network could offset some of the gains from extra deliveries. The analyst believes 2014 delivery guidance could be in the 30-32k range, and is looking for an update on the battery factory.
The price target raise probably was the main reason for the rise in shares on Tuesday. However, it's always curious to see these analyst comments right into earnings. If Tesla's stock drops afterwards, the analyst looks really foolish. Why not just wait until after the report? Remember, the analyst said he was "cautiously optimistic" into the report, he did not really say that investors should be buying into the report. Additionally, the new price target is less than $12 above Tuesday's close. This target doesn't represent tremendous upside in the stock. It was a price target hike to $215, not $250 or $300.
Where's the support?
There is no argument when it comes to Tesla's stock price. This name has been one of the best winners of the past year, and shares have rallied strongly since the company pre-announced Q4 deliveries. At that point, shares were in the upper $130s. The problem is that shares have gotten so high, there isn't a bunch of moving average supports should shares decline post earnings. The following chart shows Tesla against its 50-day and 200-day moving averages over the past six months.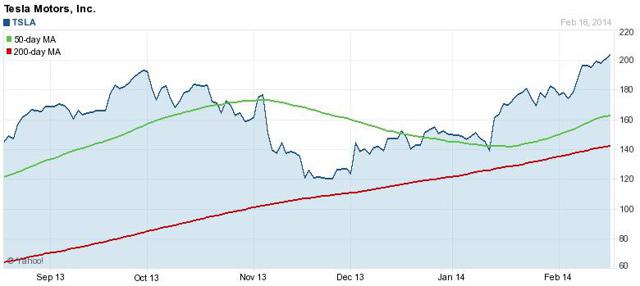 (Source: Yahoo! Finance)
Tesla basically bounced off the 50-day moving average, thanks to the Q4 deliveries announcement. However, shares are currently about $40 above the 50-day moving average. If Tesla shares do fall after earnings, that would be the next major level of support, and that's a long way down from here. The 200-day moving average is about $20 below the 50-day right now, so that's even further below where shares are currently. Tesla shares went into the Q3 report just above the 50-day moving average, and sold off about $60 after the report. Shares nearly traded down to the 200-day a few weeks later, bouncing just about $5 above that level. Going into that earnings report, the 200-day moving average was about $75 below where Tesla shares were trading. Right now, the difference is about $60.
Final thoughts:
Tesla shares hit another new all-time high on Tuesday, and it is now time for the company to report. Analyst estimates have continued to rocket higher after Tesla's January pre-announcement. Investor expectations will be even higher going into this report, given where the stock trades. I wouldn't personally buy Tesla into the report, but I'm certainly not advising anyone to short it through earnings. With a stock that's run so much, you have to be very careful. If you are sitting on a huge profit, it might not be a terrible idea to take some or all of your money off the table before earnings and then evaluate the name again afterwards. Tesla seems set up for a "buy the rumor, sell the news" event. We'll see if that happens on Wednesday, as Tesla shares have raced higher into earnings.
Disclosure: I have no positions in any stocks mentioned, and no plans to initiate any positions within the next 72 hours. I wrote this article myself, and it expresses my own opinions. I am not receiving compensation for it (other than from Seeking Alpha). I have no business relationship with any company whose stock is mentioned in this article.
Additional disclosure: Investors are always reminded that before making any investment, you should do your own proper due diligence on any name directly or indirectly mentioned in this article. Investors should also consider seeking advice from a broker or financial adviser before making any investment decisions. Any material in this article should be considered general information, and not relied on as a formal investment recommendation.