Shares in Rolls Royce (OTCPK:RYCEY) (RR.L) have fallen by 19% since the company's 2013 earnings release on Thursday. Underlying pre-tax profits for the full-year rose 23% to 1.76 billion pounds ($2.92 billion), which exceeded analysts' expectations. Rolls Royce's order book at the end of 2013 rose 19% to a record £71.6 billion ($119.6 billion), as the company secured orders for engines to power 334 widebody aircraft, and also because of the impact of its Tognum acquisition. However, the company warned that revenue and profit growth would be flat in 2014, given the impact of declining defense orders. Prior to the announcement, analysts had expected earnings growth of around 8% for 2014, according to data from Thomson Reuters.
Financial Highlights
| | 2013 | 2012 | 2011 |
| --- | --- | --- | --- |
| Order Book ($m) | 118,518 | 96,835 | 88,750 |
| Revenue ($m) | 20,126 | 19,579 | 17,131 |
| Net Income ($m) | 2,282 | 3,695 | 1,306 |
| Underlying EBIT ($m) | 3,030 | 2,486 | 1,919 |
| Underlying EBIT margin | 11.8% | 12.7% | 11.2% |
| Underlying EPS (per ADR) | $5.43 | $4.77 | $3.74 |
| Reported EPS (per ADR) | $6.06 | $9.92 | $3.54 |
| Net Cash ($m) | $3,209 | $1,935 | $163 |
Although the cuts in defense spending by U.S. and European governments have long been publicized, the severity of the impact to new orders had been somewhat underestimated. Together, with the conclusion of the delivery phase of major export programs, the impact to Rolls Royce defense aerospace division in 2014 should be severe. Although defense aerospace revenue continued to rise by 7% to £2.59 billion ($4.29 billion) in 2013, its order book declined 21% to £4.1 billion ($6.8 billion). Management is estimating a 15-20% decline in revenue and profit in the segment for 2014, which would offset any growth from other segments, including civil aerospace, energy and power systems.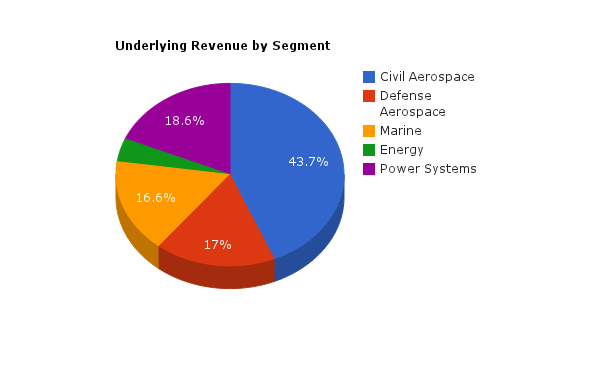 With a rapidly growing civil aerospace segment and its joint acquisition of Tognum with Daimler (OTCPK:DDAIF) contributing to an expansion of its marine and energy segments, the defense aerospace segment accounts for a declining share of the company's revenue and profitability. Nevertheless, defense aerospace contributed 17% of Rolls Royce's underlying revenue and more than 23% of underlying EBIT.
The decline in defense aerospace revenues will likely bottom out within the next few years; and given that service revenues accounts for more than 46% of revenue from the defense segment, the sharp decline in revenues and EBIT should not persist beyond 2016. Furthermore, the company's cost cutting program, and its focus on the resilient military transport market should offer Rolls Royce greater stability with governments reducing defense spending.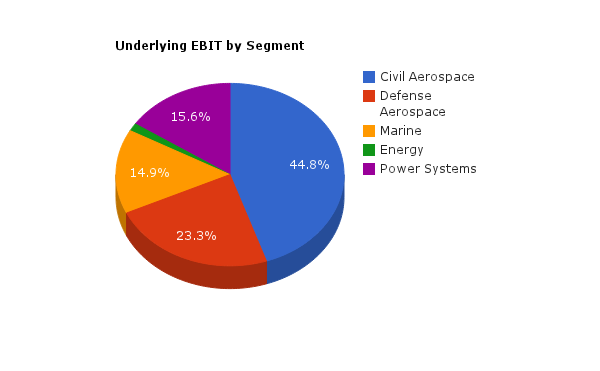 In the medium term, robust demand from civil aerospace will offset the impact of declining defense spending. The company has issued guidance that growth is expected to resume in 2015. Rolls Royce is a market leader in the widebody civil aircraft engine market, with 2,454 engines currently in service, and 2,763 engines on order. With GE's (NYSE:GE) exclusive deal with Boeing (NYSE:BA) to supply engines for the new longer-range versions of the 777 aircraft, Rolls Royce will be the sole supplier of engines for the new Airbus A350 aircraft. With Rolls Royce having only signed an exclusive deal with Airbus on the A350-1000 series, the -800 and -900 series are theoretically open for competing engine suppliers.
The widebody engine market increasingly seems to resemble a duopoly between Rolls Royce and GE. Pratt & Whitney, a subsidiary of United Technologies Corp. (NYSE:UTX), has historically been a major competitor in the widebody engine market; but the company has not recently manufactured widebody aircraft engines on its own. Pratt's development for geared turbofan engines for single aisle jets has limited the company's resources to compete effectively in the widebody market, and the innovative new design would encounter significant technical difficulties in scaling up for widebody aircraft. Thus, the lack of genuine competition in the widebody engine market would leave GE and Rolls Royce in a strong negotiating position with regards to new orders and servicing arrangements with airlines.
The company's net cash position is an additional bonus, by reinforcing the outlook for greater payments to shareholders. Rolls Royce expects to increase shareholder payments by 12.8% to £0.22 per ordinary share ($1.82 per ADR) through the issuance of C Shares, which can be redeemed for a cash payment. Each ADR represents 5 ordinary shares. (The company issues C shares twice yearly, in lieu of cash dividends to avoid generating additional shadow Advance Corporation Tax (ACT). This improves the company's cash flow.) Given the close resemblance of C share issuances and cash dividends, we should therefore factor in the corresponding dividend yield of 2.3%.
Currently, Rolls Royce trades at a reasonable 14.9x multiple on underlying 2013 earnings, despite the company's strong net cash position. Although the lowered guidance for 2014 revenue and earnings had been somewhat unforeseen, the medium- to long-term outlook remains optimistic. Limited competition and robust demand in the mid- to large-sized aircraft market in the medium term should continue lead to continued revenue growth and EBIT margin expansion.
Disclosure: The author has no positions in any stocks mentioned, but may initiate a long position in RYCEY over the next 72 hours. The author wrote this article themselves, and it expresses their own opinions. The author is not receiving compensation for it (other than from Seeking Alpha). The author has no business relationship with any company whose stock is mentioned in this article.