Anyone old enough will get the very subtle nod to the famous and idyllic comedy show of the 60s My Three Sons.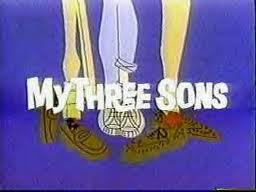 It is the second longest running live action comedy series in TV history. The only parallel I can now draw is that My Three Stocks are the longest running holdings in my self directed portfolios.
To tell you the truth though, unlike Fred McMurray who cared deeply about his three sons, I don't pay much attention to My Three Stocks, but I do have a favourite son, er stock.
And that stock would be Tim Hortons (THI). The other two stocks are Enbridge (NYSE:ENB) and TransCanada Pipelines (NYSE:TRP). Other than those three stocks I am an indexer. That said My Three Stocks comprise some 22% of our total equity holdings in our self directed retirement accounts. It's a powerful 1-2-3 punch that keeps on growing and growing back after I trim them. They're like weeds on the total return front, and they also offer growing income as well. They are traditional dividend growth stocks. Here is the total return of these companies over the last several years going back to Tim Hortons becoming a public company. It was spun off from Wendy's (NYSE:WEN) back in 2006.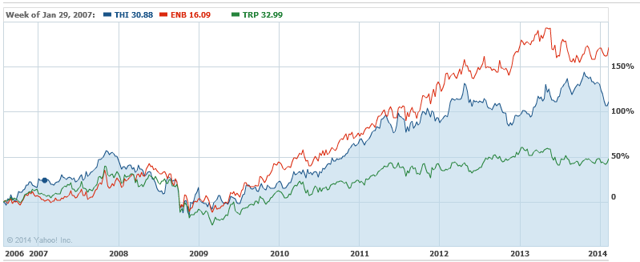 And if we factor in dividends and their reinvestment from March of 2006 My Three Stocks would have offered a 164% return compared to 61% for the S&P 500 (NYSEARCA:SPY). 10-year returns for ENB and TRP would be 355% vs. 103% for SPY.
I bought Tim Hortons back when I was a creative director on their business (in my former life as an ad guy), for those potential dividends. I will often say that after Tim Hortons fills in every street corner in Canada they will then be forced to return most of the profits to shareholders by way of a 4-5% annual dividend. So far that theory appears to be working out. The market realizes that there is very decent growth potential for Tim's and that the dividend growth potential is enticing. Investors like me are willing to pay up.
The dividend growth for Tim's has already been impressive. The last dividend increase was from .21 to .26. The CAGR (Compound Annual Growth Rate) for the dividend from 2006 is 22%. TD Waterhouse says that Tim's has a payout ratio of 36%.

Granted given the stock price appreciation the current yield is 1.9%. Once again, I'll be patient on this one, it's a story I know well. What gives this indexer the confidence to hold that individual company is that I understand the love that Canadians have for that brand and company. It's almost an unhealthy obsession. But healthy for my retirement accounts that's for sure. When asked what makes Canada Canada, many Canadians will mention Hockey, Universal Healthcare and Tim Hortons. In a recent brand study, there was only one Canadian company that made the top ten favourite brands, and that was Tim Hortons. Working for the company and on the brand story I read many letters that Canadians had penned - espousing their love for the company and coffee and products. When you meet someone from Canada and their name is Tim, it's possible that their Mom, when pregnant, was a fan of the small "donut holes" known as Timbits. Canadian hockey parents love to take their Timmy's coffee into the rinks as they watch their kids play. When on road trips, Tim's is a staple filling vehicles' cup holders from coast to coast. There's a famous Tim Horton's billboard that shows a cup of Tim's coffee, it simply reads ... Not so much held, as embraced. True.
McDonald's (NYSE:MCD) is the number one QSR (Quick Serve Restaurant) in every country where they've made even half an effort, except for one country. McDonald's are number two in Canada behind Tim Hortons. Tim's sells 8 out of every 10 cups of coffee sold in the QSR domain in the great white north. Canadian coffee drinkers drink an average of 2.6 cups a day. Tim Hortons serves approximately 2 billion cups of coffee annually. Did I mention it's cold up here and we drink a lot of coffee?
Tim Hortons has 4,304 system-wide restaurants, including 3,468 in Canada, 807 in the United States and 29 in the Gulf Cooperation Council.
But it goes beyond coffee. It started as a donut shop that sold coffee. It turned into a quick serve restaurant that holds coffee and donuts as its solid base but also delivers on breakfast and lunch and moving forward it should be increasing its share of that time of day known as dinner. They have managed to deliver on their Always Fresh philosophy, and that means innovating on the product front, and freshening up the store environment. They are leaders in in-store digital boards and moving forward, TV. They have a wonderful corporate charitable program that is real and honest. They support sports and camps and many local charities in each community.
I am not an individual stock picker so I'm going to be light on the numbers in this article, but here's how the revenue history looks. Tim's has been able to grow its revenues and earnings at a decent pace. The most recent EPS was $2.78, an increase of 7.27% over the previous year.
It has a current P/E of 20.85.
And here's tidy box showing its earning history from 2008. It's a very consistent story, that brand love is turning into more stores, more store visits and an increase in same store sales.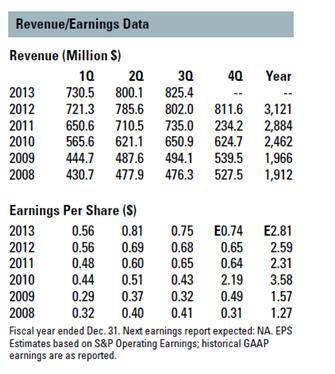 Not only that, the U.S. component is delivering to the increased revenues and income. Tim Hortons is not a power house in the U.S. market but it does have a very decent presence in the North East. Americans don't love the brand but many do recognize that it's a superior product with superior service to Dunkin' Donuts. That said, America Runs On Dunkin' and there is brand loyalty there. OK it's more of a habit than anything for Americans to go to Dunkin' as they are not necessarily impressed with the service or offering. Tim's will likely continue to squeak out gains in their U.S. foothold (I will resist calling it a stronghold). And they will continue to grow around the edges, moving organically and slowly around that U.S. base.
That's one area where analysts and mutual fund managers get it wrong on Tim's - the U.S. They had a failed expansion effort behind enemy lines in deeper southern New England. They could not get any traction with no brand recognition to speak of, so they bailed on the experiment, and wrote it off. I was in on that one, and it was an interesting marketing exercise. But it certainly was not worth the effort or money to stick it out.
But that's mostly what the mutual fund managers talk about. They also get the Canadian story wrong. Many claim that there's saturation in Canada already. Sure Ontario and the East Coast are filled in pretty good. But there are urban areas in Ontario as an opportunity, in addition to a few street corners not yet occupied. There's great opportunity and traction in Quebec. The west is largely a new frontier. There's plenty of room to grow in Canada. I don't have any inside information here. I simply know the story that's available in the quarterly reports and press releases. You'd think mutual fund managers would at least skim the year end reports before they go on TV to spread their knowledge? Apparently not. LOL.
To me it's a simple story. I'll pay attention the brand and the line ups in the stores and in the drive thru's. I'll keep an eye on the earnings and revenue and product innovation and service levels. There's no such thing as a no-brainer and there are no guarantees in life or in investing, but this was feels more than solid. I am hopeful that I will eventually get that 4-5% dividend that will perhaps fund a week's vacation every year in retirement. Or perhaps we'll blow the whole thing and spend a year traveling the world.
As for TransCanada and Enbridge, I hear that they keep raising their dividends. But again, I don't pay them much attention, they are the forgotten sons who probably get too long a leash because they have served me so well in the past - and they have already paid for themselves in full. It would certainly hurt if they started to misbehave, but they certainly owe me nothing. I hear my main risk on those companies comes from a guy named Obama who is not a fan of their pipeline and energy business models. I can't read his mind, so I guess as they say on Hear Comes Honey Boo Boo (a sitcom with four daughters) ... "It is what it is!"
Well, that's it for my stock picking adventures. And now back to indexing and our regularly scheduled programming. That said, we may be expecting a fourth son known as Scotia (NYSE:BNS). This indexer just might overweight another position within the Canadian index with the addition of ING Direct's very own parent company.
Stay tuned.
Disclosure: I am long THI, ENB, TRP, SPY. I wrote this article myself, and it expresses my own opinions. I am not receiving compensation for it (other than from Seeking Alpha). I have no business relationship with any company whose stock is mentioned in this article. Dale Roberts aka cranky is a Streetwise Coach at ING Direct Mutual Funds. The Streetwise Portfolios offer index-based complete portfolios to Canadians. Dale's commentary does not constitute investment advice. The opinions and information should only be factored into an investor's overall opinion forming process