Executive summary:
VNR will see major accretion to DCF as a result of the added Wyoming production
The company was able to greatly expand into natural gas at a time when prices were depressed
Natural gas prices have soared 30% since then
VNR is very likely to be in a position to increase its distribution short to medium term
_________________________________
Vanguard Natural Resources (NYSE:VNR) really got lucky with the timing of its recent acquisition. On December 30, the company announced a $581M acquisition of mostly natural gas properties in Southwestern Wyoming. At the time, natural gas prices were slightly above $4.00 per MCF. However, over the past few months, natural gas prices have soared, increasing 30% to $5.50 per MCF. This increase in price may result in Vanguard Natural Resources getting much more value out of these assets than expected.
An overview of the Wyoming natural gas acquisition
Before I get into explaining Vanguard Natural Resources' upside potential, an overview of the acquired assets is warranted. Do note that I wrote a couple articles (I, II) published soon after the announcement which provide a more fuller and detailed breakdown of the acquisition.
Below is an overview of the key stats for quick reference
Purchase price: $581M

Production: 113.4 MCFE/D

Production mix: 80% natural gas, 16% NGLs, 4% oil

Proved Reserves: 847 BCFE with an estimated reserve life of 20 years

Cost of proved reserves: $0.69 per MCFE

Cost of production: around $5000 per flowing MCFE ($30,000 per flowing BOE)

Immediately accretive to DCF per unit
As I noted in my previous articles, Vanguard Natural Resources is acquiring a non-operating stake. This production represent merely 10% of a much larger asset base operated by Ultra Petroleum Corp. (NASDAQ:UPL) and QEP Resources, Inc (NYSE:QEP). The seller appears to be Anadarko E&P Onshore llc, a subsidiary of Anadarko Petroleum (NYSE:APC). The transaction was closed on February 3.
By buying these assets, Vanguard Natural Resources is making big bet on the future of natural gas, as they added nearly 80% to reserves while boosting production by 55%. Given that these assets are nearly 80% natural gas, this will shift Vanguard Natural Resources production mix much more towards gas and away from liquids.
This transaction will also provide Vanguard Natural Resources with 970 proved drilling locations and 5,200 additional unbooked locations, further increasing its exposure to natural gas and adding some potential for incremental production growth. Current projections call for an 8-rig drilling program, with each rig anticipated to drill 2 wells per month in 2014.
The shift to natural gas seems to be a homerun
As was noted in a recent article by fellow SA contributor Casey Hoerth, Vanguard Natural Resources could see a payoff time of only 3.5 years based on Henry hub $4.50 per MCF natural gas prices.
However, as I suspected, the company has already hedged out nearly all of the expected production. Vanguard Natural Resources' MO is to buy mature, low decline, production on the cheap, hedge the production to lock in cash flows, and pay out the "margin" as distributions to its unitholders.
Below is a breakdown of Vanguard Natural Resources' new hedges now in place: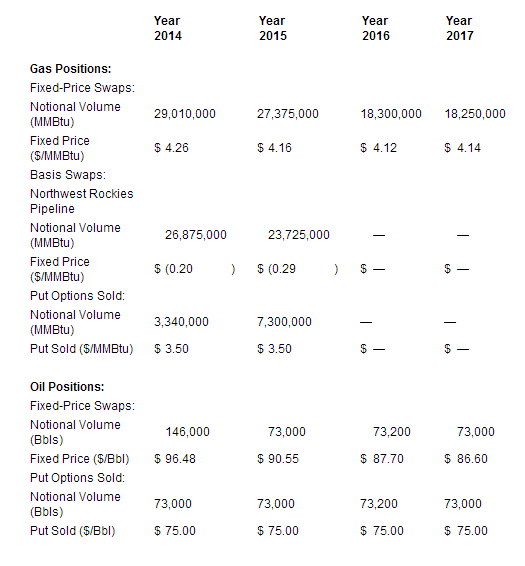 As shown, Vanguard Natural Resources seems to be getting quite a decent price for this production. For this year, 29M MMBTU will be hedged at a price of $4.26 per MCF, way above the current average realized hedged price of $3.48 per MCF. In addition, this hedge pretty much covers about 88% of the anticipated natural gas production in 2014.
Assuming production expenses per MCF are equal to Vanguard Natural Resources' current costs, the company could see its average margin per BOE increase substantially.
I will still need to see more metrics from the 10-K filing to figure out exactly how much more Vanguard Natural Resources stands to make from these assets. In addition, we still need to see how the company plans to fund the transaction long term. However, my back of the envelope calculations point towards a possible accretion to DCF per unit of nearly 10%.
However, do note these hedged prices are well below the current market rate. This is likely due to the futures market being in backwardation, or simply put, where the futures price of a commodity is below the expected future spot price.
Likely secondary offering coming soon
While these assets are expected to be accretive to Vanguard Natural Resources, the company will still likely need to issue equity to fund part of the transaction. The company tapped its existing $935M reserve-based credit facility to fund the transaction short-term, leaving only $365M of undrawn capacity.
However, Vanguard Natural Resources typically likes to issue a 50/50 combination of both long-term debt and equity to pay off its revolver. Therefore, I expect the company to be issuing as many as 9M to 10M units (11% to 13% of the current float) in the short to medium term to fund the equity half of the acquisition. Given that the company will likely need to issue the units at a sizeable discount, this may be a good buying opportunity to buy Vanguard Natural Resources units.
Are higher distributions on the way?
I believe Vanguard Natural Resources is pretty much a lock to reward its unitholders with an increase to its distribution after it reports earnings later this month.
In Q3 2013, the coverage ratio was a robust 1.09x, implying lots of room for an increase to the distribution.
In addition, I also expect Vanguard Natural Resources' Q4 2013 coverage ratio to improve sharply due to higher WTI oil, NGLs, and natural gas prices during the quarter.
Given that the acquired assets are likely to be significantly accretive to DCF starting in Q1 2014, Vanguard Natural Resources will have tons of breathing room for a distribution increase. Furthermore, I expect Vanguard Natural Resources guidance for 2014 to be quite strong, especially since it will be adding production and rolling over hedges into a much stronger natural gas pricing environment.
Conclusion
Overall, it seems as if Vanguard Natural Resources will be in quite an enviable position for 2014. The company got natural gas focused at exactly the right time. While part of this was clearly luck, Vanguard Natural Resources seems to have also benefited from top-notch management that knows when exactly to go for a major deal.
Given its strong coverage ratios and likely future increases to the distribution, Vanguard Natural Resources remains a solid pick among in the upstream MLP sector. Yes, its valuation based on DCF is expensive compared to some peers. However, the stock clearly demands a premium due to its stellar performance.
Disclaimer: The opinions in this article are for informational purposes only and should not be construed as a recommendation to buy or sell the stocks mentioned. Please do your own due diligence before making any investment decision.
Disclosure: I am long VNR. I wrote this article myself, and it expresses my own opinions. I am not receiving compensation for it (other than from Seeking Alpha). I have no business relationship with any company whose stock is mentioned in this article.