Indonesia (NYSEARCA:IDX) was one of the weakest emerging markets (NYSEARCA:EEM) in 2013 with its stock index down 24.8%. The primary drivers from this sell off were rumors of Fed tightening, a rapidly weakening local currency, and a sharp negative turn in the country's trade balance. However, a robust consumer based economy outside of mining exports, favorable demographics, and an oversold rupiah make us bullish on Indonesia fundamentally, while recent price action hints at least a tradable technical bottom.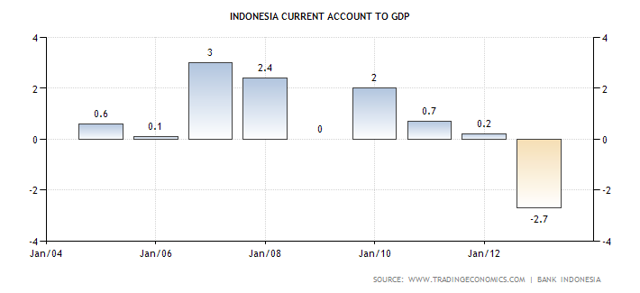 The main fear in Indonesia has been slowing iron ore exports, and crude oil exports have caused a hole in the country's balance of trade. 2013's trade deficit of 2.7% of GDP was the first in over a decade. The cause for the imbalance is a combination of Indonesia's domestic energy consumption shifting the country to a net oil importer and declining iron ore purchases from China. On January 13th, the proposed iron ore ban was reduced to permit iron products slightly higher up the value chain. This will still be bad for Indonesia's trade balance, but not as harmful as anticipated previously for investors.
The current account deficit and fears of its worsening from a proposed iron ore export ban have battered the Indonesian rupiah. As seen in the chart below, the rupiah is at the weakest level since the 2008 financial crisis. With Indonesia aggressively tightening monetary supply and raising interest rates, the panic involved with the current trade deficit seems to be fully priced into the market.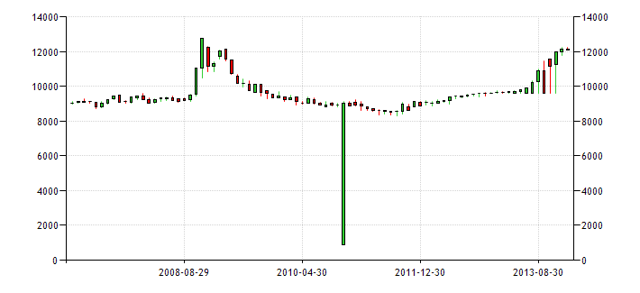 In addition to the bottoming of the currency, the rest of Indonesia's fundamentals are solid. The unemployment rate remains relatively low at 6.25% and is continuing a downtrend dating back to 2005. Indonesia's government is fiscally sound with a debt/GDP ratio of only 23.1%. Annual industrial production growth is over 10% and retail sales growth is at an annualized pace of 18.3%. What baffles me is that Indonesia is down over 20% and is a lagging market with a strong economy, while the indices of weak economies in the US, Europe, and Japan are at five-year (all time highs in the case of the S&P 500) highs.
The Indonesian economy will be hurt by fewer exports, but in the medium to long term this will be more than compensated for by the emergence of the local consumers. Domestic consumption is at 70% of GDP in Indonesia. With real incomes still rising rapidly and affordable local housing market, the average Indonesian has growing disposable income in a world where debt and higher living costs are squeezing consumers in East Asia and Western nations. Demographics are favorable as well. Indonesia's median age is 27.9 years old, which is the time an urban professional gets married and looks to buy their first house. This helps the economy by increasing housing demand along with having its peak age group at a time where they spend a lot on the costs of starting a family, or luxuries when single.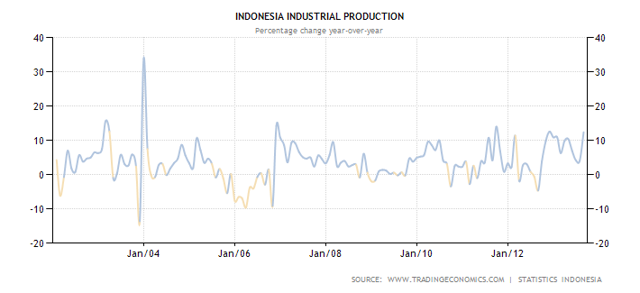 Technically, the outlook looks bullish as the Indonesia index ETF seems to be forming a bottom near $20 per share. January 10th's 4%+ rally engulfed the previous two weeks downward candles and also trigger bullish MAC-D on the daily and weekly charts. The 14-week RSI is also low at 36 and just bounced out of oversold territory.
The method we suggest capitalizing on a recovery is by buying either the Indonesia ETF or specific consumer oriented local companies. The companies that stand out to us specifically include the Home Depot of Indonesia Ace Hardware (ACES:JK), car manufacturer Astra (ASII:JK), and real estate developer Alam Sutera Realty (ASRI.JK) However, the relative inaccessibility may make these opportunities limited. The trailing stop for IDX should be placed at 1.75 with a hard stop at 20.01.
Disclosure: I am long IDX. I wrote this article myself, and it expresses my own opinions. I am not receiving compensation for it (other than from Seeking Alpha). I have no business relationship with any company whose stock is mentioned in this article.