All eyes have been on whether or not Intel (NASDAQ:INTC) is going to continue to innovate for phones and tablets in the coming year - most investors agree that it's crucial for the company to return to growth.
The chipmaker, after reporting another lackluster quarter last quarter, recently announced new stock-based incentives for employees and a renewed focus on mobile and tablet.
While the focus has certainly been on that area, Intel has been working, in the background, on its entire chip line. Innovation doesn't just continue with mobile and tablets, it needs to continue across the board for Intel if the company is dedicated to returning to growth through innovation.
As such, the company announced its 15-core server chip family yesterday. These are the chips that help massive companies move massive amounts of data. Intel has promised to "double the performance" of these chips versus its predecessors. The big data market is expected to grow 27% a year in the coming years, according to IDC. So, it's an area where Intel has an opportunity.
ZDnet reported:
The Xeon processor E7 8800/4800/2800 v2 product family is designed to support up to 32-socket servers with configurations of up to 15 processing cores and up to 1.5 terabytes of memory per socket.

Unveiled at the Exploratorium museum during a media presentation on Tuesday, the chipset falls within Intel's game plan for tackling the Internet of Things movement, which the processor maker projected will grow to consist of at least 30 billion devices by 2020. (Previous forecasts have predicted closer to 20 billion, demonstrating just how rapidly and exponentially the reach of connected devices has grown in the last few years or even months.)

Intel cited an additional forecast that big data and advanced analytics is supposed to be worth roughly $32.4 billion by 2017.

Thus, the latest addition to the Xeon portfolio is Intel's latest step to turning around massive amounts of data from mission critical workloads into verifiable numbers in real-time for solving business problems faster.

Beyond two times better performance power, Intel is promising a few other upgrades with the next generation of this data-focused chipset, including triple the memory capacity, four times the I/O bandwidth and the potential to reduce total cost of ownership by up to 80 percent.
This does well to validate this VR-Zone article which published an Intel roadmap for releases by the chipmaker. I first pointed this map out yesterday in a discussion about Intel's revamp of its Atom processor. The article claims that since these dates have come from an official Intel roadmap, that they're "as close as it comes to being set in stone"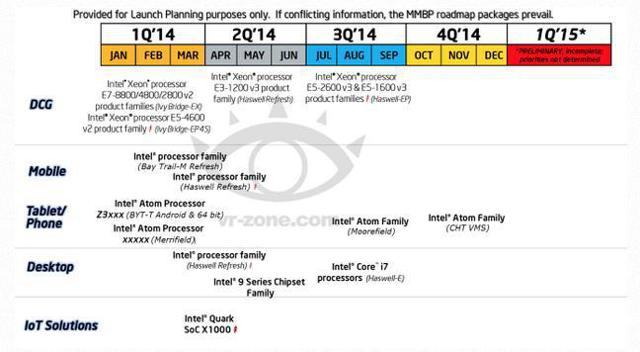 Annoyed Intel shareholders that dumped after earnings mostly noted that they weren't able to hang on for another "rebuilding" year. However, it's always darkest before dawn and shareholders are starting to realize that - despite the poor company performance, Intel's stock has held its ground in the $24 region, suggesting that there's a decent sized constituency that thinks the giant has the resources and know how to play catch up in mobile and tablet.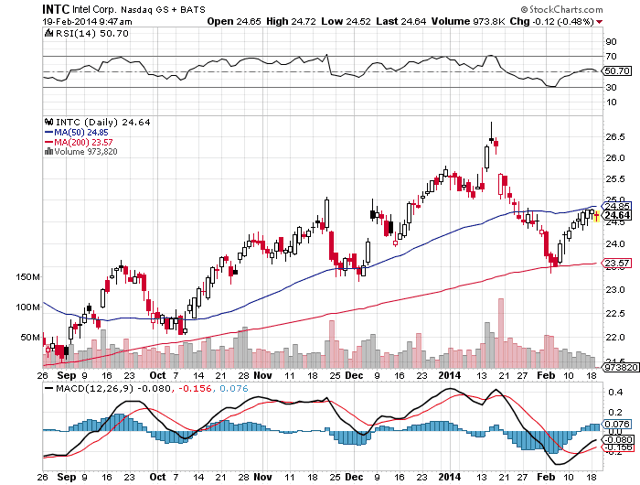 The chart, from a technical mindset, looks anything but perfect. But, it doesn't look inherently bearish. Support at $23.50 has held a couple of times dating back to December 2013. The next bullish flag for the company could be a break through the 50DMA.
If Intel can continue following its own roadmap (barring the Broadwell delay and figuring out when they want to release the new chip), the company should be able to find its ways out of this muck by the end of the year. Additionally, even though Intel didn't raise its dividends, I continue to find an excuse to buy on dips as the yield pokes its way upward on a falling shareprice.
Stay the course, Intel. Stay the course.
Disclosure: I am long INTC. I wrote this article myself, and it expresses my own opinions. I am not receiving compensation for it (other than from Seeking Alpha). I have no business relationship with any company whose stock is mentioned in this article.