Bed Bath & Beyond (NASDAQ:BBBY) operates one of the largest U.S based chains of superstores selling domestic merchandise and home furnishings. The company has grown steadily to over 1,004 stores spread across 50 states. BBBY firmly believes that the breadth and depth of selection it offers in most product categories exceed what is generally available in department stores or specialty retail stores.
Noticeable Financial Trends
From 2010 to 2013, Bed Bath & Beyond posted a three-year based compound annual growth rate in sales of 11.7%. Over the same three-year period, same store have increased by 5.5%. The company's return on investment was impressive, coming in at 25.6% in the year 2013.
The Drop
Bed Bath & Beyond had a disappointing full year and experienced a significant sell-off of almost 13% as a result. Bed Bath & Beyond said it is modeling its net earnings per diluted share to be about $1.60 to $1.67 for Q3 2013, as compared to the previous target of $1.70 to $1.77. For FY2014 modeling net earnings per diluted share are to be about $4.79 to $4.86, which includes Cost Plus and Linen Holdings. Importantly, earnings are currently expected to increase to $5.36 in 2015 and $5.91 in per share in 2016, maintaining an annual expansion of greater than ten percent.
Currently valued at only 13 times forward earnings, net income grew by 2% in last year's third quarter, to $237.2 million while EPS grew at 8.37%. The higher growth was mainly due to the company buy-back of shares for $171 million. Bed Bath & Beyond does not pay dividends yet to share holders, but is returning cash through repurchases. It has returned over 86% of its operating cash flows.
Gross Margin Going Flat
In the year 2015, gross margins are expected to be flat due to pricing pressure, increase in coupon redemption and mix shift continue to be negative drivers, offset by occupancy cost leverage. Operating margins will grow slowly on cost synergies from 2012 acquisitions, along with expense leverage from small to moderate same-store sales growth.
Some important considerations:
Company has over $1billion of available cash and no debt
Trading at 13.4X adjusted earnings
Return on Capital of 46%, earnings yield of 10%
Net income has been growing at an average rate of 22.8% for the last 5 years
Currently earn $4.89 per share and is expected to earn $5.36 per share in 2015 and $5.91 per share in 2016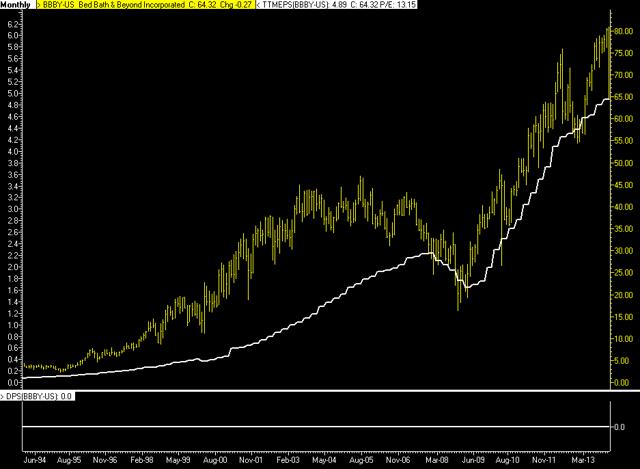 (Source: ThomsonOne and John Schwinghamer / PurpleChips.com)
With the US economy steadily recovering, Bed Bath & Beyond is likely to benefit from stronger consumer spending and increased disposable income.

The current valuation is similar to the low of 2009. Based on historical valuation ranges, Purple Chips target is $78.00 whereas according to First Call, the average analyst target is $80.74. The current valuation makes it an attractive entry point. Considering growth and expansion strategies and the economic factors, Bed Bath & Beyond should perform well in the near future.
Disclosure: I am long BBBY. I wrote this article myself, and it expresses my own opinions. I am not receiving compensation for it (other than from Seeking Alpha). I have no business relationship with any company whose stock is mentioned in this article.