(Editors' Note: This article mentions a security trading at less than $1 per share and/or with less than a $100 million market cap. Please be aware of the risks associated with these stocks.)
"You can't depend on your eyes when your imagination is out of focus." - Mark Twain
Demand pull reflation is clearly under attack. Weak retail sales (NYSEARCA:XRT), poor housing starts and homebuilder sentiment (NYSEARCA:XHB), disappointing payrolls, and underperformance by domestically sensitive areas of the stock market are a red flag. The Fed may have bottom ticked QE by tapering just as data weakens. Sure - weather does impact the economy, but 30 year Treasuries are not overweighting the snow excuse as much as US stocks are. Equities priced in reflation that never occurred.
But what if it does now? Without demand pull pressure, markets need cost push to happen. If commodities rise, that could force higher prices into the system and cause reflation which the Fed desperately wants to create to juice the economy. The first part of Abenomics in Japan (NYSEARCA:DXJ) has largely been about this. A weaker Yen (NYSEARCA:FXY) makes Yen-denominated commodities more expensive to companies and consumers in the country, forcing them to spend more to compensate. This seems to partially have worked in the short-term, although clearly longer-term this is not a sustainable strategy unless wages increase.
Commodities have improved in 2014. Gold (NYSEARCA:GLD) and Silver (NYSEARCA:SLV) are performing quite strongly, Copper (NYSEARCA:JJC) is holding, and sentiment may be improving. Take a look below at the price ratio of the DB Commodities Tracking Index ETF (NYSEARCA:DBC) relative to the S&P 500 (NYSEARCA:SPY). As a reminder, a rising price ratio means the numerator/DBC is outperforming (up more/down less) the denominator/SPY. Note severe underperformance since late 2011, and what may be a reversal finally underway on the far right.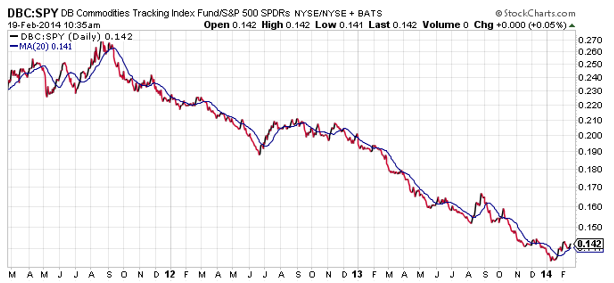 Granted that this particular ETF suffers from the contango/roll effects of futures, but recent behavior is consistent with spot commodity prices. If momentum is kicking in here, that might mean that cost push inflation pressure is rising, which in turn could counter softening demand pull reflation. This in turn would be beneficial for emerging market stocks (GMM), Energy (NYSEARCA:XLE), and Materials (NYSEARCA:XLB). It also might benefit equities overall and hurt long duration bonds (NYSEARCA:TLT) in what would be a classic intermarket lag between two asset classes.
This, for a number of macro reasons, is the only thing to focus in on now. Forget the VIX (NYSEARCA:VXX). Forget the Fed. Focus on commodities.
Disclosure: I have no positions in any stocks mentioned, and no plans to initiate any positions within the next 72 hours. I wrote this article myself, and it expresses my own opinions. I am not receiving compensation for it (other than from Seeking Alpha). I have no business relationship with any company whose stock is mentioned in this article.
Additional disclosure: This writing is for informational purposes only and does not constitute an offer to sell, a solicitation to buy, or a recommendation regarding any securities transaction, or as an offer to provide advisory or other services by Pension Partners, LLC in any jurisdiction in which such offer, solicitation, purchase or sale would be unlawful under the securities laws of such jurisdiction. The information contained in this writing should not be construed as financial or investment advice on any subject matter. Pension Partners, LLC expressly disclaims all liability in respect to actions taken based on any or all of the information on this writing.