Lorillard (NYSE:LO) operates in an attractive tobacco industry, which generates healthy margins and cash flows. Lorillard has a solid domestic market share of almost 15%. The company has a leading market share in the menthol cigarette category of almost 40%. Also, the category contributes 85% towards the company's total cigarette volume. However, significant exposure towards the menthol category has led to valuation discount for Lorillard, as an ongoing FDA menthol review remains a headwind. Also, the cigarette volume contraction has been a concern for the tobacco industry, and the industry has been relying on price increases to offset the impact of volume decline and to grow earnings. Also, dividends offered by the company are below its peers' average; Lorillard offers a dividend yield of 4.60%. Therefore, I have a neutral stance on the stock.
As the company has large exposure to the menthol category, it has been working to diversify its product offering, which I think will bode well for Lorillard. Lorillard is the leading e-cigs (electronic cigarettes) company in the U.S. and has been making efforts to further strengthen its presence in the e-cigs markets. Also, the company has recently introduced Newport Gold (non-menthol) to diversify away from the menthol category.
The company's market share remains strong despite the sales volume contraction for the industry. Lorillard experienced a sales volume decline of 1.6% YoY in Q4'13, in comparison to the average industry sales volume decline of 6.2%. Also, the company was able to increase its total domestic retail market share, Newport's domestic retail market share and the domestic menthol market share by 0.7%, 0.8% and 1.6% YoY, respectively, in Q4'13. The table below displays the increase in the market share for Lorillard for different categories.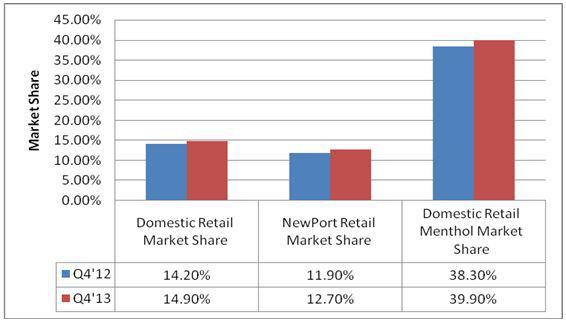 Quarterly Reports
Sales volume contraction has been an ongoing situation for the tobacco industry, and it is expected that sales volume for the industry will decline by 4%-5% per annum in the future. Sales volume for the industry has been falling because of an increase in taxes, health issues, tougher advertisement rules and weaker consumer environment. The weak sales volume trend is likely to slow down sales and earnings growth of Lorillard in the upcoming years, and I think the success of the alternate cigarette category, including e-cigs, remains very important to offset the impact of weak volumes. Moreover, price increases have been used as a tool by the industry to mitigate the affect of weak sales volume; however, I think price increases are not a viable long term option in the hand of the industry, as it will decrease purchasing power. The table below displays sales volume and price increase for Lorillard for the last three years.


Quarterly Reports
Lorillard has a dominant market share of 48% in the e-cigs category and has been undertaking steps to increase sales and its market presence. The company owns popular e-cigs brand blu eCigs and also acquired SKYCIG in Q4'13. The e-cigs segment's sales for Lorillard dropped by $9 million to $54 million. Sales for the segment dropped mainly because of prior inventory building and lower price for rechargeable devices and starter kits. The e-cigs market is expected to be significant and offset the impact of sales volume decline in the next decade; however, slower than expected consumer acceptability and potential regulations remain potential headwinds to the category. In the near term, I think the e-cigs segment for Lorillard will break even and not contribute to Lorillard's consolidated earnings because of investment spending requirements.
Cash flow generation for Lorillard stays strong, consistent with the industry. And cash returns for Lorillard's shareholders stays attractive. In efforts to grow its earnings per share, the company has been aggressively undertaking share buybacks. Also, the company offers a decent dividend yield of 4.6%. Since 2009, Lorillard has undertaken $4.9 billion worth of share buybacks and paid $3.6 billion to shareholders via dividends. In Q4'13, the company bought back $228 million worth of common shares. Under its ongoing share buyback program of $1 billion, it has yet to undertake $314 million of buybacks. Also, I think Lorillard will announce another share buyback program in Q2'14; however, the pace of buybacks might slow down as compared to the prior years, because of its ongoing investment spending. The following table shows share buybacks and dividends paid since 2009.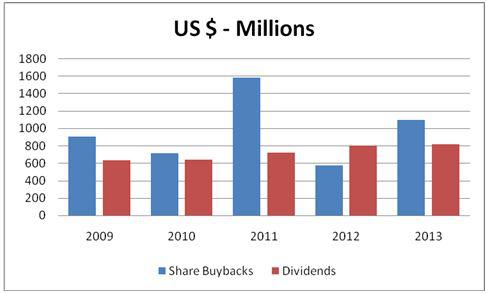 Lorillard's Annual Reports
Valuations and Final Words
The ongoing menthol review and sales volume contraction remain potential headwinds for Lorillard. Also, the high ongoing investment spending is likely to result in slower share buybacks, which will adversely affect the earnings per share growth. Lorillard's valuations remain at a discount to its peers and the broad market mainly because of risks attached to the ongoing menthol review. Current valuations for Lorillard, which stay at a discount, I think, are justified. However, a favorable outcome of the ongoing menthol review and better than expected results/growth for e-cigs could prove to be beneficial to Lorillard's valuations. The following table shows Lorillard's P/E in comparison to the broad market.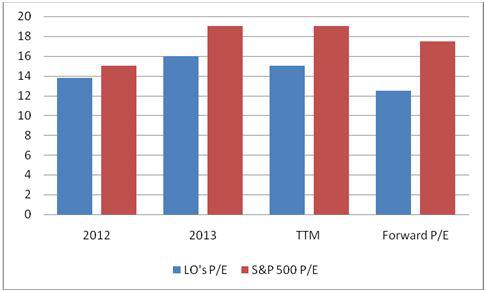 Morningstar and WSJ
Also, the stock trades at a discount to its peers, based on forward P/E, as reflected below.
| | | | | |
| --- | --- | --- | --- | --- |
|   | LO | Philip Morris (NYSE:PM) | Altria (NYSE:MO) | Reynolds (NYSE:RAI) |
| Forward P/E | | 14.5x | 13x | |
Yahoo Finance
I think Lorillard's stock is fairly priced at current valuations. The ongoing menthol review poses a potential risk to the company's menthol cigarette segment. Also, the contraction of the sales volume and the need of investment spending in regards to product innovation are likely to slow the company's earnings growth. However, dividends offered by Lorillard are believed to be safe as they are supported by solid cash flows. Therefore, I have a 'neutral' rating on the stock.
Disclosure: I have no positions in any stocks mentioned, and no plans to initiate any positions within the next 72 hours. I wrote this article myself, and it expresses my own opinions. I am not receiving compensation for it (other than from Seeking Alpha). I have no business relationship with any company whose stock is mentioned in this article.