The U.S. tobacco industry has been experiencing sales volume tightening, which has forced companies in the industry to ramp up their efforts towards smokeless product categories, to offset the impact of sales volume contraction. Reynolds American (NYSE:RAI), like other companies within the industry, has been pushing investments into the development of the smokeless product category, including e-cigs (electronic cigarettes), to support its sales and earnings growth. Other than the expansion of smokeless category, price increases remain another popular choice with companies to achieve growth. Also, the tobacco industry, and Reynolds, generates solid cash flows and enjoys healthy profit margins, which is why the stock remains popular among income-hunting investors (Reynolds offers a dividend yield of 5.60%). However, the pace of sales volume decline for Reynolds remains a concern for me. Also, the investment behind the smokeless category is likely to remain a drag on the company's earnings in the near-to-medium term. Therefore, I have a 'neutral' rating on the stock.
The pace of cigarette volume contraction for the tobacco industry has been a concern. Also, sales volume for Reynolds has underperformed the industry's volumes in the recent past. In Q4'13, Reynolds experienced sales volume contraction of 8.6% YoY, in comparison to an industry volume decline of 6.2% for the quarter. The weakness in the sales volume for Reynolds was associated to tougher advertisement regulation, health concerns, taxes and consumer switching to e-cigs. Reynolds, consistent with the industry, has been relying on price increases, productivity savings and share buybacks to achieve earnings growth. Along with the sales volume drop, in Q4'13 the company experienced a drop of 0.3% YoY to 26.1% in its total domestic tobacco market share. The following table displays the sales volume trend and price increases undertaken by the company for the recent four quarters.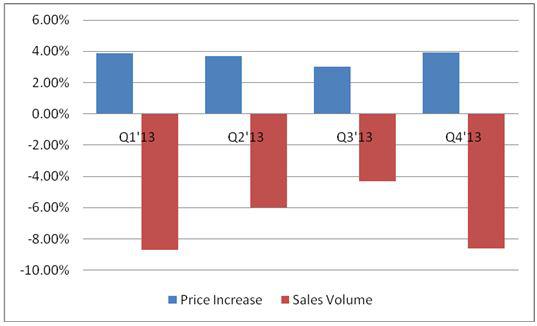 Reynolds Quarterly Reports
Also, to offset the impact of sales volume weakness, Reynolds has been making investments to strengthen its e-cigs category. E-cigs are expected remain in the spotlight for many years to come, as the category is expected to offset the impact of sales volume contraction of traditional cigarettes. Reynolds last year successfully launched its Vuse e-cigs in Colorado, and earlier this month started selling Vuse in Utah. The success of the Vuse remains of critical importance for Reynolds as the e-cigs market presents a huge opportunity in the future; e-cigs are has the potential to surpass sales of traditional tobacco products by 2023. However, in the near future, Reynolds' e-cigs are not expected to contribute towards the company's total earnings, as investment spending is expected to remain high. The company intends to achieve geographical expansion across the U.S. for Vuse in 2014, which will require notable investment. The investment to strengthen the product portfolio does make sense, as it will bode well for the company's future earnings.
However, the need for investment to back product innovation and strengthen product portfolio could lead to a slower share repurchase program, which would result in lower earnings growth. The company is expected to announce a new share buyback program in 2H'14, as $412 million worth of buybacks are left under the ongoing program. Since 2011, the company has returned almost $6 billion to shareholders, including $2.2 billion of share buybacks and $3.85 billion of dividends. Reynolds offers a solid dividend yield of 5.6%, and dividends offered by the company are safe as the cash flow generated stays strong. The following chart displays annual share buybacks and dividends for Reynolds.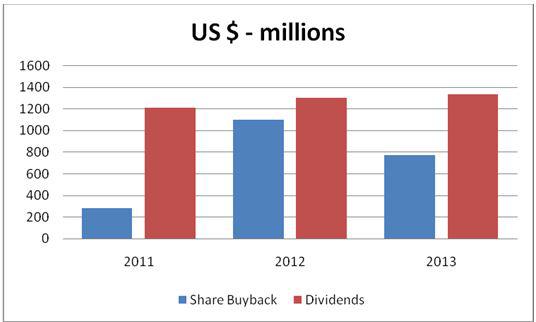 Reynolds Annual Reports
The expiration of a 10-year Reynolds and British American Tobacco (BAT) agreement remains another important topic in the near term. The agreement, which took place in 2004 and is set to expire in July 2014, restricts British American Tobacco from exceeding its share in Reynolds above the ownership level of 42%. There are various possibilities that British American could opt for, including increasing its stake in Reynolds to diversify away from emerging markets into the U.S., and strengthen the product portfolio as the industry environment is becoming more competitive. On the other hand, British American Tobacco could avoid scaling up its stake in Reynolds, as there are lesser cost synergy opportunities. If British American decides to increase the stake, it would bode well for Reynolds, as it will provide a solid cash flow base for growth investment.
Valuations and Final Words
The company remains a good investment prospect for income-hunting investors, as the stock offers a high dividend yield of 5.60%. However, the deterioration of sales volume remains a key concern for me. And the e-cigs category is not likely to contribute towards the company's total earnings as investment needs for the segment stay high. Also, the e-cigs market is at an introduction stage and has to prove its robust potential, which is dependent on consumer e-cigs acceptability and could be negatively affected by regulations. I think earnings growth for Reynolds will not be as attractive as in the past, as growth moderates due to sales volume contraction and high investment needs. Moreover, as growth for Reynolds will moderate, it is likely to result in valuation contraction, consistent with the industry. The following graph displays valuation (P/E) contraction for Reynolds, Philip Morris (NYSE:PM) and Altria (NYSE:MO).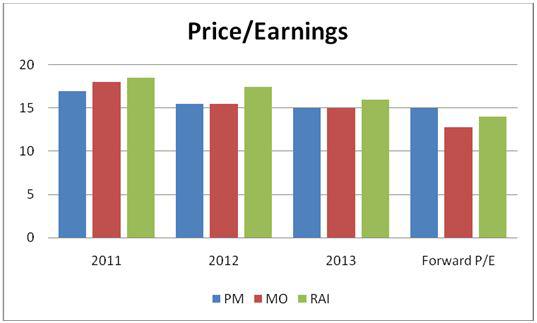 Yahoo Finance, Morningstar and Ycharts
Disclosure: I have no positions in any stocks mentioned, and no plans to initiate any positions within the next 72 hours. I wrote this article myself, and it expresses my own opinions. I am not receiving compensation for it (other than from Seeking Alpha). I have no business relationship with any company whose stock is mentioned in this article.