Introduction
In this article I'll have a closer look at Hecla Mining (NYSE:HL) which has just released its results for 2013 and an outlook for 2014. I'll start with providing my view on the company's financial results and its balance sheet. Thereafter I will briefly discuss the outlook for 2014 which will result in my conclusion at the end of this article.
All images in this article were directly sourced from the company's press release.
My view on the financial results
During 2013, Hecla Mining produced 8.9 million ounces of silver (which is the upper end of the provided range of 8-9 million ounces) and almost 120,000 ounces of gold for a total revenue of $382.6M. This was actually an increase compared to last year thanks to buying Aurizon Mines which operated the Casa Berardi gold mine. However, the direct costs also increased (and at a faster rate than the revenue) which caused the gross profit to fall by 54% to $66.1M. Unfortunately the company's G&A bill increased and there were also additional costs related to the acquisition of Aurizon Mines which resulted in a loss from operations of approximately $32.4M net loss of $25.1M.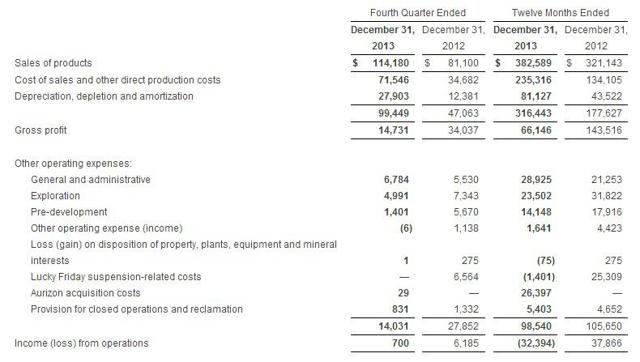 As most of my readers know, I also like to have a look at the cash flow statements of a company, as I'm convinced these statements offer a better indication of the quality of the underlying business.
According to the cash flow statements, Hecla Mining had an operating cash flow (before changes in working capital) of approximately $60M. This wasn't sufficient to cover the more than $150M in capital expenditures, and as there also was the non-recurring acquisition cost of Aurizon Mines, Hecla Mining was definitely cash flow and free cash flow negative. The funding shortfall was solved by issuing $500M worth of notes with a coupon of 6.875% maturing in 2021.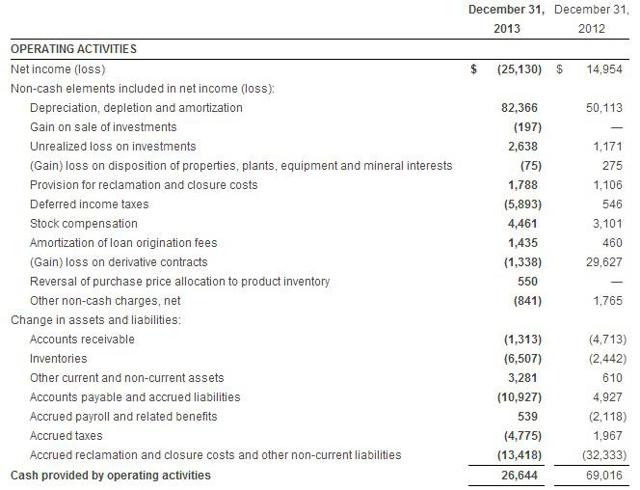 My view on the balance sheet
Moving over to the balance sheet, Hecla Mining had a working capital position of $192.1M which is very comfortable given the current ratio of 2.27 (keep in mind a current ratio higher than 1 means the company has sufficient current assets to cover its current liabilities). As most of Hecla's debt is long-term (with the majority maturing in seven years from now), I feel quite comfortable with the current state of Hecla's balance sheet.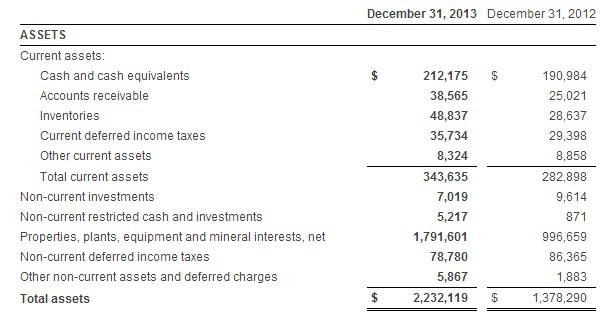 At the end of last year, Hecla had a book value of approximately $3.87/share, so the company is currently trading at a small discount to its book value.
Outlook for 2014
As Hecla's Lucky Friday Mine is in production again, the company is able to sound relatively upbeat for 2014 as it now expects to produce between 9.5 and 10 million ounces of silver and 180,000 ounces of gold which is an increase of respectively 10% and 50% compared to the 2013 production numbers. At the current silver price of $21.75/oz and gold price of $1300/oz, the total revenues should increase to approximately $450M. As almost all acquisition costs are non-recurring, I expect to post a much better result in 2014 than it did in 2013.
Conclusion
The reopening of the Lucky Friday silver mine will be a boost for Hecla Mining's production profile. On top of that, this will be the first year the company can claim 12 months of output from the Casa Berardi gold project which will definitely be beneficial for Hecla's revenues. As I also expect the capital expenditures to decrease, I'm hoping to see Hecla Mining to return to a free cash flow positive status.
In my previous article I recommended to write put options with a strike price of $3 and $2.5 for March of this year. As these options are currently out of the money, it looks like the puts will expire worthless and you'll be able to keep the option premium in your pockets.
Disclosure: I have no positions in any stocks mentioned, and no plans to initiate any positions within the next 72 hours. I wrote this article myself, and it expresses my own opinions. I am not receiving compensation for it (other than from Seeking Alpha). I have no business relationship with any company whose stock is mentioned in this article. I have no position in common shares, but wrote some out of the money puts expiring in March of this year.