Natural Gas prices continue their surge higher and this is now becoming a serious momentum trade. It is not a bull market by any means, but simply a special situation where a spike in demand is causing an oversupplied market to have a short-term supply hiccup. Even traders are saying in interviews that they have had to step back and try to get a grasp of the situation because it is surreal.
Our suspicion is that the natural gas storage facilities will continue to see draw downs in the next week or two and provide longs with some momentum but the reality of the situation is that a number of producers simply need to turn on the spigot and those same longs which are printing money right now will see a sharp drop in their futures contracts.
We still think that the way to play the natural gas market is via the natural gas equities and not the United States Natural Gas Fund (NYSEARCA:UNG). There is better value in the equities and a much better probability of success in obtaining long-term gains in those names as well.
Chart of the Day:
This move towards $6/MMbtu has been quite strong, but overdone in our opinion. Traders with long positions should be doing the prudent thing here and taking profits because this market can turn on a dime, especially with all the hot money that has gravitated towards the long natural gas trade in recent weeks.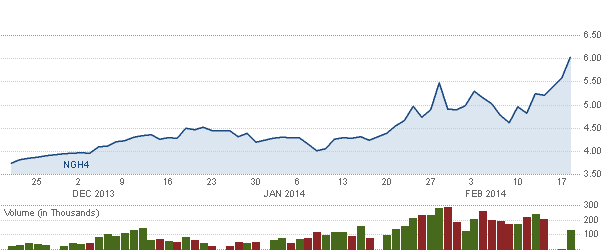 Source: CNBC
Commodity prices this morning are as follows:
Gold: $1,321.30/ounce, down by $3.10/ounce
Silver: $21.86/ounce, down by $0.038/ounce
Oil: $102.86/barrel, up by $0.43/barrel
RBOB Gas: $2.8389/gallon, up by $0.0066/gallon
Natural Gas: $5.954/MMbtu, up by $0.403/MMbtu
Copper: $3.2965/pound, up by $0.011/pound
Platinum: $1,427.80/ounce, up by $3.30/ounce
Oil Deal
We have had a lot of readers over the past year or so message us about the value at Devon Energy (NYSE:DVN) and our thoughts on what path the company was going to take. The company had been dead money for a while, but recently we have seen steps taken which have created, or will create, serious value for shareholders.
The latest deal, announced today (see press release here), has Devon Energy selling its conventional Canadian assets to Canadian Natural Resources (NYSE:CNQ) for $2.8 billion, of which the company will net $2.7 billion after taxes. These funds will be used to pay down the debt that Devon took on when they recently acquired acreage in the Eagle Ford Shale. Excluded from the transaction were Horn River, Lloydminster and the thermal heavy oil assets. Devon expects to close the remainder of their US divestitures by the end of the year.
Devon has been a value trap for investors over the past two years, however we think that is changing and that the new Devon will do a much better job at reflecting the true value of the company's assets. The latest deal highlights the hidden value here.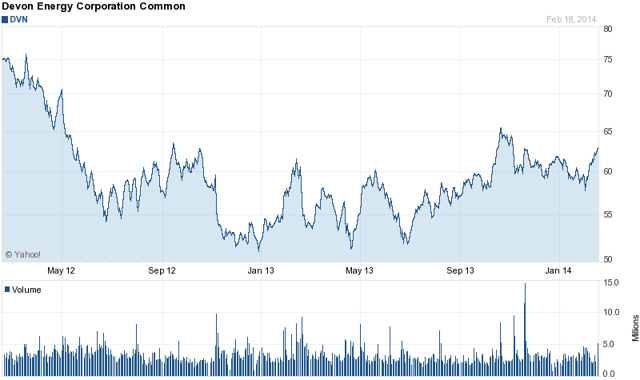 Source: Yahoo Finance
Disappointing Results
We noticed that Rosetta Resources (NASDAQ:ROSE) was down strongly today and are seriously looking at that name today to add to our personal portfolios. Also getting hit hard is SM Energy (NYSE:SM) which reported EPS which missed the analysts' estimates by $0.18 while revenues beat. The stock has received some downgrades and had a few negative mentions in the media today, but rather than comment on the name today we want to listen to the conference call and subsequent Q&A session to see if we can get a better handle on the issues in the Eagle Ford and possible causes. Lately the conference calls have shed some light on certain situations at these E&P names which highlighted opportunities when other investors were running away. Since we are missing SM Energy's call this morning, we hope to get to it tonight and have a battle plan for tomorrow's article.
Disclosure: I have no positions in any stocks mentioned, but may initiate a long position in ROSE over the next 72 hours. I wrote this article myself, and it expresses my own opinions. I am not receiving compensation for it (other than from Seeking Alpha). I have no business relationship with any company whose stock is mentioned in this article.