Suburban Propane Partners LP (NYSE:SPH) is organized into 3 principal business segments. The propane segment, which generates the bulk of SPH's revenues and cash flows, is primarily engaged in the retail distribution of propane to residential, commercial, industrial and agricultural customers and, to a lesser extent, wholesale distribution to large industrial end users. The fuel oil and refined fuels segment is primarily engaged in the retail distribution of fuel oil, diesel, kerosene and gasoline to residential and commercial customers for use primarily as a source of heat in homes and buildings. The natural gas and electricity segment is engaged in the marketing of natural gas and electricity to residential and commercial customers in the deregulated energy markets of New York and Pennsylvania. SPH is also engaged in other activities, primarily the sale, installation and servicing of a wide variety of home comfort equipment, particularly in the areas of heating and ventilation.
This article analyzes the most recent quarterly and the trailing twelve months ("TTM") results of SPH, looks "under the hood" to properly ascertain sustainability of Distributable Cash Flow ("DCF") and assesses whether SPH is financing its distributions via issuance of new units or debt. The task is not easy because the definitions of DCF and other non-GAAP measures of liquidity (such as EBITDA and "Adjusted EBITDA") typically used by master limited partnerships ("MLPs") can be complex. In addition, each MLP may define these terms differently, making comparison across MLPs very difficult. But it is an exercise that must be undertaken, in conjunction with evaluating an MLP's growth prospects, because sustainable distributions coverage provides some protection in a downside scenario. When faced with such a scenario, MLPs that cannot maintain their distributions, or are totally reliant on debt and equity to finance growth capital, are likely to suffer significantly greater price deterioration.
SPH's business is highly seasonal. It typically sells ~ 2/3 of its retail propane volume and ~ 3/4 of its retail fuel oil volume during the peak heating season of October through March. Consequently, the bulk of sales and operating profits are concentrated in the quarters ending December and March (the first and second quarters of the fiscal year). In the quarters ended June and September SPH typically reports losses. Cash flows and DCF coverage ratios are typically highest during the quarters ending March and June; this is when customers pay for product purchased during the winter heating season.
Table 1 below provides key operating parameters for the quarters and TTM ended December 2013 and 2012. The quarters are noted as 1QFY14 and 1QFY13, respectively, because SPH's fiscal year ends in September. The difference between EBITDA (earnings before interest, depreciation & amortization and income tax expenses) and Adjusted EBITDA results from several items excluded by management in deriving the adjusted number.

Table 1: Figures in $ Millions except per unit amounts except gallons sold; Source: Company 10-Q, 10-K, 8-k filings
The TTM period ending December 2012 includes only 4 months of results from the August 1, 2012, acquisition of the retail propane business of Inergy L.P. (which has since been absorbed into Crestwood Equity Partners LP, symbol: CEQP). The TTM period ending December 2013 includes 12 months of contributions from this acquisition; this is the principal explanation for the sharp increase in volumes between these two periods. The weather also contributed to increases in volumes and revenues as SPH's legacy operations benefited from average temperatures that were lower compared to near record warm temperatures in the prior year.
Items accounting for the $22.3 million difference between EBITDA and Adjusted EBITDA for the TTM ending December 2013 include: a) $12.1 million acquisition integration expense; b) $7.0 million expense incurred when SPH withdrew from pension plans covering certain employees; c) $2.1 million loss on debt prepayment; and d) $1 million unrealized (non-cash) mark-to-market adjustments on derivative instruments. In 1QFY14 and 1QFY13 the principal adjustments to EBITDA were $2.5 million and $1 million of acquisition integration expenses, respectively, as well as a $3.6 million adjustment in 1QFY13 for unrealized (non-cash) mark-to-market adjustments on derivative instruments.
Average posted prices for propane in 1QFY14 were ~$1.20 per gallon, ~35% higher than the first quarter of the prior year. The price increase trend accelerated significantly towards the latter part of 1QFY14 with average posted prices for the December 2013 up ~59% compared to December 2012. Management attributed the extraordinary propane price increases to several factors: a) depleted supplies at the beginning of the heating season because a large harvest, combined with a wet growing season, increased the agricultural sector's demand for propane (which is used to dry crops in the fall); b) reduced railcar and transport truck capacity to deliver propane because certain key pipelines were shut down for maintenance; c) higher winter demand as a result of sustained record cold temperatures; d) increased propane exports; and e) less Canadian imports due to pipeline and refinery maintenance as well as colder Canadian temperatures creating higher local demand.
The extraordinary spike in propane prices appears to have impacted SPH in several ways. First, SPH was not able to fully pass on to its customers the higher propane costs. Table 2 shows the decline in gross margins (revenues less cost of products sold) in the quarter ended December 2013:

Table 2: Figures in $ Millions, except percentages; Source: Company 10-Q, 10-K, 8-k filings
Since SPH does not break out its gross margins by segment, the numbers in Table 2 above reflect not only the impact of higher propane prices. But propane is sufficiently dominant (accounting for ~83% of revenues and 97% of operating income) to reasonably assume the other segments' impact is not material.
Second, SPH was required to increase its investment in working capital in the quarter ended December 2013. Higher propane prices required an increased investment in both inventories and accounts receivable. This resulted in a sharp decline in net cash from operations, as shown in Table 3 below:

Table 3: Figures in $ Millions; Source: Company 10-Q, 10-K, 8-k filings
Table 4 below provides my estimate of sustainable DCF generated by SPH, as well as my estimate of what SPH's reported DCF would have been, in the periods under review. The latter is based on a methodology used by other MLPs (see article titled "Distributable Cash Flow") because SPH does not report DCF numbers.

Table 4: Figures in $ Millions; Source: Company 10-Q, 10-K, 8-k filings, author estimates
Bear in mind the numbers for the TTM ending December 2012 include only 2 quarters of operations subsequent to the acquisition of Inergy's propane business and are therefore not entirely comparable.
Most of the MLPs I follow exclude working capital changes, whether positive or negative, when deriving their reported DCF numbers. As detailed in my prior articles, I generally do not include working capital generated in the definition of sustainable DCF but I do deduct working capital invested. Despite appearing to be inconsistent, this makes sense because in order to meet my definition of sustainability the master limited partnerships should generate enough capital to cover normal working capital needs. On the other hand, cash generated from working capital is not a sustainable source and I therefore ignore it. The two approaches to evaluating DCF can lead to starkly different coverage ratios:

Table 5: Figures in $ Millions except coverage ratio; Source: Company 10-Q, 10-K, 8-k filings, author estimates
Table 6 below presents a simplified cash flow statement that nets certain items (e.g., acquisitions against dispositions, debt incurred vs. repaid) and separates cash generation from cash consumption in order to get a clear picture of how distributions have been funded. It provides further insights on changes in coverage ratios.
Simplified Sources and Uses of Funds: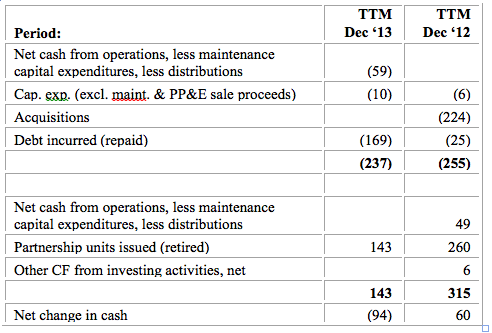 Table 6: Figures in $ Millions; Source: Company 10-Q, 10-K, 8-k filings, author estimates
Table 6 indicates that net cash from operations, less maintenance capital expenditures, exceeded distributions by $49 million in the TTM ending December 2012, but fell short of covering distributions by $59 million in the TTM ending December 2013. On the other hand, Table 5 indicates coverage ratio based on sustainable DCF was largely unchanged. Yet there is no discrepancy. The excess in the 2012 period was generated by an $88 million reduction in working capital, while the shortfall in the 2013 period was caused by a $59 million increase in working capital. But for the fluctuations in working capital, net cash from operations would have shown a significant increase in the TTM ended December 2013 vs. the prior year period.
There is, as shown by Table 4, a $147 million swing between the $88 million generated by working capital in the TTM ended December 2012 and the $59 million consumed by working capital in the TTM ended December 2013. In large part this explains how SPH depleted its cash reserves by $94 million in the latest TTM period, while increasing them by $60 million in the prior year period. A key question is whether the current quarter will also require further increases in working capital, particularly in accounts receivable and inventory. If so, SPH may need to increase its borrowings under its revolving credit facility.
Table 7 below provides selected metrics comparing SPH to some of the other MLPs I follow based on the latest available TTM results:
As of 02/18/14:

Price

Current Yield

TTM

EBITDA

EV / TTM EBITDA

2014 EBITDA

Guidance

Buckeye Partners (NYSE:BPL)

$73.59

5.91%

627

17.7

-

Boardwalk Pipeline Partners (NYSE:BWP)

$12.88

3.11%

689

9.4

650

El Paso Pipeline Partners (NYSE:EPB)

$30.98

8.39%

1,113

9.7

1,200

Enterprise Products Partners (NYSE:EPD)

$66.50

4.21%

4,685

17.0

-

Energy Transfer Partners (NYSE:ETP)

$54.61

6.74%

3,587

10.1

-

Kinder Morgan Energy Part. (NYSE:KMP)

$79.92

6.81%

5,165

10.5

5,900

Magellan Midstream Partn. (NYSE:MMP)

$69.53

3.37%

845

21.7

936

Targa Resources Partners (NYSE:NGLS)

$54.75

5.46%

661

13.4

750

Plains All American Pipeline (NYSE:PAA)

$53.96

4.56%

2,168

11.9

2,150

Regency Energy Partners (NYSE:RGP)

$26.77

7.10%

444

19.3

-

Suburban Propane Partners

$45.00

7.78%

307

12.7

-

Williams Partners (NYSE:WPZ)

$49.96

7.15%

2,290

12.8

-
Table 7: Enterprise Value ("EV") and TTM EBITDA figures in $ Millions; Source: Company 10-Q, 10-K, 8-k filings
EBITDA data in Table 7 is as of December 2013, except for ETP, RGP and WPZ that are as of September 2013.
It would be more meaningful to use 2014 EBITDA estimates rather than TTM numbers, but not all MLPs provide guidance for this year. Of those I follow, the ones that I have seen do so are included in the table.
I established my SPH position in the hope is that management scrubbed the balance sheet and that charges taken in fiscal 2012 (acquisition-related costs, losses on asset disposals, legal settlements) were indeed one-time. While the very low leverage and high distribution coverage ratios achieved by SPH in prior years (pre-acquisition) were, to an extent, due to a much more favorable price and demand environment, they also reflected a careful, disciplined and conservative management style. I also hoped this approach would be applied to the August 2012 acquisition of the retail propane business. Results from the first year of operations following this acquisition are encouraging. SPH anticipates realizing the bulk of the incremental $15 million of synergies projected for fiscal 2014 in the second half of the year and remains on target to achieve its initial goal of a total of $50 million in synergies within three years following the acquisition.
The negative factors to take into consideration are the susceptibility of SPH to significant weather changes (both warmer and colder than usual winters), the low growth in distributions (the current level of $3.50 per unit per annum is expected to remain unchanged in fiscal 2014), personnel changes in top management (retirement of the CEO and his replacement by the CFO), and the concern regarding requirements for further increases in working capital in the current quarter that will reduce cash reserves and/or increase borrowings, thus reducing cash available for distributions. Given that and the ~22% return generated between unit price appreciation and distributions over the past 12 months, I would reduce positions.
Disclosure: I am long EPB, EPD, ETP, MMP, PAA, SPH. I wrote this article myself, and it expresses my own opinions. I am not receiving compensation for it (other than from Seeking Alpha). I have no business relationship with any company whose stock is mentioned in this article.