As part of my retirement strategy, I maintain a dividend growth stock portfolio containing companies that boast a history of paying and increasing dividends. Companies that do this tend to have excellent management, wide economic moats, strong balance sheets and consistent earnings growth over time. The purpose of this portfolio is to provide reliable and growing dividend income to help me achieve my goal of retiring at age 55, one year before my Dad retired.
I track quarterly earnings and daily news releases that relate to my investments while looking for new companies that would fit into my dividend growth portfolio. Periodically I do a written review of my positions to see how I got here and to ensure the investment remains on track to continue to deliver a growing dividend stream in the coming years. Today I'll be reviewing Emerson Electric (NYSE:EMR), now in my fifth year of owning the stock.
Initial Buy
I initiated my position in Emerson on December 16th of 2009 through the Computershare direct stock purchase plan. You'll remember that 2009 was a tumultuous year with the S&P 500 starting at 903.25 and quickly falling to a multi-year low of 666.79 mid-day on March 6th, a 26% decrease. By the day I opened my position in Emerson, the S&P 500 had recovered to 1109.18, up approximately 23% from the beginning of the year and up 66% from the March 6th lows.
S&P 500 Chart January 1st 2009 - December 31st 2009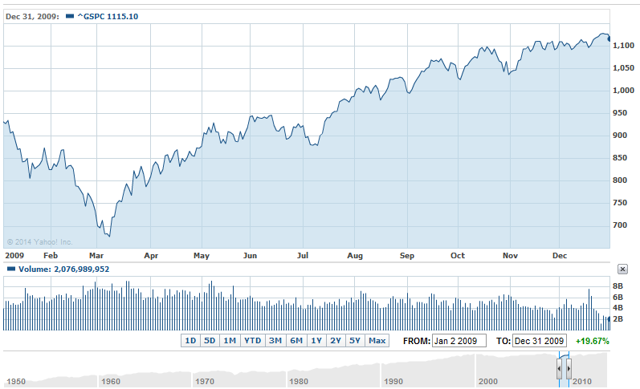 The initial purchase amount was $1000, minus a $15 one-time setup fee. Since then I haven't paid another penny in fees, but the dividends I receive are taxable. The initial purchase price was $41.96 per share, nabbing me more than 23 shares. As I do with all of my DRIPs, I follow the initial purchase with regularly scheduled purchases on a monthly basis. In the case of Emerson, I started an automatic withdrawal from my bank account in the amount of $100 each month to buy more shares.
Why I Invested In Emerson
At the time when I was evaluating new stocks to add to my portfolio, I was looking for a diversified industrial company that was not General Electric (NYSE:GE). I had bought into GE in late 2008, but quickly sold my position after a 30% decrease after just 79 days of holding the stock. The February 5th sell date was aptly timed as GE announced a 68% dividend cut on February 27th, reducing its dividend for the first time in 71 years.
In the summer of 2009, the 27-year-old water source heat pump in my investment property died. A heating and air conditioning crew came to replace the old unit. While helping them to remove it, I noticed the compressor was a Copeland, an Emerson brand acquired in 1986. Upon inspecting the newly installed McQuay heat pump replacement, Copeland again was the compressor of choice. This real life example, while anecdotal, did influence my purchase and showcases the kind of necessary products that Emerson makes that you won't see until you get behind the panels.
Emerson was already on my radar as an S&P 500 Dividend Aristocrat and Dividend Champion, having raised its dividend consecutively for more than 25 years. In fact, Emerson had increased its dividends for 53 years when I opened my position (today the streak continues at 57). Paying a $1.34 dividend per share annually in 2009, the yield was 3.19% which I felt was reasonable for a company without much flair. Speaking of flair, it's hard to find it in their product lines. One look on their website and you'll see that Emerson makes things like bearings, motors, fluid automation products, plastics joining systems, and various electrical products. These are not fancy products commonly seen in open view around your home, but dig into your appliances or look around commercial industrial sites and you'll find their products all around. By December of 2009, Emerson appeared to emerge from the stock market volatility without too many scars so I made my opening purchase.
Accumulating Shares
For a complete picture of every purchase made and dividend received and reinvested, take a look at my tracking spreadsheet here.
After the initial share purchase, I started dollar cost averaging into the stock with $100 per month. These purchases remained steady for the next 14 months, although I threw an extra $100 at the stock a few times when I had some extra money. I try to be as consistent as possible when I DRIP into a stock, but at times I pause to build up funds to make a purchase elsewhere, or I'll take a break if I think the stock is getting overvalued. One of these pauses occurred in February of 2011 when I paid $61 per share for the stock. I felt the stock was getting a bit high so I stopped making purchases for the next six months. In August of that year, the stock had fallen into the low to mid forties and I restarted my purchases. I try to remain disciplined when dripping into a stock to realize the benefits of dollar cost averaging. But being the imperfect person and investor that I am, I sometimes stray from a perfectly consistent strategy. In this case it worked in my favor. Plenty of other times it has not. Value can be easier to spot when a company is a consistent long-term performer.
For approximately the next year I continued my $100 purchases before taking another 6 month hiatus. When I started up my accumulation for the last time, I only made purchases in $50 amounts because I was directing my funds to other DRIPs.
All told I have purchased $3935 worth of Emerson stock ($3950 minus the $15 fee) since December 2009. The average weighted purchase price over that time period is $47.71 netting me 82.48 shares. The non-weighted average per share purchase price is $50.88; the weighted difference skewed lower by a low initial entry price and dollar cost averaging over time.
Dividends
Every dividend I have ever received from Emerson has been reinvested back into the stock. For the time being I will continue to reinvest. But in the future, for the sake of diversifying my investments, I may divert these dividends to new positions. During the financial crisis I was not diversified enough and was reinvesting all of my dividends. This proved to be a mistake for two stocks, Bank of America (NYSE:BAC) and iStar Financial (NYSE:STAR), which topped the list of the worst investing mistakes I have ever made.
The total amount of dividends I have received to date is $405.42. The weighted average purchase price over that time period is $53.61, buying me 7.56 shares via dividends since I started the DRIP.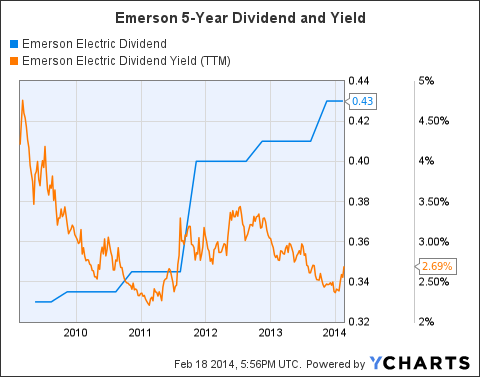 EMR Dividend data by YCharts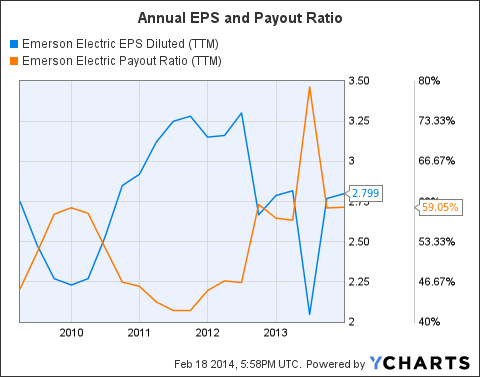 EMR EPS Diluted (TTM) data by YCharts
Emerson has increased its dividend for 57 years. The 3, 5, and 10 year dividend growth rates are 7.1%, 6.2%, and 7.7% respectively. The dividend per share amount today is 1.72 yielding 2.67% vs. a 5-year average yield of 3.0%. The current payout ratio is 59%.
Summary of Emerson DRIP Investment
As of 02/14/2014
| | |
| --- | --- |
| Date Started | 12/16/2009 |
| Purchases | $3,950.00 |
| Purchase fees | $15.00 |
| Dividends Received | $405.42 |
| Dividend Fees | $0.00 |
| Total Shares Purchased | 90.046168 |
| Average Price/share | $43.866 |
| Price as of Close 02/14/14 | $64.51 |
| Value as of Close | $5808.88 |
| Gain | $1858.88 |
| Percentage Gain | 47.06% |
| Annualized Gain | 9.69% |
| Current Annual Dividend | $1.72/share |
| Current Dividend Yield | 2.67% |
| My Yield On Cost (YOC) | 3.92% |
Looking Ahead
As of the close on 02/14/2014, the price of Emerson stands at $64.51. The 02/14/2014 trailing twelve month PE ratio is 23.11 compared to a 5-year average PE of 20. The yield of 2.67% is lower than the 5-year average yield of 3.0%, indicating the stock is slightly overvalued historically. Forward PE (fiscal year ending September 2015) is 15.29.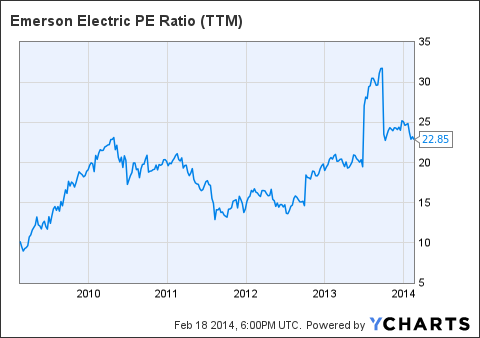 EMR PE Ratio (TTM) data by YCharts
The company has delivered earnings growth of 10.98% per annum for the past 5 years and analysts project earnings will grow at 9.28% per annum over the next 5 years. Considering the historic dividend increases of 6.2% over the past 5 years, the dividend growth rate appears to be safe based on forward earnings estimates, and leaves room for more dividend increases or a lowering of the payout ratio.
With my current YOC at 3.92%, I believe I am well positioned going forward. If I do not buy any more shares with new capital and the dividend remains steady or increases, my YOC will continue to grow. If I were to stop reinvesting the dividends today, and the forward dividend growth rate continues steady at 6%, then I can expect my YOC in 5 years to be 5.25%, and 7% in 10 years time.
Conclusion
Dividend safety and dividend growth are the primary metrics I look for in my portfolio. Based on my analysis I see no immediate threat to the ability to pay and increase the dividend. I am not currently dripping new money into Emerson stock, but I continue to reinvest all the dividends I receive. While I see the company as fairly valued to slightly overvalued at this time, my purchase dollars are being focused towards building shares in other DRIP positions in my portfolio like CSX (NYSE:CSX), Caterpillar (NYSE:CAT), Clorox (NYSE:CLX), and Aqua America (NYSE:WTR). I'd prefer to see the Emerson dividend yield closer to 3% before committing new capital. We should not expect to see a dividend increase until November 2014. In line with my retirement strategy, I plan to hold Emerson stock past my planned retirement date which is 17 years from now, unless the company cuts its dividend or becomes otherwise distressed.
Data sourced from Yahoo Finance and dripinvesting.org
Disclosure: I am long EMR, BAC, CAT, CLX, CSX, WTR. I wrote this article myself, and it expresses my own opinions. I am not receiving compensation for it (other than from Seeking Alpha). I have no business relationship with any company whose stock is mentioned in this article.