Atlas Pipeline Partners (NYSE:APL) is a midstream company structured as a master limited partnership and operates fourteen processing plants with around 1.5 Bcf/d of processing capacity and 11,200 miles of pipelines in Texas, Kansas and Oklahoma. Atlas Pipeline Partners is a concentrated shale player focusing on natural gas and natural gas liquids. The company has a very attractive asset footprint with significant exposure to high-impact shale theaters such as Eagle Ford, Permian, Woodford and Anadarko. With the ongoing boom of hydraulic fracturing in the United States, I generally hold a bullish outlook on energy production and processing capacity demand.
Outstanding five-year share performance
Atlas Pipeline Partners has done extremely well for shareholders over a five-year performance measurement period with a return of 478%. Most recently, however, the midstream company has fallen behind a bit with a year-to-date return of negative 5% and a twelve month return of negative 3%.
(Source: Yahoo Finance)
The chart below compares Atlas Pipeline Partners to other companies in the midstream/master limited partnership sector. Kinder Morgan Energy Partners (NYSE:KMP), which hugely underperformed the midstream/MLP group in terms of capital appreciation, gained 70% over the last five years, Enbridge (NYSE:ENB) 170%, Plains All American Pipeline (NYSE:PAA) 190% and Magellan Midstream Partners (NYSE:MMP) 340%. APL's outperformance is largely attributable to its concentrated asset footprint in high-impact drilling regions which led to explosive growth in its adjusted EBITDA (see below). In addition, APL's outstanding distribution yield has attracted yield-hungry investors who want to diversify away from their core MLP holdings; such as Kinder Morgan Energy Partners and Plains All American Pipeline.
(Source: Yahoo Finance)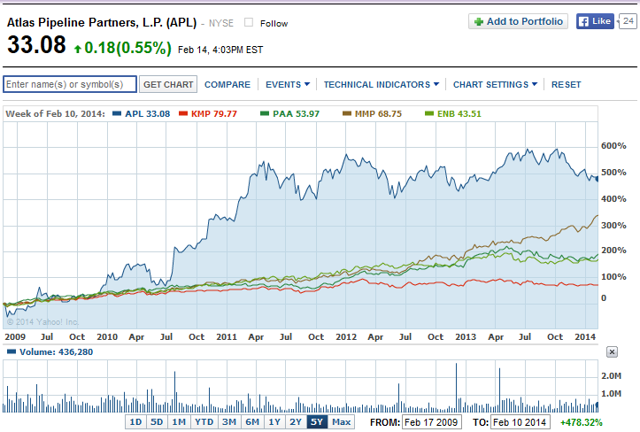 Fourth quarter results highlight strong y-o-y growth
Atlas Pipeline Partners' fourth quarter results were quite impressive:
Record gathered gas volumes of approximately 1.5 bcf/d.
Q4 2013 revenues of $580.1 million -- a y-o-y increase of 64.8%.
Natural gas and liquids revenues of $548.3 -- up 63.9%.
Q4 2013 Adjusted EBITDA up 35% y-o-y to $86.7 million.
Distributable cash flow up 28% y-o-y to $51.7 million.
Net loss of $48.7 million vs. a net loss of $6.9 million a year ago which was largely driven by a $43.9 million non-cash impairment charge with respect to an acquired gas business that is expected to grow at a lower rate than initially expected.
APL has invested approximately $2.4 billion over the last three years in organic growth projects and acquisitions in order to materially increase its processing capacity and improve its EBITDA prospects. APL achieved an adjusted EBITDA of $220 million in 2012 which has grown to $325 million in 2013. The company now forecasts a 2014 adjusted EBITDA in the range of $400-425 million. Although APL has reduced its adjusted EBITDA guidance range (previous 2013 adjusted EBITDA guidance range was $335-350 million, 2014 guidance midpoint was $475 million), the midstream company still posts respectable EBITDA growth rates of 48% from 2012 to 2013 and 88% from 2012 to 2014.
While the company's increased net loss might cause some short-term selling pressure, the company is well positioned to grow EBITDA and cash flow in the coming years if the exploration sector continues to boom (which I expect).
Chief Executive Officer Eugene Dubay certainly shares an optimistic outlook with respect to APL's growth opportunities:
"This past year was another step forward for the Partnership as we continue to grow the business. We are in more areas serving more producers and adding more infrastructure than at any other point in the history of the company. As we continue to diversify our operations, add talent, and de-risk the cash flows of the Partnership, we are a stronger enterprise. Because of this, we are being presented with opportunities that we would not have had a chance to pursue in years prior. We are excited about signing a number of producers in the Eagle Ford this past quarter, and expect to continue to further our relationships and contract more producers in the year ahead. I believe 2014 will mark a year of increased focus on execution for the company and, while no ascent is ever completely smooth, we will all benefit as we move forward together."
Distribution yields
Atlas Pipeline Partners' focus on growth has led to an explosion of its adjusted EBITDA and cash flow and the company passes most of its profits through to unitholders. Atlas Pipeline Partners currently has one of the most appealing distribution yields in the sector.
Atlas Pipeline Partners pays investors a quarterly distribution of $0.62 per unit or $2.48 per unit annualized which translates into a forward annualized distribution yield of 7.50%. APL hugely outperforms other large-cap master limited partnerships in this regard; the peer group below has an average distribution yield of only 5.10%.
(Source: Achilles Research, Yahoo Finance)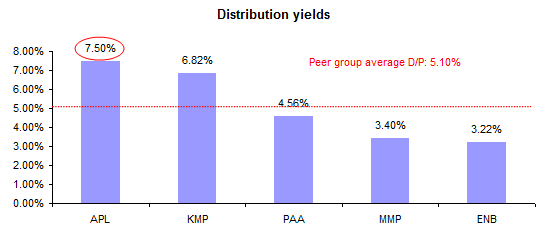 Conclusion
Atlas Pipeline Partners' performance results in terms of adjusted EBITDA, distributable cash flow and gas volumes make the midstream player an interesting alternative to high-profile companies Kinder Morgan Energy Partners and Plains All American Pipeline and the recent contraction in valuation might offer investors an interesting entry point. Since I last wrote about the company, APL's distribution yield has increased by 49bps to 7.50%.
Atlas Pipeline Partners has one of the most attractive asset footprints in the industry with a focused presence in the most promising shale regions in the United States: Eagle Ford Shale, the Anadarko Basin/Mississippi Lime, the Woodford Shale and the Permian Basin. With substantial infrastructure investments in the past and an ongoing shale exploration boom, Atlas Pipeline Partners is an interesting Buy candidate for long-term investors seeking natural gas exposure and a high dividend yield. Long-term BUY.
Disclosure: I am long APL, KMP. I wrote this article myself, and it expresses my own opinions. I am not receiving compensation for it (other than from Seeking Alpha). I have no business relationship with any company whose stock is mentioned in this article.