Introduction
Alice v. CLS Bank is a lawsuit resolving software patent claims, to be heard by the Supreme Court. This "software patent case" is also a biotech case, due to the fundamental patentability issues under contention. Binary stock displacements should eventuate from the decision during early summer; but, I would expect foreshocks across spring as the market tonally evaluates judge behavior.
Subject matter eligibility, also known as "Section 101 issues", is a core of patent law, especially for software and biotech. It is an unstable core! To give you an example--seven differing opinions were issued by one appellate panel judging this CLS Bank case.
Here is a basic summary of Alice v. CLS Bank, and later we will get into the Section 101 significance. Alice Corp has some method and system patents that claim: computer code facilitating third-party supervision of counterparties. Here is an image from the patents to give you an idea.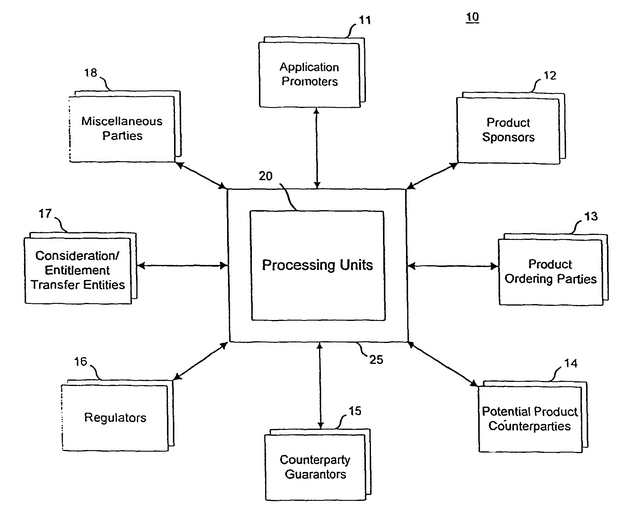 Alice told CLS Bank to pay for infringing these patents, so they went to court, which issued summary judgment as a matter of law. The patents were too abstract to exist; counterparty facilitation was a basic finance concept; the translation of this principle into software did not make it patentable. This was reversed on initial appeal by a panel which asserted the specific application of an abstract idea to computer code was enough to make it patentable; the panel also said that the subject matter must be obviously abstract to permit any doubt over patentability under Section 101. The next and most recent appeal was an en banc hearing with the same court, which again reversed on the issue of applications of abstract ideas.
Consider the difference between abstract ideas and applications of abstract ideas--this is a spectrum. At which points on this spectrum patents are allowed, and where they are not allowed, is the central question. Scientific context is hard to standardize, so practical guidelines (or lack thereof) are also a highly anticipated byproduct of this appeal. Additionally, there is a groundbreaking tie-in with Mayo v. Prometheus, the recent biotech precedent covering law-of-nature patentability.
Direct Biotech Exposure
Bruce Wexler with Paul Hastings LLP is a star biotech litigator. If you have any doubt that the Section 101 issues in CLS expose biotech, consider what he says here.
Section 101 seems to arise more recently (i.e., relative to the start of patent law) in computer-related and biotechnology contexts because, in these areas, we see information itself equated at times with structural limitations. The Section 101 issues tend to become significant in two related situations: (1) the invention resides in the discovery of a law of nature (e.g., a protein's creation in the body) or idea (e.g., a set of mathematical or business operations) and that is what is claimed, or (2) the invention includes the discovery of an application of a newly discovered law of nature or idea and the patentee seeks broad exclusivity by claiming as close as possible to the law or idea itself.
Now that we have established relevance let's dig into the jurisprudence. Then we will consider actionable investment ideas which result.
Two Judge Factions Highlight Widespread Uncertainty
Although opinions differed amongst them, two factions emerged in the latest CLS decision. Judge Alan D. Lourie had five total in his group and Judge Randall R. Rader had four in his. One extra judge is not a real consensus; it's important to emphasize that deep uncertainty persists, which will (to some extent) be resolved this summer--thus there is a substantial probability of market disruption.
Let's define "system claims" and "method claims". System claims refer to the actual device used by the invention, whereas method claims are more general and abstract. These claim types are often parallel. Disagreement among judges concerns: to what extent system claims can be separated from method claims in the context of abstraction patentability. Both factions struck down the general software method claims, but one faction (Rader's) felt that the system claims were eligible.
Systemic Applications Of Abstract Knowledge
This concept of system versus method relates to the concept of abstract ideas versus applications of abstract ideas. "Applications" are not excluded from patentability.
Germany pioneered an early version of this distinction 100 years ago (source). The US and Western Europe were generous in approving chemical patents, while Germany required more inventiveness in the domain of applications. This fostered superior innovation in Germany--so enjoying easier approval standards in USA and Europe, the Germans established a global monopoly.
Confusion has long arisen over how to define applications. To what extent does abstraction bleed from idea into application? Lourie's CLS Bank faction argued that system and method claims should be appraised integratively to determine the level of abstraction; this implies that idea and application are inseparable across the spectrum of abstraction. Whereas, Rader asserted that idea and application could be compartmentalized. These two factions represent decades of chaos.
Laws Of Nature Or Laws Of Allah?
By limiting its system claims to computers, Alice Corporation sufficiently separated its applicative inventions from abstract methods, said Rader. Further, he objected to twenty years of caselaw which progressively expanded the "jurisdiction" of natural law patentability restriction. Subsequently, Rader clarified his radically strict definition of abstract natural law as follows:
Of course, these are [natural laws] created, if at all, only by God, Vishnu, or Allah. But, for perspective, even gravity is not a natural law in Einsteinian theory, but a symptom of a curved universe. Einstein posited the speed of light as the only true natural constant. Thus, in context, equating the personalized medicinal effect of a human-created pharmaceutical in patients of different metabolic rates and genetic makeups with the speed of light (or even gravity) is only possible in a netherworld of undefined judicial insights.
Subject Matter Cacophony
We can see that three issues are jumbled together: abstract versus non-abstract, application versus non-application, and law-of-nature versus not-law-of-nature. As eloquently as all judges write, they are forced to lump these issues together in their reasoning. They do not have access to clear scientific categorization standards for deciding these issues, so they revert to instinctive conclusions: then they piece together elegant (but arbitrary) arguments to justify these instincts. That is the status quo; I expect CLS Bank to change this significantly.
Hopefully I have adequately communicated the character of the central issues. Boiled down to one sentence, here is how our star biotech litigator Wexler describes CLS Bank:
Is it within the fundamental bounds of patent law to allow inventions for mathematical algorithms or methods of doing business if an applicant does nothing more than say those algorithms or business methods are being performed by a computer?
Revisiting Mayo v. Prometheus
Rader's faction concluded that the specific software used to administer an unpatentable general process was patentable. Whereas, Lourie's faction referenced recent Supreme Court precedent Mayo v. Prometheus, which shifts the burden of proof and requires applicants to show sufficiently inventive improvements within such applications. Also: Mayo v. Prometheus expounded the ideal that the USPTO should error towards avoidance of allowing patents for natural laws.
It is worth noting that Mayo v. Prometheus was a biotech case. Lower courts are confused about how to apply it. Thus CLS will provide further clarity. By combining software and patent precedent, these two cases will create an unprecedented level of clarity in subject matter eligibility. Patents in quantum states of half-death will be killed or revived, and this is a binary market dynamic.
The average judge in a patent appellate court is in his sixties. Software began to mature as he graduated law school. Thus his generational perspective instinctively regards software as more innovative than the chemistry-based methods discussed in Mayo v. Prometheus. Furthermore, the CLS Bank inventions are arguably less obvious than the Mayo inventions by objective standards. For these reasons and more nuanced ones, if the Supreme Court voids the patent claims in CLS Bank, it will send a stronger message to lower courts than Mayo did alone.
Anticipating Market Exposure
Biotech stocks generally derive value from patents. CLS Bank will affect dozens of such stocks. However, there are several types of biotech patents; life science and patent law are each complex enough by themselves; discussing these stocks' patents in detail would necessitate hundreds of pages.
I have chosen to highlight one special case: Teva Pharmaceutical Industries (NYSE:TEVA). Teva is one of the larger biotech companies and is the largest generic maker. Teva would benefit from the tightening of patent allocations, both in terms of current drugs and future drugs. Conversely, Teva would suffer if CLS Bank "reversed" Mayo v. Prometheus and loosened patent allocations.
But unless one is an expert on Supreme Court prediction, how can one bet on Teva? Well, Teva has an implied volatility in its twenties, which is a direct reflection of historical quantitative price behavior. Teva's current implied volatility does not reflect a significant expectation of market impact from the Supreme Court. Therefore, an investor could profit from an unexpected increase in volatility by betting on an increase in volatility using derivatives (such as buying calls and puts).
Of course this case will affect more companies. I hope you are convinced enough to look into exposed investments in your portfolio. This is an oversimplification, but: one should ask whether patents held by a particular biotech company are near the border of subject matter eligibility, as this will indicate the level of exposure. I invite you to expand on these questions in the comments.
Disclosure: I have no positions in any stocks mentioned, and no plans to initiate any positions within the next 72 hours. I wrote this article myself, and it expresses my own opinions. I am not receiving compensation for it (other than from Seeking Alpha). I have no business relationship with any company whose stock is mentioned in this article.