By Carl Howe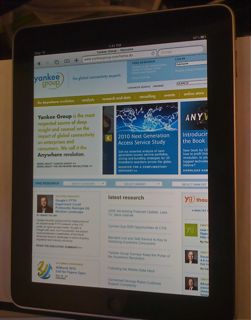 I brought my 3G iPad to last night's panel discussion at the TiE Boston panel, "The Google Effect", and it attracted the usual crowd of admirers. That kicked off an active discussion of the similarities and contrasts between Apple (NASDAQ:AAPL) and Google (NASDAQ:GOOG), during which I threw out some of my favorite statistics about these two high-tech Goliaths.
My favorite stats to cite about Google are largely about how quickly it has come to dominate our "Anywhere" lives. As a just over ten-year-old company, Google can boast:
One of the fastest growths to $1 billion in revenue.
The fastest growth to a more than $1 billion market valuation
The second tech company since Xerox to become a verb (TiVo (NASDAQ:TIVO) is the other one).
Now Apple is a much older company, having just celebrated its 34th birthday on April 1. However, its latest product, the iPad, will give it a record that Google isn't about to replicate. Apple announced on Monday that it has sold more than 1 million iPads since its announcement on January 27. I'm counting since January 27 only because pre-orders are included; the reality is the most of those sales and deliveries have been in the last 30 days. Assuming that rate continues in May (and because even Apple Stores keep running out of stock that seems likely), we'll see Apple having sold about 1.5 million units by the end of May. Average sales prices seem to be in the $645 range (16 GByte WiFi and 64GByte 3G units seem to be the top sellers). Do the math, and we discover a quite remarkable number: Apple's iPad will likely take the crown for the fastest consumer product growth to the $1 billion revenue mark in history, taking less than 120 days from announcement to reach that milestone.
Now, I've been claiming since the announcement that Apple was going to sell millions of iPads in 2010, but many pundits such as Wired.com, Fortune, and, others got a lot of ink after the iPad announcement claiming that the iPad would fail. The complaint, roughly summarized, was that smartphones, notebooks, and netbooks left no market niche for an "in-between" device to establish a foothold. This month, Apple will have one billion reasons why these predictions were wrong, and will have done it in record time to boot.