(Editor's Note: Mr. Del Vecchio and Mr. Lamensdorf serve as Co-Portfolio Managers for the Ranger Equity Bear ETF)
Recently, John Del Vecchio and I recapped 2013 and what went right and wrong for investors. John backs up a lot of his views with hard data, and specifically referred to the earnings quality model that he developed in 2010. On January 31, 2013, John launched the Forensic Accounting ETF (NYSEARCA:FLAG) based off of the model. For the full year, the model increased over 37%, with a 99% correlation to the S&P 500 (NYSEARCA:SPY). I've known John for several years, and in 2009, we teamed and eventually launched the Ranger Equity Bear ETF (NYSEARCA:HDGE) after having run the strategy for a few years as a hedge fund. Our conversation below delves into the model and how it operates.
Brad: John, can you provide us with a brief bit of background and describe what led to the creation of your own index?
When I was an intern in college, I had the good fortune to work for James O'Shaughnessy, the author of What Works on Wall Street. I did testing of strategies going back several decades. Some were basic, while others were more complex. However, a significant majority - nearly 70% -- out-performed the S&P 500, which uses market-cap weighting. This is fine, except that other strategies simply out-perform it, and often by significant amounts over time.
I also worked on producing research of public companies that were using aggressive accounting to mask deterioration in their business. I worked for David Tice, a well-known short seller, and managed a couple of short-only funds to capitalize on bubbles that were forming in the market, namely technology stocks and then financials.
The combination of having done extensive quantitative testing and having a career as a fundamentalist led me to determine that there was a better way to gain exposure to large segments of the market and out-perform the standard benchmark over time.
Brad: What's the rationale for creating an index using an alternative methodology?
John: The rationale is twofold. First, market cap weighting is not an efficient way to structure a portfolio. When I give presentations about my book, What's Behind the Numbers?, I always ask people to raise their hand if they structure their own portfolio using market cap. After encountering thousands of people, not a single one has raised their hand.
Owning the biggest companies (which represent a disproportionate share of the weighting in indexes such as the S&P 500) is an under-performing strategy. Ned Davis Research, which is a service used by many institutional investors, illustrated in a fantastic chart that the #1 company by market cap - stocks like Apple, (NASDAQ:AAPL) Exxon (NYSE:XOM), IBM (NYSE:IBM), and Wal-Mart (NYSE:WMT) have lagged by thousands of percentage points over the last 40 years. The top stock is typically around 4-5% of the index weight. Thus, an enterprising reader of this interview would be better served owning the S&P 500, shorting the #1 stock in the S&P 500, and using those proceeds to allocate to a strategy that would out-perform. Or, they should consider an alternative methodology.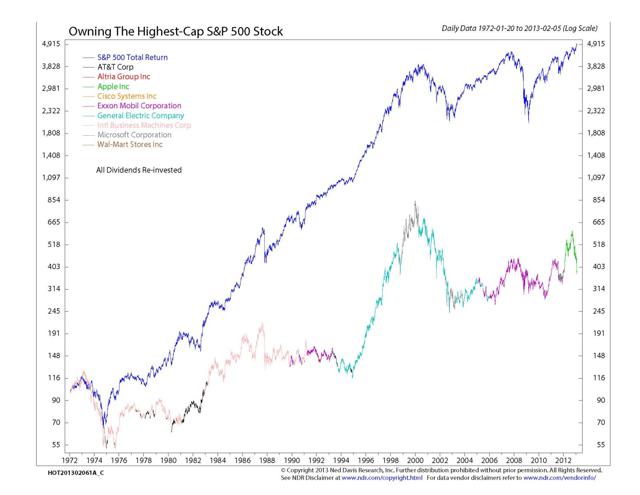 In our own research, we looked at 1983-2012, and the top 10 companies in the S&P 500 by market cap weight lagged by about 1,800% over that time. Unfortunately for investors, those top 10 companies represent about 20% of the index weight. It's a huge drag.
Bloomberg has shown that since 1989, an investor who equal weights the S&P 500 would have out-performed by nearly 2% annualized. This doesn't sounds like much, but 2% a year for a couple of decades will vault one well ahead of the index and most other investors.
The "trillion dollar mistake" is that there are trillions allocated to the S&P 500, but only a few billion in equal weighted indexes. Yet, just by just making this one change, investors can give themselves a much better chance to out-perform.
Brad: That makes sense given that once a company becomes huge, it's past its growth phase. But equal weighted indexes have been around for over a decade. What's the other factor that differentiates you from the rest?
The second rationale is that many, if not most, of the companies that are constituents of an index under-perform the index. For example, there's a great report called the Capitalism Distribution, which illustrates that while the Russell 3000 (NYSEARCA:IWV) Index was up 900% from 1983-07, 64% of the stocks under-performed, 39% were down, 19% were down 75% or more. Moreover, just 25% of the stocks accounted for all of the market's gains. This just one study, but there have been others that make the same point.
In the real world, this makes sense. There's one Wal-Mart and then 50 other retailers that don't exist anymore due to inferior distribution, technology, scale, and pricing power. For every winner, there are plenty of losers.
Furthermore, the winners from one stock market cycle are seldom the winners in the future. Stocks like Eastman Kodak and Polaroid were hot in the 1970s. Then, it was Microsoft (NASDAQ:MSFT), Dell, Cisco (NASDAQ:CSCO), etc. Today, it's companies like Facebook (NASDAQ:FB) and Google (NASDAQ:GOOG). Who knows what the future holds in store?
So, FLAG attempts to overcome these pitfalls by removing the market-cap bias and taking the additional step to identify potential winners from losers by performing financial statement analysis to identify trends of deteriorating fundamentals and aggressive accounting.
Brad: What factors do you specifically analyze in generating your ratings and weightings?
First, we start with our own custom index. We use large cap companies and include stocks such as Facebook, which are leaders but may not be part of other indexes.
We then score the companies A - F, much like a report card grade. We analyze revenue recognition, cash flow quality, earnings quality, shareholder yield, and expectations. The methodology analyzes the trends in financials relative to its own history and the other companies in the index. The big difference versus other strategies is that we don't accept the company's reported results at face value.
We then weight the "A"-rated stocks 40% of the portfolio, "B-D" get 20% each, and the "F" stocks get no weighting. Why would anyone want to own the companies that the model says are most likely to have overstated earnings?
Brad: Can you provide a little more detail as far as the factors are concerned?
Sure. Revenue is important, because the top line drives the entire income statement. Management wouldn't be aggressive with revenue recognition unless demand was softening. As one moves down the income statement, there are plenty of line items that management could tweak in order to make net income look better. Maybe they reversed a reserve or capitalized an expense. If this is the case, then the results cannot be taken at face value.
The first line item on a cash flow statement is net income. So, if net income is of questionable quality, cash flow might be as well. Every company is guilty until proven innocent.
Shareholder yield is important, because dividends are a much larger source of return than are share buy backs. It makes a big difference whether a company explicitly pays a dividend compared with buying back stock. However, earnings quality becomes important, because if the company has high-quality, sustainable cash flows, they're more likely to continue to fund that dividend. Thus, this company would score higher.
Brad: How should an investor consider integrating FLAG into their portfolio?
Funds like FLAG, and even other non-market-cap-weighted indexes, are useful to replace some of the large cap exposure in traditional indexes. I don't think it's designed to be traded or market-timed. The biggest problem investors have if they buy a traditional index is that no matter what, they cannot out-perform that index. At the very least, there's a fee embedded into owning that position.
So if the S&P 500 is the benchmark, an investor must look outside that in order to generate excess return. There are so-called "cheap beta" funds out there such as the S&P Low Volatility (NYSEARCA:SPLV). But, in my view, these funds are essentially based off of one factor; historical volatility. The stock market is forward looking, so basing something off a strictly historical measure is a bit like walking down the street backwards.
FLAG looks at earnings quality. If the earnings generated by a company were largely unsustainable, it's possibly much more difficult to meet or exceed future expectations. If those expectations are already high, then the hurdle is even greater. FLAG represents a component of a portfolio that relies on financial statement analysis to make bets on a stock's fortunes. Accounting is the language of business, and in my opinion, this is not going to change.
That said, I'd advise having a mixture of funds to make up a large cap slice of an overall portfolio.
Brad: If an investor uses FLAG as part of a large cap allocation, what are some possible pitfalls? For example, the wheels came off in 2007 and 2008. What happened there?
I created the model in 2009-2010. Since that time, it's been performing about 5-6% on top of the S&P 500 annually. I used this model for consulting, risk management, and other work. Prior to that, the results were back-tested and the two years of under-performance were 2007 and 2008. Nothing works all of the time, and investors should be suspicious of claims otherwise.
2007 was just an off year. It happens. 2008 was poor for just about everyone. The under-performance was about 3-4% relative to the S&P 500. However, a lot of quality/value managers did much worse in 2008. And while 2007-08 was disappointing, it's worth noting the model was up 95% in 2009.
Like anything, there's going to be ups and downs. But the concepts are ones that have been tested for decades. Some of the combinations are unique and I created a couple of my own metrics, but it's based off of research conducted over many years.
The fund started on January 31, 2013. Anything prior to that was either tested or used for internal purposes.
Brad: What about the liquidity of FLAG given that it currently trades a few thousand shares a day? What if an investor wants to get in and out quickly?
The biggest misconception of the ETF business is that the liquidity of an ETF is based on how many shares it trades. Rather, it's based on the underlying positions. If the underlying securities are liquid, then the market maker can easily purchase or sell those securities to create and redeem shares of the ETF.
We had a major Wall Street firm conduct a liquidity analysis on FLAG. If an investor wanted to buy or sell $50 million in a day, it would have an impact of 1.7 bps (less than 2/100ths of 1%). For a $500 million order, the impact is 4.9 basis points. So, FLAG is ultra-liquid for larger orders.
Brad: John, thanks for your time today.
John: You're welcome.
Disclosure: I have no positions in any stocks mentioned, and no plans to initiate any positions within the next 72 hours.
Business relationship disclosure: Bradley Lamensdorf serves as a Portfolio Manager and Principal of Ranger Alternative Management LP, a sub-advisor to the Advisor Shares Ranger Equity Bear Exchange Traded Fund (HDGE).