On December 10, 2013, I wrote an article named "Barrick Gold: Have We seen The Bottom?", in which I fairly aggressively recommended the large-cap gold and copper exploration company, Barrick Gold (NYSE:ABX) for long-term oriented investors. I always stress long-term to make clear in no uncertain terms that I don't see myself as a superior market timer, and short-term setbacks, if they occur, they don't really affect me. Specifically, I look for distressed securities which have a high probability of being mispriced (and there is never a shortage of those). Barrick Gold clearly is such a company: The gold and copper miner suffered from declining commodity prices, especially the gold price, which investors used as "evidence" that further declines are waiting around the corner. As a result, shares of Barrick Gold were pretty much in free fall over the last two years. As is often the case with overly-punished companies which supposedly face cataclysmic industry conditions, nothing could be further from the truth.
As it turns out, the gold price finally rebounded at the end of December, and it seems, at least for now, that the gold price and Barrick Gold's share price indeed found their bottom at the end of 2013.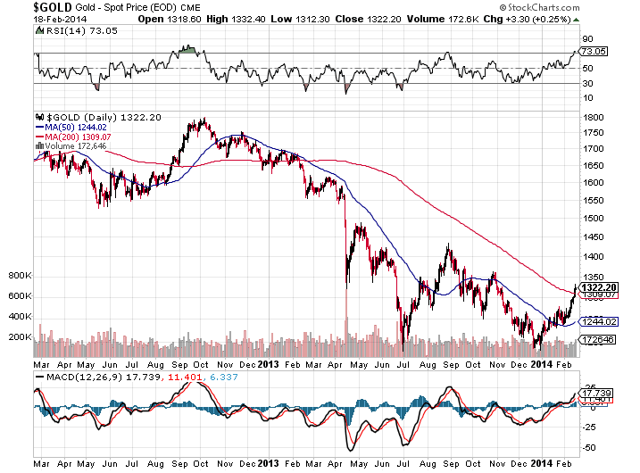 (Source: StockCharts.com)
Industry outlooks change about as often as the emotional state of the average investor. Barrick Gold conducted a $3-billion equity offering last year to bolster up its balance sheet, and it suspended operations at its Pascua-Lama mining complex in Chile/Argentina to control costs and alleviate cash flow. Just like many other restructuring investments I pursued over the years, a successful equity offering usually is a good sign of investor support and often signals that a turnaround in share prices is imminent: The condemned live longer.
Due to Barrick Gold's high reliance on gold prices, it is not surprising that its share price increased substantially over the last two months as the gold price recovered as well. Shares of Barrick Gold are up 11% year-to-date and 27% since I last recommended the exploration company as a contrarian Buy.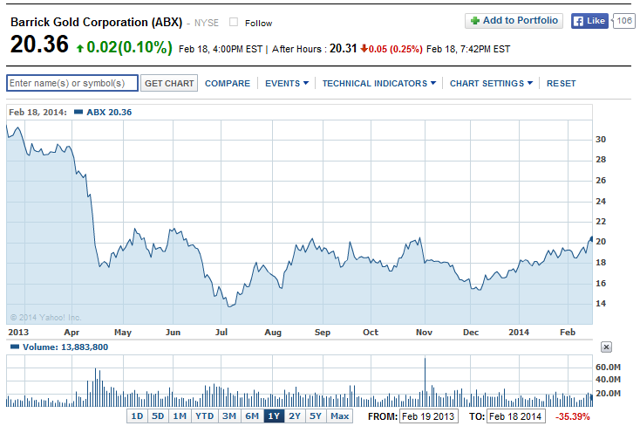 (Source: Yahoo Finance)
Large-cap gold miners rebounded nicely at the beginning of the year, even though market sentiment toward equity investments turned negative in January.
Barrick Gold lost 58% over the last two years, while Yamana Gold (NYSE:AUY) lost 39%, Goldcorp (NYSE:GG) 43% and AngloGold Ashanti (NYSE:AU) 59%.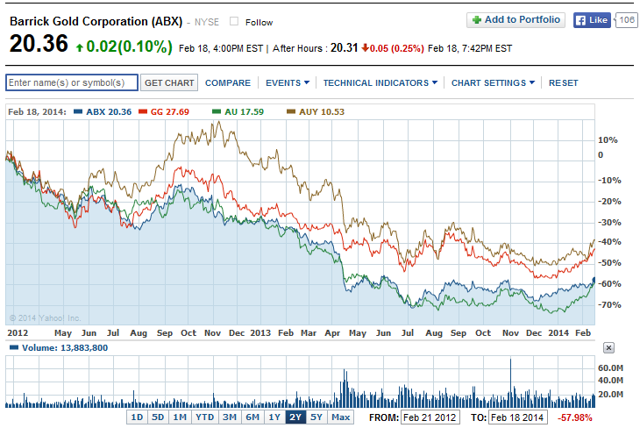 (Source: Yahoo Finance)
Barrick Gold has great long-term value, but investors need to change their perception first
I think Barrick Gold still has outstanding value for long-term investors who want to profit from a change in investors' attitudes toward gold miners. The main risks for gold miners are still declining gold prices and looming impairment charges. In the short term, impairments are usually negative catalysts for the stock, unless expectations are so low that "some losses" don't matter to investors anymore.
On February 13, 2014, Barrick Gold reported a fourth-quarter net loss of $2.83 billion, which was largely driven by impairment charges of $2.82 billion (see breakdown table below). However, impairment charges in itself don't really say anything about the long-term economic prospects of the underlying mine operations and their profitability. Potentially higher gold prices in the future will very likely increase the estimated fair value of such mines, which would then justify higher appreciation potential for shares of Barrick Gold in the coming years. Impairment charges are as cyclical as the gold price.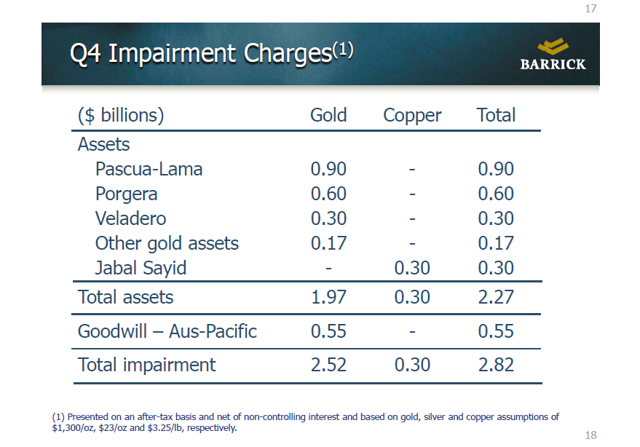 (Source: Barrick Gold Fourth Quarter 2013 Results Presentation)
Ultimately, long-term commodity dynamics will determine the value of Barrick Gold, and I am quite upbeat about future gold and copper demand. As I have written before, the long-term fundamentals for precious- and industrial metals are intact (paragraph reproduced for your convenience):
Gold is a precious commodity that not only finds applications in the jewelry and electronics sectors of civilization. Investment demand for gold bars and coins also contributes to the desirability of this commodity and its reputation as a safe haven investment was proven during the financial crisis as the gold price spiked amid extreme levels of economic uncertainty. Jewelry, of course, is the most relevant sector in the consumption sphere and demand from China and India could be instrumental in driving gold prices over the next decade or two. Growing and richer Asian economies will exhibit higher jewelry demand as Asian societies view gold jewelry as a sign of social- and economic mobility and success. Jewelry- and industrial demand are going to increase in the long-term as Asia lifts hundreds of millions of people out of poverty. Gold also has high conductivity and therefore finds irreplaceable applications in electrical wiring and contacts.
In the short term, gold prices and cyclical impairments might overly affect the share price of Barrick Gold. De-levering the balance sheet with its $3-billion equity offering, suspending mine operations to alleviate cash flow, scaling back capital expenditures and selling off non-core assets (Barrick Gold sold non-core assets worth $1.0 billion in 2013) are exactly the right actions taken by management to reposition the company in light of depressed short-term gold prices.
Final thoughts
A good indicator of contrarian value is when investors don't mind losses anymore as much as they used to. Earnings expectations for gold exploration companies have been driven to such low levels that investors don't seem to mind even material impairment charges.
As a long-term oriented contrarian investor, I also challenge other investors to take a close and thorough look at the companies that the majority of market participants just tramped over. Oftentimes, great value lures in opportunities that are being disregarded by mainstream investors. When it comes to Barrick Gold, investors make a common investing mistake: They extrapolate low gold prices and forecast persistently low mine profitability.
Barrick's management is savvy and up to the task, and I would venture to predict that Barrick Gold will return to sustainable profitability (free cash flow growth, absence of impairment charges) faster than many investors now think is possible.
Given the sustained losses in share price over the last two years, I think Barrick Gold has outsized recovery potential. Barrick's stock price has been driven way too low way too fast. Barrick Gold is still a very attractive restructuring investment, whose stock price will continue to be highly correlated with the underlying gold price. Long-term BUY for investors who want exposure to a leading gold- and copper exploration company which is engineering its own turnaround.
Disclosure: I am long ABX. I wrote this article myself, and it expresses my own opinions. I am not receiving compensation for it (other than from Seeking Alpha). I have no business relationship with any company whose stock is mentioned in this article.