Cold U.S. Winter Affecting Nation's Economy
You have heard it on your local news for weeks, read about it in dozens of newspapers around the world and if you live in the deep south, Midwest or Northeast, have "felt" it first hand---the most severe U.S. winter since 1982, at a time when much of the rest of the planet continues to see overall warmer than normal weather.
Look for another potential big storm in the east around February 26th and at the very least, record cold weather next week into early March.
You can hear a broadcast on Bloomberg a while back talking about natural gas prices possibly going over $6.00 and discussing global warming, the Brazilian drought, etc.
The adverse weather is having a multi-billion dollar affect on our nation's economy. Pipes are bursting in the Northeast, salt companies are running out of supplies to remove snow, and various businesses are running into more economic hardship, as a result of the weather. Florists saw national revenues fall 60% during the Valentine's Day period, unable to deliver flowers to tens of thousands of loved ones.
Our $16 trillion economy can usually ward off a couple of snowstorms, but NOT the incessant nature of 3 consecutive months of brutal cold and near record snowfall, in which tens of thousands of flights are being cancelled every other week. Other industries such as plastic and rubber products, auto sales, etc. are also being hurt.
The drought in California (one of the top 8 economies in the world), could also have a trillion dollar affect on our nation's economy as food bills could soar without widespread rains and winter snow cover in the next winter or two. If El Nino forms, this could all change. It's something I am arduously looking into.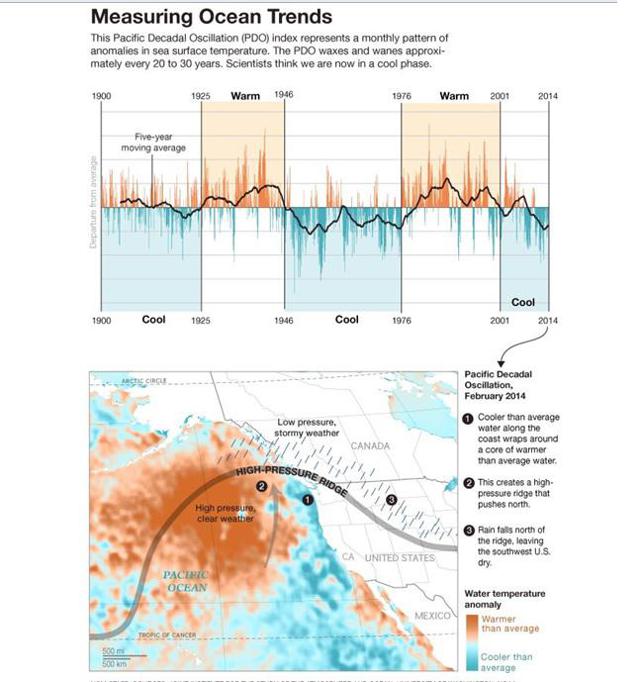 It is the warm pool (above), among other things that helped us call for one of the coldest U.S. winters, months ago. This pool also needs to ease off, or for El Nino to form, if the drought in California is going to break.
Ford Motor Company (NYSE: F) saw sales off 14% in January and the same may be true this month. They blame the cold, snowy U.S. winter, as the main culprit, as does General Motors (NYSE:GM) and Toyota Motor (NYSE: TM). Companies like Goodyear Tire (NASDAQ: GT) also stand to have a weak 1st quarter in sales.
The most recent industrial production report released last Friday was down .3% in January and may well fall again this month. Manufacturing output was down even more, .8%. The US Federal Reserve directly blamed the weather.
On the other hand, sometime the "net" effects of adverse weather on our nation's economy can be hard to nail down. Take for example, that the construction industry (especially sensitive to weather), actually added jobs in January.
Brazil Drought, Cold U.S. Winter Help CRB Index to Soar
The biggest tips I have given many of you this winter were on my bullish natural gas outlook, in which prices today finally rallied over $6.00 (NYSEARCA:UNG) and a major 2003 type squeeze situation is occurring as my projections still lean to under 1.2 TCF of natural gas supplies, later in March. Also, Brazil's drought which we began talking about 3 weeks ago has helped coffee and the ETF (NYSEARCA:JO) soar more than 32% in less than 2 weeks. Sugar (NYSEARCA:CANE), Soybeans (NYSEARCA:SOYB) and a host of other markets are going absolutely bonkers. We also have a re-developing drought in the Plains wheat areas (NYSEARCA:WEAT). Never, in my 30 years of forecasting have I been so insanely busy, getting up at 3 am each day and assessing how the world's crazy weather is impacting commodities and even other financial markets.
I see the drought in Brazil continuing in the northern areas. This too may have somewhat of a negative impact on certain sectors of their (Brazil) economy.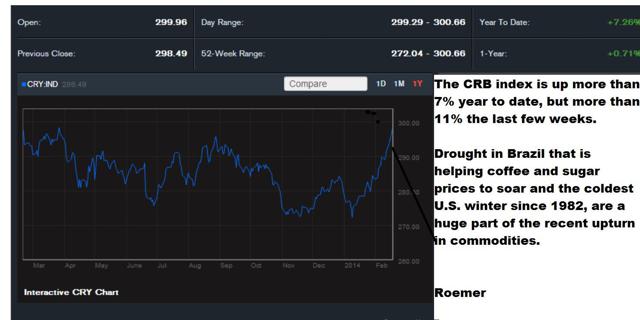 CRB INDEX soars, in part due to higher gold prices, the weaker economy brought on a bit by the severe winter and sharply higher natural gas prices and the drought in Brazil
While coffee companies such as Starbucks (NASDAQ:SBUX) and Green Mountain Coffee (NASDAW:GMCR) are benefiting from the cold U.S. winter and expanding into global markets, it remains to be seen if the sudden spike in coffee prices (Brazil's drought) could adversely affect their profits. Companies that do not hedge in commodities stand to lose big as I expect coffee prices to challenge $2.00 soon and for the ETF to trend higher, as Brazil continues to see the worst drought since the mid-1980s. However, I feel comfortable recommending taking a 20-35% profit in less than 3 weeks in coffee, though I remain bullish on the weather.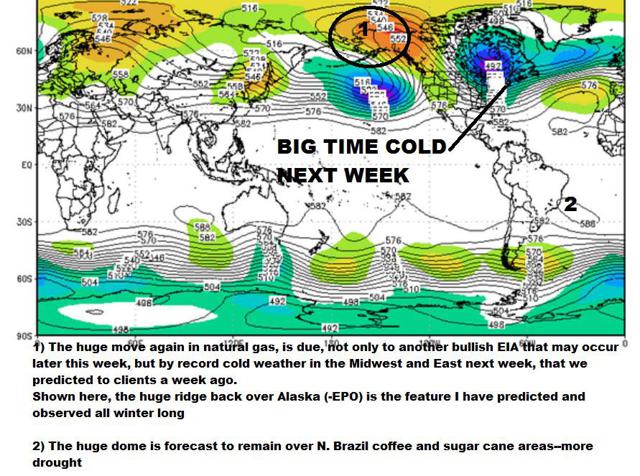 In natural gas, the ETF has had unprecedented volatility, due in part to "other weather forecast firms" suggesting more sustained bouts of warmer weather and biting into computer models that are often terrible. Natural gas prices are now up more than 50% since we began forecasting one of the coldest winters in years, last November. Frankly, I would not greedy up here and if you have substantial profits, there is no harm taking some of them off the table. However, with record cold next week in the Midwest and East, prices could still trend higher, but we reached my longer-term objective this winter in natural gas. Natural gas supplies will be very tight heading into summer, so any major downtrend in the deferred contracts is unlikely at this point.
Disclosure: I have no positions in any stocks mentioned, and no plans to initiate any positions within the next 72 hours. I wrote this article myself, and it expresses my own opinions. I am not receiving compensation for it (other than from Seeking Alpha). I have no business relationship with any company whose stock is mentioned in this article.