By Todd Shriber & Tom Lydon
Several themes, including long gold, short emerging markets and others, have worked for ETF investors this year.
Other prominent themes include the ongoing sturdiness of the health care sector and substantial inflows to Europe ETFs, both the diversified and single-country varieties. Some ETFs combine those two themes, including the unheralded SPDR S&P International Health Care Sector ETF (NYSEARCA:IRY).
With about $60 million in assets under management, IRY does not receive the adulation and attention commanded by some U.S.-focused health care ETFs. However, IRY toiling in obscurity has not derailed the ETF from gaining almost 6% this year. Last Friday, the fund, home to 118 holdings, touched a new all-time high.
While IRY is framed as an international fund, and it is, a global health care ETF is bound to be somewhat Europe heavy and IRY obliges. With Europe ETFs having been perhaps the most attractive developed market plays to start 2014, IRY has benefited.
Switzerland and the U.K. combine for over 42% of IRY's country weight with Germany and France and combining for another 20%. The non-Europe outlier in the ETF's top-five country weights is a 14.1% allocation to Japan. Overall, IRY features exposure to 17 countries, 11 of which are in Europe, according to State Street data.
IRY differs from a U.S.-focused health care ETF, such as the Health Care Select Sector SPDR (NYSEARCA:XLV), in terms of sub-sector diversity. While XLV and its rivals are heavy on blue chip pharmaceuticals names, those ETFs also feature solid allocations to biotech and medical devices makers, among others. By comparison, IRY devotes over three-quarters of its weight to pharmaceuticals names, including familiar ones such as Novartis (NYSE:NVS), Roche and GlaxoSmithKline (NYSE:GSK).
Like XLV, IRY's top-three holdings, the three aforementioned stocks, combine for a large percentage of the fund's weight. In this case almost 29%.
There has been chatter that the health care sector is now pricey on valuation as U.S. health care stocks are now more expensive than consumer staples for the first time since 2006. IRY carries a P/E of 17.6, the byproduct of the premium assessed to Swiss, U.K. and German stocks relative to more volatile stocks hailing from peripheral Eurozone nations.
SPDR S&P International Health Care Sector ETF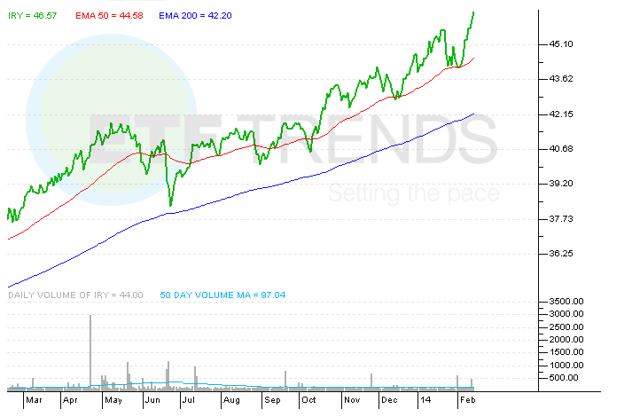 Disclosure: I have no positions in any stocks mentioned, and no plans to initiate any positions within the next 72 hours. I wrote this article myself, and it expresses my own opinions. I am not receiving compensation for it. I have no business relationship with any company whose stock is mentioned in this article.