All things economic have been given a free weather-pass by the market in recent weeks, but can one really blame it all on the weather? The conviction that Janet Yellen is another friend to the stock market seems widespread as well, but does the Fed really have the stock market's back this year?
When one is a sage and sophisticated trader on the Street, one knows how to "look across the valley," meaning to discount short-term and immediate weakness and focus on the rebound period ahead. That dovetails with another old floor saying, "if you wait for the move, you miss the move." There is some truth in both aphorisms, but what they don't tell you is how often they get abused in the name of simple momentum-chasing.
Wednesday was a fine example of where the market is really at. Housing starts worse than expected? No worries, it's the weather, and early futures losses (related to tensions in the Ukraine and Venezuela) were smoothly erased. Despite the wide miss of consensus (880K annualized rate versus estimates for 950K), trader Dennis Gartman immediately claimed victory on CNBC, exclaiming surprise that it didn't fall below 800K. Well, yeah.
But then the remarks of dovish Fed governor James Bullard, heretofore a firm supporter of a "more QE the better" policy, were released on the poor trusting market. Bullard seemed rather intent on the taper. Gains reverse. Then the FOMC minutes arrived, seeming to indicate more of a commitment to tapering than perhaps was thought, at least in the near term, with a few members still talking up rate increases (for a good insider's interpretation that I won't plagiarize, here is the link to Jon Hilsenrath's summary). The S&P, which had been tantalizing close to the all-time high in the morning, ended up sagging all the way into the close for a one percent top-to-bottom decline.
The sentiment built up since Yellen's initial testimony before the House Financial Services Committee - that once again, the Fed was going to oversee a game where you could bet with impunity - has taken a knock. It wasn't a sentiment shared by everyone, judging by the low volume of the rebound and a dash of public skepticism, but it wasn't being challenged either. Until the minutes came out, there was a good chance the market would make its new high on the S&P this week, with some bullish tendencies in place for Friday's options expiration. Now it's not so clear.
Coming back to the weather and housing, I don't think homebuilding is headed downward this year, but I have warned for some time that the growth rate will slow in 2014. It's possible that it will slow past my earlier expectations.
Housing starts began 2013 at quite a clip, with 2012 sporting a 28% gain over 2011. That gain lay behind a new Pimco view on housing that observed that starts had grown at over a 20% annualized rate the last two years. It's true: 23.5%, based on the latest figures from the US Census.
But that doesn't take into account the more recent flattening that largely happened before the snows of the current winter arrived. In 2013, starts grew at an 18.9% clip, with single family starts slowing to 15.6%. In the last six months of 2013, the period that all the optimists have been citing for demonstrating the increased momentum of the economy, the year-on-year growth in permits - which closely track starts - slowed to 11.4%. For the last four months of 2013, they only averaged 10.0%. That compares with averages of 36.5% and 35.6% over the same periods in 2012.
All of this without reference to January 2014, which had a mere 1% increase over January 2013. I don't see how one can claim that the month was unaffected by weather, despite the oft-repeated observation that starts in the Northeast rose 62% for the month. The number of starts in the Northeast is quite small at this time of year and subject to large revisions. The initial estimate of 2.9K January single-family starts in the Northeast compares to 2.8K in the prior year and was down from 3.4K in December, so weather did play a role, even if - as it appears from the data - ground may have been broken on some multi-unit projects.
All of that said, one can't put the slowdown in the pace to 11% for the last six months of 2013 down to weather either. Compare that with the following chart on rolling twelve-month core (ex-auto, ex-gas) retail sales growth: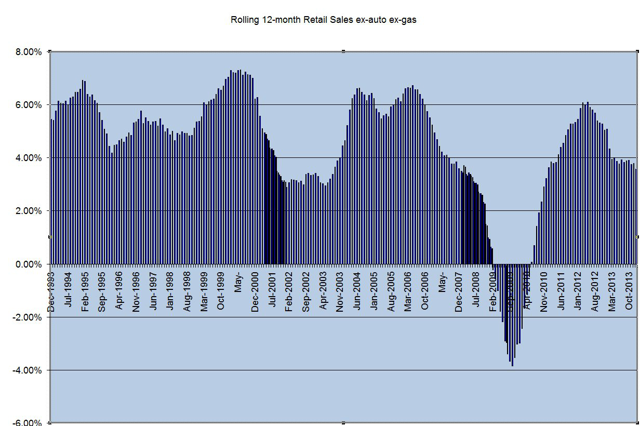 source: US Commerce Dept, Avalon Asset Mgmt Co
The current annual growth rate through January 2014 is 3.57% for core, the lowest it's been since December 2010 (3.23%), when the slope was still ascending, as can be seen on the chart. The ex-auto annual rate fell to 2.96%, the first dip below 3% since August 2010. As you can see in this 20-year chart, the last two times the annual rate of retail sales growth descended into this region, it was at the beginning of a recession (the January 2008 rate was 3.5%). The annual rate for all sales fell below 4% for the first time since August 2010, despite the strong year in auto sales.
I've been following retail stocks for a very long time; I do believe that the weather had an impact on January sales. But absent hurricanes and other natural disasters, weather-related problems rarely live up to their billing. The twelve-month rate ex-auto annual growth rate was 3.1% in November. Want to allow for the unusually late Thanksgiving? We can do that - fall back to the October ex-auto rate, which is pre-holiday, pre-everything. It was at 3.34%, still a real rate of only about 1.6% (the data are not adjusted for pricing) and representing a decline of over 400 basis points from the peak rate of 7.53% in March 2012.
A decline of more than 50% from the peak rate of ex-auto sales growth - which we haven't quite reached yet on total sales, or sales ex-auto and gas - has signified imminent recession in the past. I don't want to say that this time is different, but given our more sluggish economy and lower peak rate, it could be that the economy would be able to get by longer with a low rate of growth. The real danger line for total annual sales growth seems to be about 3.5%, compared to the January reading of 3.9%. The rate will probably decline once more in February, but at some point there should be a weather (and Easter) rebound.
When the weather bounce finally does come, it could get quite an exaggerated reception from the stock market. Those data points are probably at least a month away yet, so much could happen between now and then to make that moot. However, consider that both housing and spending might not be the engines of growth people had built into their models after the seemingly splendid GDP spike of the third quarter of 2013. The growth in housing for 2014 looks more like 10% to me, and while that's still a good contribution, it's also possible it will be in the single digits in the latter part of the year. Income growth is sluggish, and for whatever reasons you may believe for people withdrawing from the labor force - demographics, skill mismatches, old age - those people aren't fuel for new homes sales.
Household formation is building, but credit is still very tight in housing. Much of the financing of new home sales is being handled by the companies themselves, and their operations are getting stretched, perhaps another reason most of the homebuilders are trying to move up the price scale. In case you are wondering, I do read Barron's, and I did read the gaudy cover story about 4% real GDP this year being fueled by a housing boom. I don't buy it, not least because the US economy is not dominated by its capital city the way the UK and Danish economies are (the authors of the report are based in Copenhagen). Housing booms in those capitals spread economic activity outward to the rest of the country, but there is no such effect here. The other problem is that there's no boom in the data anyway.
It also appears as if domestic auto sales have flattened. Have you noticed how much subprime lending has permeated the auto business? Subprime loans were running at about a $40 billion quarterly volume last year, which comes out to about 6-6.5mm vehicles a year - or more than a third of annual sales. Moody's warned in January (see the link) that lending standards continue to loosen, which looks to me like a repetition of what happened with housing. Cars are easier to repossess than homes, so the asset-backed lending market for car loans has thrived, but what happens if the economy does turn down? These loans are averaging 5 years duration, and if you think we'll have no recession before then, good luck to you.
The Fed itself isn't so certain of our underlying growth rate either, as the minutes showed doubts about the sustainability of last year's second half growth (which looks to end up much lower than first appeared, if the estimated revision of fourth-quarter GDP growth from 3.2% to 2.2% comes true). At the same time, the statement minutes and recent comments by Bullard would seem to indicate that the Fed really isn't interested in having a bigger balance sheet. Not with mid-term elections coming up, not with the unemployment rate down to 6.6%, participation rates notwithstanding.
Stock exchange traders tend to be a patriotic lot. When complaints from overseas central bankers surfaced about the US pursuing an "uncoordinated" monetary policy, many were properly outraged, loudly agreeing with the assessment that the Fed isn't responsible for overseas financial systems. Let them worry about their own policies. What, I wonder, will they think if the Fed takes a similar approach to the stock market, and decides it has to take care of its own excesses too?
Stocks weren't seriously overbought headed into the last couple days of this week, but the nearly continuous 8-day rally hadn't left them underbought either. The second half of February - post the expiration day - is traditionally a weak spot on the stock market calendar. Last year the sense of immunity swept past everything at this time, but I don't see it happening this time, not without a big dose of maternal love from the Fed, and that doesn't appear to be in the cards. With another dip last night in the Chinese "flash" PMI (48.3), we look set up for another reawakening of fears and a slip into another swing lower.
Disclosure: I have no positions in any stocks mentioned, and no plans to initiate any positions within the next 72 hours. I wrote this article myself, and it expresses my own opinions. I am not receiving compensation for it (other than from Seeking Alpha). I have no business relationship with any company whose stock is mentioned in this article.