Emerging markets funds have sold off starting in 4Q13 due to slowing growth rates, inflation, and other concerns. Funds are flowing out of emerging markets and into traditional markets. In addition to the aforementioned issues with emerging markets, there are other headwinds. The growth outlook for Europe and the US has generally grown more optimistic over the past few months making these markets more attractive to investors. Also, the Fed is shifting away from its quantitative easing policy and interest rates in the US are expected to increase. The combination of improving opportunities in the developed markets, along with weaker economic outlooks and instability in many emerging markets has accelerated and increased the magnitude of the selloff in assets.
The iShares MSCI Emerging Market Index ETF (NYSEARCA:EEM) has steadily declined since late October of last year like most emerging market indexes. Although it has rebounded somewhat over the past week, it remains in a period of elevated risk on SmartStops and investors should look elsewhere for emerging market exposure.
iShares MSCI Emerging Markets Index ETF Remains in Period of Elevated Risk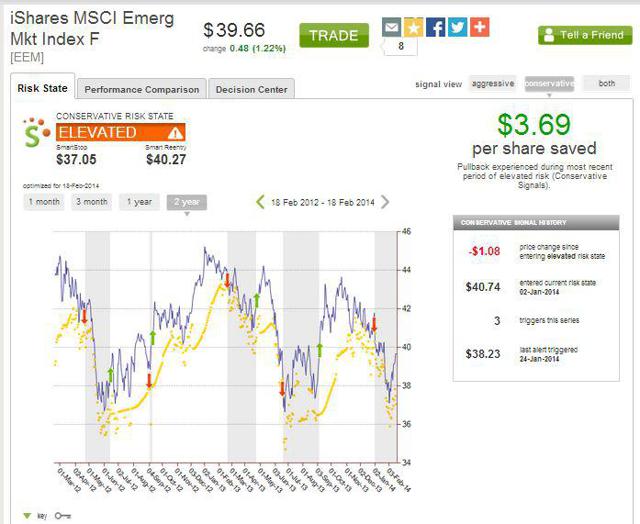 Source: SmartStops.net
Opportunities in Latin America
Similar to the above index, the iShares S&P Latin America 40 Index ETF (NYSEARCA:ILF) has declined by almost 11% since entering SmartStops elevated risk state on November 7, 2013. Other regional and country specific ETFs such as iShares MSCI Brazil Index (NYSEARCA:EWZ) and SPDR S&P Emerging Latin America ETF (NYSEARCA:GML) also have sold off. While ETFs with exposure to the broader market are in periods of higher risk based, opportunities still exist in Latin American economies within certain sectors and equities.
iShares S&P Latin America 40 Index ETF down 11% since entering elevated risk levels
Source: SmartStops.net
In Latin America, Brazil and Argentina are experiencing capital flight but for slightly different reasons. In Argentina, inflation has devalued the currency and dollar reserves at the central bank are decreasing. There are stories the black market exchange rate for dollars indicates the Argentine peso actual value is below the published rate. This is an indication that the potential exists for more downside. In addition, inflation is an even bigger problem, especially if you live in Argentina.
Across the border in Brazil, a softening growth outlook and government policies are causing some concern, although not to the magnitude of Argentina. Brazil, like much of South America, is negatively impacted by falling commodity prices. In addition, policies and loans to encourage growth are not working as well and GDP is forecast to grow at a meager ~2% in 2014. As noted earlier, Argentinean weakness spills over to the manufacturing industry in Brazil and impacts export demand.
However, there are other trends continuing to unfold in Brazil that are positive. Demand for homes and the real estate sector are a positive. The availability of financing due to friendly government policies, favorable demographic trends and the increasing penetration of the use of mortgages by buyers are all stimulating demand. Homebuilders such as Even (EVEN3.BZ) and EZ Tec (EZTC3.BZ) are quality companies in the market with exposure to better performing regions, higher margins and a focus on the middle-to-upper end of the market where the demand outlook is more stable.
Ahead of an election this year, the current government has maintained friendly policies to encourage home building by providing cheap and easy to obtain loans. Also, a program called Minha Casa Minha Vida has pushed homeownership particularly for lower priced homes sold to low-income buyers. This is the most at risk portion following the election. Homebuilding stocks with exposure to this segment are riskier as this program could end or have dramatic changes after the election. MRV (OTCQX:MRVNY) and Directional (DIRR3.BZ) are exposed to this end of the market.
Slower Growth in China
In Asia, lower expected growth rates and concern around the conditions of its financial system have caused investors to flee China and at times a selloff in equities across the globe. The iShares FTSE/Xinhua China 25 Index ETF (NYSEARCA:FXI) is down over 7% since entering a period of elevated risk on SmartStops.
iShares FTSE/Xinhua China 25 in Period of Elevated Risk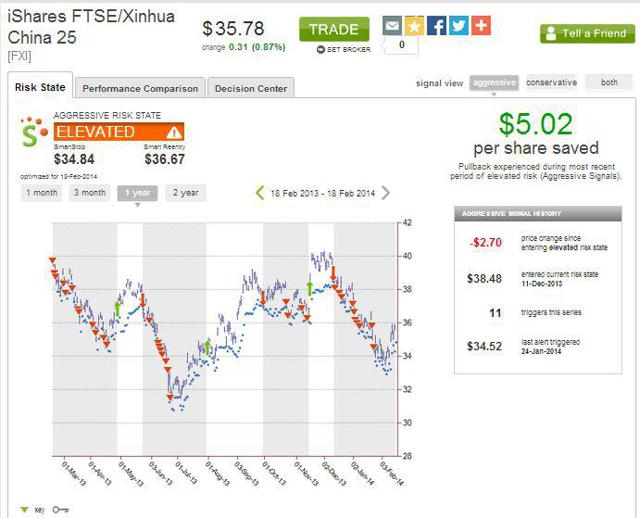 Source: SmartStops.net
While growth levels are retreating largely by design in China, there are again opportunities for growth even within industrials. The PMI in China is the key indicator for the industrial market and headlines that it was dipping have caused further concerns on the Chinese economy and led to further declines earlier this month.
Certain industrial sectors in China, such as the truck market remain interesting investment ideas. Following a difficult year in 2013, demand for trucks is expected to increase in 2014 and 2015 according to a report published by Macquarie recently. While infrastructure and construction are key end markets, growth in logistics needs driven by slowly rising consumption and additional highway construction will drive demand. Chinese firms such as FAW, Beiqi Foton Motor Company (SHA: 600166), and Dongfeng (HK: 0489) are all key players. However, a US company like Cummins (NYSE:CMI) in the US has significant China exposure. In addition to the engine market, CMI produces emissions components that are increasing in use due to new emissions requirements.
Conclusion
While there is reason for concern in certain emerging markets, some we mentioned and others that were not such as Turkey. However, some countries are doing better than others and even more so certain sectors within them. To maintain broad geographic exposure in your portfolio, look to sectors like homebuilders in Brazil or the truck manufacturers in China. For those that are skittish of owning emerging markets equities directly, owning a stock with strong exposure to an industry with good fundamentals like CMI is another way to maintain exposure to positive trends.
Disclosure: I have no positions in any stocks mentioned, and no plans to initiate any positions within the next 72 hours. I wrote this article myself, and it expresses my own opinions. I am not receiving compensation for it (other than from Seeking Alpha). I have no business relationship with any company whose stock is mentioned in this article.