1 - Introduction.
I am going to present the case of Stillwater Mining Co. (NYSE:SWC) company based in Billings, Montana in the USA and why I think it is an attractive long term investment.
Quick Business summary:
Primarily, Stillwater Mining Co. is a mid-tier PGM specialized in developing, extracting, processing, smelting, refining and marketing palladium, platinum and associated metals. It is the only mine producer of PGM in the USA (which offers safety and stability due to its location and is unique to the industry), and just one of only 2 palladium mines in North-America with NORTH PALLADIUM Ltd. (NYSEMKT:PAL) in Canada (which presents some serious financial concerns now. - Read my article about PAL here.).
Nearly all of the other PGM mines are located either in South Africa: Anglo, Impala (OTCPK:AGPPY), Lonmin (LON. LMI), Aquarius (AQP.L), Northam (OTCPK:NMPNY) or in Russia: Norilsk (OTCPK:NILSY).
Stillwater Mining Co. is the only U.S. producer of palladium and platinum. It is the largest primary producer of platinum group metals outside of South Africa and the Russian Federation.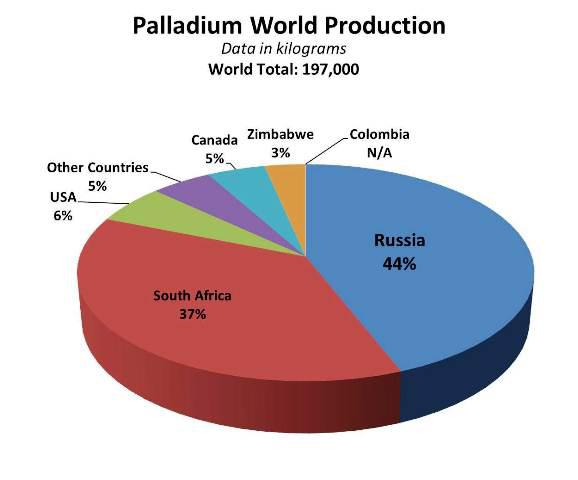 Platinum World production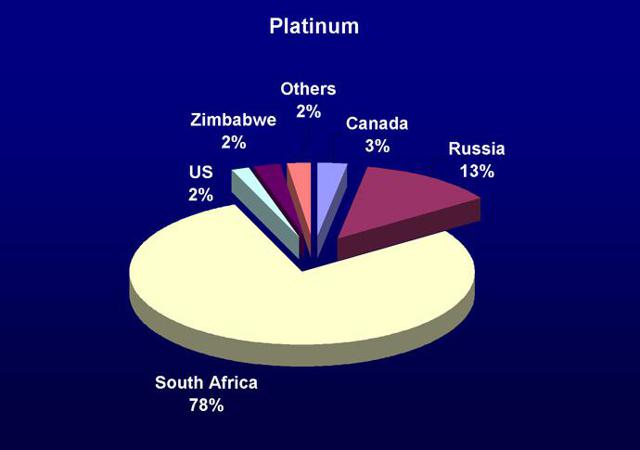 Stillwater Mining Co. is exploring for nickel, copper, gold, and silver ores too. The company conducts its mining operations at the Stillwater mine located near Nye, Montana, and at the East Boulder mine located in Sweet Grass County, Montana.
The company is developing a Canadian project with Mitsubishi Corp. (25% stake) called the Marathon prospect. It is a PGM-copper project located in Ontario, Canada, and also the Altar project, a copper-gold project, which includes 8 wholly-owned mining concessions covering 7,771 hectares, 5 optioned mining concessions covering 3,705 hectares, and 1 staked mineral concession comprising 469 hectares in San Juan, Argentina. Both projects will not be developed within 3 years at least, if ever.
The company operates a smelter and a base metal refinery located in Columbus, Montana.
Another part is the recycling business of spent catalyst material to recover palladium, platinum, and rhodium at its smelter and base metal refinery. It is a growing business, and I will talk about that later.
As of December 31, 2012, the company had proven and probable ore reserves of approximately 46.1 million tons at its Montana operations. Stillwater Mining Co. was founded in 1992. Click here to access the home page.
On December 8th, 2013, Stillwater Mining Co. announced the appointment of Michael J. McMullen as the new CEO. Michael J. McMullen is also serving on the company's board.
2 - Stillwater Mining: 3 different segments.
Segment 1: The Montana PGM mines and their extensions.
2 separate sites called the Stillwater and the East Boulder mines.

The Blitz project started in 2010 and is anticipated coming online in the medium term. There is also the Lower Far West site anticipated coming online by 2016. (Left side not indicated)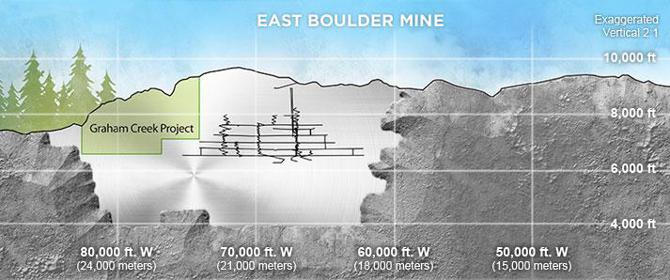 The Graham Creek project started in 2010 and is anticipated coming online in 2014.
(The pictures above are from the SWC presentation)
The processing involves a mine site concentrators, a smelter, a Base metal refinery adjacent to the smelter and a laboratory in Columbus, Montana. All of them are controlled by Stillwater Mining Co.
Both sites have their own mill.
Stillwater mill capacity is 3,000 TPD, currently running at about 2,300 tpd average.
East Boulder mill capacity is 2,000 TPD, running at about 1,300 TPD average.
TPD = Ton per day.
It is clear that the company is not using the whole capacity allowed by both mills (about 3,600 TPD now). The company is looking at how to increase the ore production as soon as 2014. Increasing ore production is not an easy task, and a previous attempt was not successful. The new CEO, Michael McMullen, said that the situation may be corrected during 2014. We will have to see.
Segment 2: The Recycling part.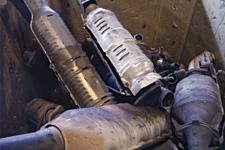 Stillwater Mining Co. has been recycling spent catalyst materials at its metallurgical complex in Columbus, since 1997. The facilities process ceramic and metallic automotive catalysts, petroleum catalysts, industrial PGM catalysts and refinery sweeps in lot sizes ranging from two to twenty tons. The company recycling business consists of a state-of-the-art processing and sampling facility and a contiguous automated assay laboratory. This segment has been recently enhanced and is a significant part of the PGM produced. It still has significant room to grow.
Segment 3: The non-core mining Projects: The Altar (San Juan province, Argentina) and The Marathon (Province of Ontario, Canada).
This segment has been a "financial problem" for a long time. The actual management inherited it from the previous management under McAllister who has been severely criticized, particularly for the acquisition of the Altar project in Argentina from a Canadian exploration company, Peregrine Metals Limited.
Here is the last 10K SEC filing regarding the acquisition.
In October 2011, the Company completed the acquisition of Peregrine Metals Ltd., a Canadian exploration company (Peregrine) that owns the Altar property, located in the San Juan province of Argentina. In completing the acquisition, the Company paid a total of $166.4 million (net of cash acquired) in cash and issued 12.03 million Company common shares. Altar is an exploration-stage property with initial drilling in place that indicates the presence of a large copper-gold porphyry deposit and an ancillary gold discovery.
The company ended up with an impairment of $290.4 million in Q3 2013. The net effect after tax was less. Here is what has been said:
The third-quarter impairment charge at Altar ($290.4 million) also resulted in a reduction in the deferred tax liability associated with the Altar property. Consequently, the net after-tax effect of the Altar impairment was a $226.5 million reduction in third-quarter 2013 income.
There were a lot of controversies during 2013 involving a change in board composition proposed by the Clinton group who owns 1.3%. I will not go into the details here.
2 - The production highlights.
The core business or the mining side.
In 2013, Stillwater Mining Co. produced 523.9K oz of PGM with reserves split 80% in palladium and 20% in platinum. The cash cost was between $515 to $525 for 2013.
The guidance for 2014 is indicating a pretty stable production year to year at 515Koz to 530Koz but with a slightly more expensive cash cost at around $550 to $600. (These numbers will be reviewed quarterly by management during 2014.)
The new management, under Michael J. McMullen, is trying his best to reduce cost and maximize the mill utilization.
On January 21, 2014 Stillwater Mining Co. released the Q4 2014 guidance update call. You must read it. It should be a good start to understanding production and SWC strategy for 2014 and beyond.
A quick look at the mine production 2013, 9 months: January to September 2013. (Full year not available yet).
| | | | | |
| --- | --- | --- | --- | --- |
| (Mined Ounces) | First Quarter | Second Quarter | Third Quarter | Year-To-Date |
| | | | | |
| Stillwater Mine | 92,600 | 91,000 | 83,800 | 267,400 |
| Palladium | 71,300 | 70,200 | 64,500 | 206,000 |
| Platinum | 21,300 | 20,800 | 19,300 | 61,400 |
| | | | | |
| East Boulder Mine | 34,500 | 40,500 | 40,400 | 115,400 |
| Palladium | 26,800 | 31,500 | 31,200 | 89,500 |
| Platinum | 7,700 | 9,000 | 9,200 | 25,900 |
| | | | | |
| Company Total | 127,100 | 131,500 | 124,200 | 382,800 |
| Palladium | 98,100 | 101,700 | 95,700 | 295,500 |
| Platinum | 29,000 | 29,800 | 28,500 | 87,300 |
(From the MarketWire article on November 12, 2013.)
For the first nine months of 2013, total production mined was 382,800 ounces, slightly more than the 381,200 ounces reported in the first nine months of 2012. The ratio platinum/palladium is about 30%.
This is a growing side of the business. The recycling volume is quite impressive, but the profit contribution is small or marginal right now. The reason is that this segment offers a low profit margin. It is a small side of the business but a growing side. The more they can recycle the more profit margin in the future, and there is a lot to grow per McMullen. Here is what he said at the last conference call.
But importantly, we collect not only from North America. And there are some markets that we're collecting from outside North America where we actually are a very, very small part of the recycle feed business. And so it's those areas where we've identified that we have potential to grow the business.
2013 Recycling Production by Quarter.
| | | | | |
| --- | --- | --- | --- | --- |
| | | | | |
| (Recycled Ounces Processed) | First Quarter | Second Quarter | Third Quarter | Year-To-Date |
| | | | | |
| Company Total | 154,200 | 175,000 | 167,500 | 496,700 |
(From the MarketWire article on November 12, 2013.)
Note: Q3 2013 was a 74.1% increase from Q3 2012. For the 9 months, the increase is 52.1% from 2012 to 2013.
Most of the production is sold at a little discount to market. Read the last 10Q.
The Company has a supply agreement with General Motors Corporation (GM) that provides for fixed quantities of palladium to be delivered each month, a platinum supply agreement with Tiffany & Co., and PGM supply agreements with Johnson Matthey, BASF and Ford Motor Company, all of which expire at the end of 2013. Some of these agreements provide for pricing at a small discount to a trailing market price. Based on the targeted 2013 mine production of about 505,000 to 515,000 ounces, up to 93% of the Company's mined palladium production and up to 88% of its platinum production is committed under its supply agreements. The Company currently sells its remaining uncommitted mined production under spot sales agreements.
November 12,2013 was the latest financial statement.
The last 3Q 2013 earnings were released on November 12, 2013.
Stillwater Mining Company today reported a consolidated net loss attributable to common stockholders for the 2013 third quarter of $201.5 million, or $1.69 per diluted share. The third quarter result includes a $290.4 million (before-tax) impairment charge reducing the carrying value of the Altar mineral property in Argentina to its estimated fair value of $102.0 million. Consolidated net income attributable to common stockholders reported for the 2012 third quarter was $13.1 million, or $0.11 per diluted share.
Excluding the Altar effect, Stillwater Mining Co. declared a net income of $25 million for Q3 or 0,11 per diluted share. We notice that the cash cost per ounce mined was at $427 for Q3, which is low.
3 - The balance sheet and the potential for a share buy-back and/or a dividend?
The company had $464.2 million in cash and cash equivalents and undrawn credit facility of $96 million (as of September 2013. We are still waiting for the 10K SEC filings). If we analyze the cash and the production, it is clear that Stillwater Mining Co. is a profitable business with some great potential for the future. Again, it is one of only two palladium mines located in North America.
The significant potential is that the company under the new management is considering some positive steps for shareholders. Depending on what will be implemented, it may have a positive impact on the actual price per share. Stillwater Mining Co. has cash and decided to delay the Marathon project recently (3 years or more). The Marathon project could cost $300 million to develop even with Mitsubishi Corp., who participates at 25%.
Here is what McMullen said at the last conference call:
... But, yes, I think when I talked about focus on shareholder returns and returning something to shareholder -- shareholders, clearly, many shareholders have expressed a desire to see a return and criticism of the company that they have not done so over the years. So my goal -- let's be clear here, my goal is to return something to shareholders over the not too distant term and that we are examining what form that may or may not take. But it would be somewhat early for me to, at this stage, commit to anything given that I've been in the role for 6 weeks. But our aim as a company is really to provide a return for shareholders. And that can cover a range of options, including a buyback, as you suggested, or a dividend or something similar. But I can't give you a definitive answer at this stage as to what the plan is. But, yes, that's certainly the way that we will go.
Then, is it not foolish to consider a share buy-back with/or a dividend estimated at around 2% to 3% to be announced during 2014?
4 - The Altar and the Marathon issues.
The Altar is a Copper/Gold prospect, in North Argentina.
In my opinion, it has been a huge mistake and this asset was finally impaired during Q3, 2013. The impairment charge was $290.4 million before-tax at the end of the third quarter 2013. It has been the main reason why Stillwater Mining Co. stock price was not able to improve in my opinion, despite some solid earnings. The previous management bought the prospect for just under $400 million. It is situated in Argentina which is not a safe place to do business.
The new management has put on hold any important or material investment there, but they should be selling the prospect to stop the bleeding once and for all, and focus on the mines in the USA. Maybe, if gold regains some footing, then Stillwater Mining Co. will be able to sell the Altar prospect at a small profit considering the new valuation in the balance sheet ($102 million).
The Marathon project is a copper/PGM in Ontario Canada.
Marathon fits within the strategy of focusing on PGM assets in low geopolitical risk jurisdictions like Canada.
Stillwater Mining Co. has secured a joint venture (JV) with Mitsubishi Corp., who owns a 25% stake in the project. A minimum between $10 million to $15 million should be spent in 2014. Recently on January 31st 2014, the company announced that the project feasibility study will be "delayed". (Read the article here).
This situation has put doubt on the quality of this project. It is important to know that the capex estimated is about $400 million total ($300 million for Stillwater Mining Co.). A while back Stillwater Mining Co. indicated that the quality and amount of the reserves were lower than what was indicated when it bought the project. The project now is put on hold, and McMullen said:
"But I think the best I could say is that it's unlikely that anything would happen on that within the next 3 years..."
In my opinion, we have here another impairment potential going forward, but it will not be as significant as the one realized for the Altar Project. Perhaps close to $50 million? Which means another book value reduction (0.35 to 0.45 a share?).
Stillwater Mining Co. will have to deal with these 2 issues in a definitive way, sooner or later.
5 - Conclusion.
Stillwater Mining Co. is a profitable company which presents some unique potential to grow for the next several years. It has a revenue of $1 billion a year.
Stillwater Mining Co. has a cleaner balance sheet after the Altar "mistake" has been corrected and impaired. This impairment reduced the carrying value of the Altar mineral property in Argentina to its estimated fair value of $102.0 million. To be fair, I would be totally happy when the Altar prospect will be sold and the Marathon prospect too.
Platinum and palladium are precious industrial metals which present a better outlook than gold at the moment. Although gold may rebound soon and should not be discounted at all (read my article about IAG).
The company is evaluating some sort of return to shareholders now and could declare a dividend (I evaluate it at around 2% or 3%) and/or a share buy-back. This possibility will attract dividend investors and will reduce outstanding shares too. Two positive effects for the stock price going forward: First, by reducing the total shares outstanding which is now at 119.32M, and second by attracting some value investors. The company may also use part of its cash to reduce the $307 million debt. We will have to wait a bit before knowing what management will finally decide.
The risks to a long investment in this sector are relatively low in my opinion. Stillwater Mining Co. presents a profitable business model based essentially on platinum and palladium located in the USA. It is the only safe bet in the palladium mining sector. Most of the other platinum and palladium mines with potential are located in Russia and South-Africa and offer geopolitical challenges and uncertainties. Stillwater Mining Co. had probable ore reserves of approximately 46.1 million tons at its Montana operations in December 2012 which is reassuring for the long term.
One small negative is that the stock price now is not as cheap as I would like it to be. The recent increase to the $13s is showing a forward P/E at 29.4. This weakness presented as a variant view can lead to a stock price correction if palladium and platinum suffer a loss in value which is always possible. Also, it is important to indicate that the new management seems professional and shareholder friendly, but this fact needs to be confirmed in 2014. As we can see, nothing is risk free.
Last, I do not think palladium will go down from the actual $700-$750 level in 2014 and perhaps may even reach $800 per oz instead. This price level is supported by an increasing palladium deficit, which is roughly 1M oz for 2014, and it may continue until 2017. Look at the palladium spot price. (Look at the chart below.)
Palladium spot price 2 years Chart.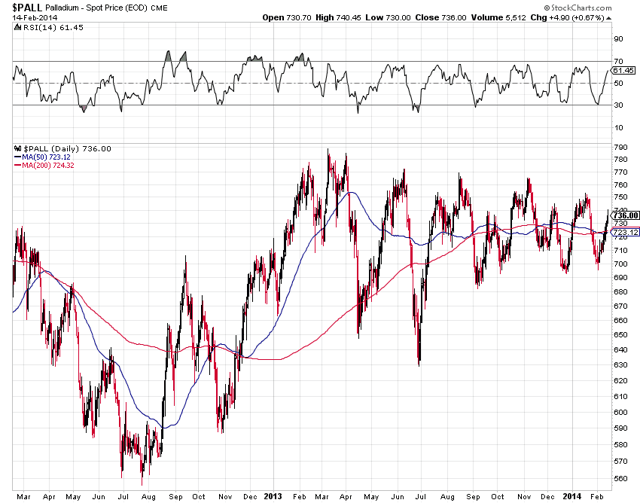 Platinum is also quite bullish now and could reach $1,500/$1,600 during 2014 with limited downside due to serious problems in South Africa, which is the main producer of palladium (37%), and platinum (78%). The Russia production remains largely unknown, and Norilsk may surprise. Russia represents 13% of the total platinum produced worldwide.
Platinum spot price 2 years chart.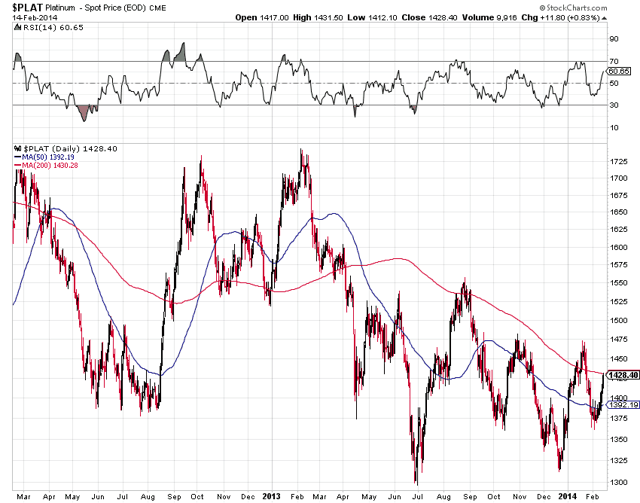 Look at the Stillwater Mining Co. chart: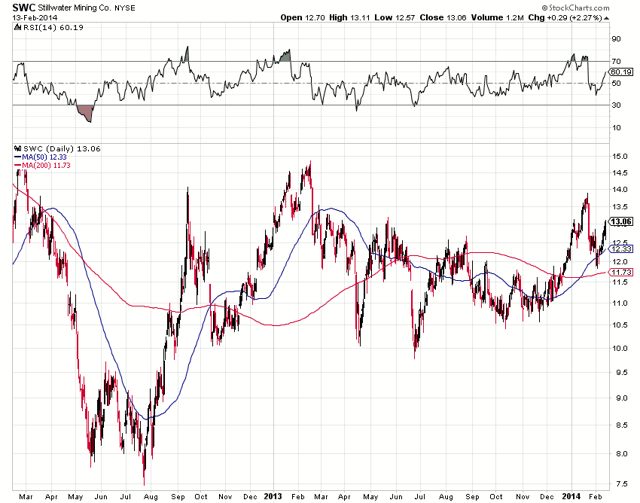 My final comment:
I believe Stillwater Mining Co. is a stock that should be accumulated in 2014, but seems a little expensive, right now, from a RSI perspective which is at (60), and soon close to an overbought territory (70).
Perhaps the South-African recent situation may have played a role here?
I would advise to wait for a small retracement at around 12+ to add to a long position. Unless, of course, Stillwater Mining Co. announces a buy-back with a 2 or 3% dividend.
If you look at the chart, you can see that Stillwater Mining Co. fluctuated in a wide range since mid 2012 (7.5 to 15). It is probably because of some management issues, and a bad acquisition (The Altar project). The new management, under Michael McMullen, seems much more focused on preserving the shareholder's value.
I own SWC at an average around $11.25, and I will average up on any weakness now. My price target for 2014 is set at 16.75 assuming palladium around $785 for 2014 and platinum around $1,550. Probably $17.25 if dividends are declared?
I was mainly trading SWC since July 2013, but I changed my thinking when the Altar impairment was done, and the Marathon project was delayed recently, and I turned "Long the stock" instead.
Disclosure: I am long SWC. I wrote this article myself, and it expresses my own opinions. I am not receiving compensation for it (other than from Seeking Alpha). I have no business relationship with any company whose stock is mentioned in this article.