Executive summary:
IBM is experiencing short-term troubles such as the weaknesses in developing nations.
Many analysts are deeply discounting the company as they blame it for boosting its EPS artificially buy repurchasing shares.
Long-term trend still looks intact and the company's financial figures are near an all-time high; there is upside if it can keep up.
_________________________________
The market seems to have a love-hate relationship with IBM. Sometimes, the company's share price will rally relentlessly for a couple years, other times it will head south for a while in a seemingly never-ending decline. Recently, IBM hasn't received much love from the market and many people are wondering whether this presents a buying opportunity.
On January 21st, IBM announced its earnings for the fourth quarter and the full year. For the fourth quarter, the company beat the estimates by a small margin ($6.13 per share vs. $6.00 per share) and for the full year of 2014, it offered a guidance a few cents above the average analyst guidance ($18.00 per share vs. $17.97 per share). After that, IBM went into a sell-off mode where the stock price fell from $188 to $172 even though it was already on a decline for the last year. For example, last April, the company's shares were trading for nearly $216. Since the earnings report, the share price recovered and passed $183 but this price still gives the company a low multiple against its future earnings; for example, the company is currently trading at 10 times its 2014 earnings. This discounted price implies that the market doesn't expect IBM to grow at all. In fact, the market actually expects the company's earnings to shrink considerably even though the company engages in financial engineering by buying large amounts of shares back in order to boost its EPS every year.
IBM's year-to-year revenue decline caused a lot of concerns in the market and many investors are wondering if the company will continue to see growth in the near future. For the last 20 years, IBM has been focusing on products and services with higher margins rather than high revenues, but this practice proved troublesome for the company in emerging markets where local companies rely on cheaper service providers. Furthermore, IBM was hit by the recent strength of the US dollar compared to the currencies in many developing countries. These days, developing markets are a huge theme for the investors and if a company fails to post revenue growth in countries like China, investors tend to write it off as dead.
It looks like IBM will continue to cut costs by reducing its headcount and utilizing other means. This is another thing the market doesn't like. If a company is in a lay-off mode, the market will assume that it is in deep trouble even if the trouble might not be as big. For years, the investors punished companies like Cisco (NASDAQ:CSCO) despite strong results partly because these companies were always in a lay-off mode. IBM coupled laying-off employees periodically with acquiring a bunch of smaller companies in order to grow its revenues while cutting operating costs. This strategy resulted in limited success and the company added a lot of debt to its balance sheet. The company's insistence on a strategy with limited success also continues to scare off many investors.
Looking at IBM's twelve-trailing-month revenues, we see an interesting trend. The company's current revenue is pretty close to the all-time high figure even though it's been on the decline since 2012. Was IBM's 2012 performance an outlier? Only time will tell us. If the 20-year old trend is to continue on, the current decline might be just a blip in the company's growth radar.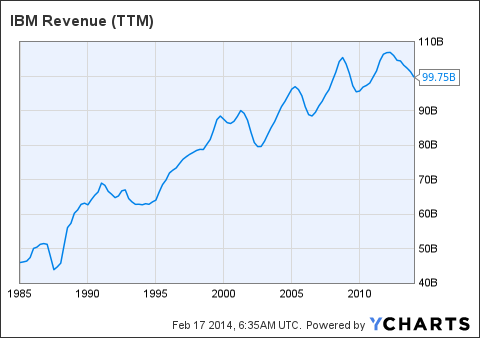 IBM Revenue (TTM) data by YCharts
Yes, IBM keeps buying shares back in order to boost its earnings per share figures, but, what's wrong with that? As long as the company continues with this practice, each share becomes more valuable and even if the company posts no growth in the short term, each share will represent more earnings. The chart below shows the share count of IBM during the last 30 years. Notice the sharp decline in the company's share count after 1995. There are very few companies in the market that are as aggressive as IBM when it comes to buying its shares back. I should add a word of caution though: when a company buys its shares back aggressively, it can tell us both positive and negative things. On the positive side, it can tell us that the company's management thinks that the shares are very cheap and investors should be rewarded. On the positive side, it can tell us that the management doesn't invest the company's money into organic growth but rather financial engineering. In either case, each share is getting more valuable each year because there are less shares to go around.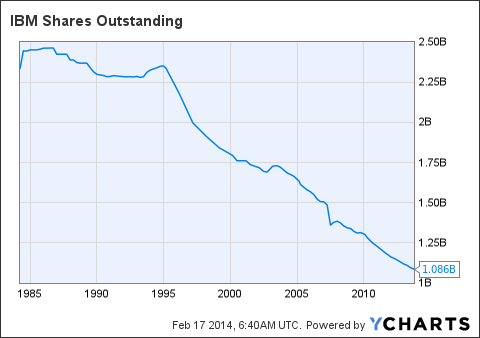 As you can see below, since 1985, IBM's share price jumped by 556% even though the company's market cap rose by only 205%. The divergence between share price growth and market cap growth becomes more evident after 1995 as IBM gets more aggressive about its share buyback program. Obviously, the share buyback program added a lot of value to the long-term investors even though a lot of analysts don't see it that way. Besides, this figure doesn't take the company's dividends into account.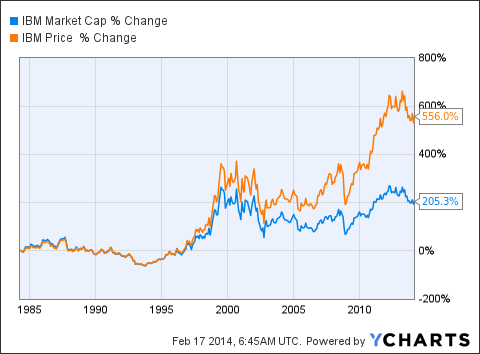 Now, let's take a look at the company's operations. In the last 10 years, IBM's research and development expenses remained relatively flat while SG&A (selling, general, administrative) expenses rose by less than 20%. During this time, the company's gross profit (revenue minus cost of revenue) rose from mid-$30 billion to nearly $50 billion. This translates into long-term operating profitability.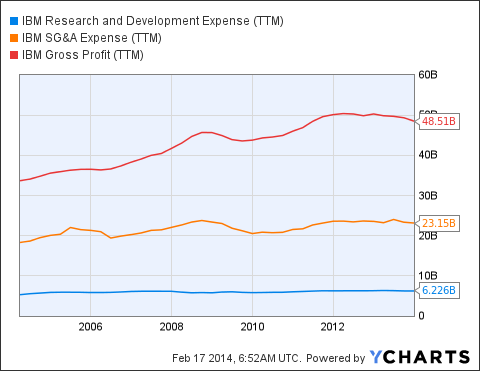 Moving forward, IBM's revenues will probably stay nearly flat in 2014 and 2015 excluding currency effects even though we might see a small increase or decrease (around 1-2%). As the increasing competition causes pricing pressures and the company attempts to reinvent itself once again, we will probably see some business units see revenue declines while other business units will see revenue increases (mostly software and services) and these two effects are likely to offset each other for the most part. If the US dollar continues to be strong against the currencies in the developing world, this might result in a revenue decline for IBM for 2014 and possibly 2015.
This is not all bad though. The company continues to work on improving its margins and this will be helped with better sales mix as the company is more likely to see growth in higher margin businesses such as software and services than lower margin businesses such as hardware. In other words, as software and services represent a higher percentage of revenues and hardware represents a lower percentage of revenues, IBM should see improved margins even though currently they are still pretty close to all time high margins.
As the company keeps buying its shares back, the net earnings will continue to grow at a faster rate in per share basis. Many analysts will complain about this and act like this doesn't count, but anything counts as long as it raises EPS and makes each share more valuable.
Currently, IBM's peers enjoy a variety of P/E ratios ranging from the low to mid 10s with an average ratio closer to 13.5 and IBM is deeply discounted. The real question is this: will IBM continue on the long-term trend it set up in the 1990s and make this year's troubles appear like a small blip in the radar, or will the company reverse its 20-year old trend starting this year? The market currently behaves as if it believes that IBM's story is over and the company's 20-year old trend will come to a reverse after this year, but it is too early to be so sure about that.
Disclosure: I have no positions in any stocks mentioned, but may initiate a long position in IBM over the next 72 hours. I wrote this article myself, and it expresses my own opinions. I am not receiving compensation for it (other than from Seeking Alpha). I have no business relationship with any company whose stock is mentioned in this article.