It is all too easy to get caught up in the panic surrounding the Euro debt "crisis."
The media are having a complete field day with the drama surrounding the Greek debt crisis (call it whatever crisis you will). They are conjuring up every reason in the world for why the Euro is going to zero, and how the Greek crisis is going to systematically spread across the eurozone nations.
Given the tone of the commentary one could be forgiven for thinking that equity markets have already entered a bear market or at least a material correction. However, as at time of writing, the major market indices in Europe have yet to break critical pricing levels - just take a look at the Stoxx 50 index below. Yes that support level is a little too close for comfort, but really how sick is the average listed stock?

Stoxx 50 Index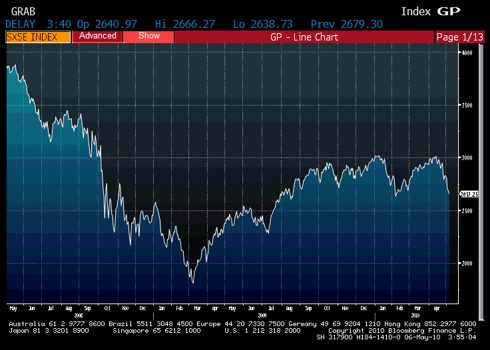 (Click to enlarge)
We don't place too much faith or importance on large cap indices mainly because everyone else looks at them so looking at them is hardly going to give us an edge. Also large cap indices are heavily weighted to the performance of a few mega caps which can provide rather misleading behavior.
A bull market is defined as one where the average stock or the broad market is rising. We have found that the best representation of the behavior of the broad market is small cap indices. Now take a look at how the MSCI Europe Small Cap index is behaving. If one was to take away the behavior of the last two days, then it is only a few percent away from a multi-week high. This is quite contrary to what you would think based on the media banter. It has got someway to go before it breaks any critical pricing level which would signal the start of a bearish phase.
MSCI Europe Small Cap Index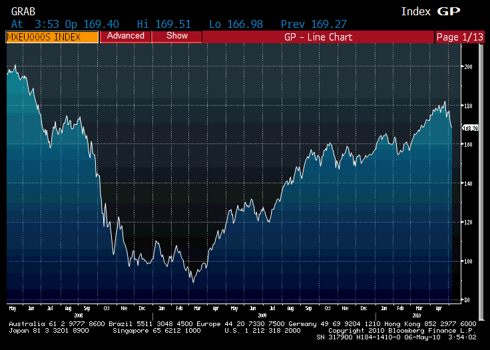 (Click to enlarge)
Bear markets are supposed to sneak up on you when you are least expecting, when your attention is focused else. If this is the start of a material downturn in the market it is certainly not typical!
All technical or behavioral aspects of this market aside, has anyone sat down and looked how cheap large caps are in Europe? Well below are a few fundamental metrics of the members of the Stoxx 50 index. As simplistic as it seems (and that is the way we like it) you can now pick up the big multi-national stocks (like Bayer (OTC:BYERF), Nestle (OTCPK:NSRGY), BASF (OTCQX:BASFY), Daimler (DAI), LVMH (OTCPK:LVMHF), Nokia (NYSE:NOK), L'Oreal (OTCPK:LRLCF), and Danone (OTCQX:DANOY)) on a forward P/E of 10x and a Price/Book of 1.25x ... maybe this will be 1.20 within a few days. These stocks are as global as any of the Dow components, and one can only wonder how much more competitive they have just become given the breakdown in the euro.



(Click to enlarge)
Investing is a ruthless game. Rothschild is rumoured to have said "Buy when there is blood on the streets;" and he was not speaking metaphorically. Was it not Getty who said "When they are yelling I am selling and when they are crying I am buying"? Okay, it might have been Rockefeller or JPM, but I know it was Templeton who said "the time to buy is at the point of maximum pessimism!" I say no more.
We bought the Stoxx 50 yesterday. Judge us by our actions not our words.
Disclosure: Author long FEU