In the age of Amazon (NASDAQ:AMZN), the worst winter we've had in years, and growth amongst dollar stores, reality is starting to hit Wal-Mart (NYSE:WMT) a little bit.
Wal-Mart is an American based multi-national retail conglomerate that has over 11,000 locations. It's one of the world's most valuable companies and was founded in 1962 by Sam Walton.
Wal-Mart has traded very stagnantly over the last 18 months - it's basically gone nowhere since then. In the last 12 months, the company has bounced up 5%, then down 5%, then back up 5%. Aside from the dividends, WMT investors aren't seeing tangible returns from their investment in the company lately.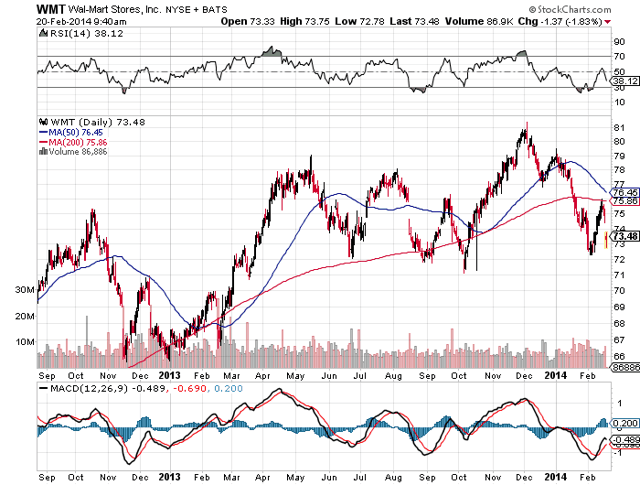 In the company's earnings that it reported this morning it lowered its full year profit guidance, claiming that waning food stamps combined with higher taxes have been a drag on the company's sales.
The company posted earnings of $1.34/share a decline from $1.67/share from the same period last year. for the year, the company's EPS was up 2% - but, both numbers wound up missing analyst estimates.
The growth of dollar store companies like Family Dollar (NYSE:FDO) and Dollar General (NYSE:DG) has been exponential, on the other hand. These places account for a lot of the stops that customers make "in between" stops to Wal-Mart. With Family Dollar's recent inclusion of tobacco products [and pharmacies starting to drop tobacco sales a la CVS (NYSE:CVS)], the company looks to continue to grow rapidly.
Some analysts, like Brian Yarbrough, contend that Wal-Mart is losing out to these types of stores:
Brian Yarbrough, a consumer research analyst at Edward Jones, thinks Walmart is losing market share to dollar stores and grocer Kroger's, which tries to compete with Walmart on price, something not all chains have attempted. And, these stores have other benefits too, he says.

"Something tells me people are more into convenience right now," says Yarbrough. "You can get in and out of a dollar store in two to three minutes, about the time it takes to walk from your car into a Walmart."
A buyout of Family Dollar by Wal-Mart actually seems to make a ton of sense.
Credit Suisse analyst Michael Exstein even suggested a buyout of Family Dollar to Wal-Mart's new CEO. The logistics of such a deal make sense: Wal-Mart has the cash/stock to do it at a premium to current Family Dollar shareholders, it would help Wal-Mart penetrate urban areas, and it would "fill in the blanks" of consumers that Wal-Mart isn't monetizing currently.
The argument against this is that the FTC wouldn't allow this to happen.
And such, it appears that Wal-Mart is going to go this alone, saying that it's expanding its smaller format stores domestically. It's trying to capture the customers making those trips to the dollar stores and convenience stores, when they don't have the time to deal with an entire trip to the giant.
He added Wal-Mart's plan to open as many as 150 small-format stores in the U.S. this year with the goal of expanding the concept to 700 by 2017 still is a "proverbial drop in the bucket" compared to 23,000-plus count combined for Family Dollar FDO -0.90%, Dollar General DG -0.82%, and Dollar Tree DLTR -0.71%.
Family Dollar already has all of the infrastructure and assets in place to do what Wal-Mart is shooting to do with their small format stores. This means there would be plenty of savings across the board once the buyout was completed and the companies can use each other's resources and assets. In addition to capturing these customers, Wal-Mart would get the bonus of the name association for those customers that are loyal Family Dollar shoppers - remember, there may be a small constituency that go to Family Dollar instead of Wal-Mart altogether.
Studies like this one are showing the dollar stores are actually undercutting Wal-Mart's prices, as well - another reason people could defect from Wal-Mart altogether:
At Family Dollar, Grom and his shopping team found the basket of items fell 3.4% in price compared to three months earlier, to $145.59. Dollar General cut prices 2.2%, Wal-Mart by 0.7%. The dollar stores cut food and beverage and household products the most; Walmart was relatively cheaper for paper products and other "consumables."

Both Family Dollar and Dollar General are now, on average, cheaper than Walmart -- a reversal from May 2013, when "Walmart was the clear pricing leader," with savings of nearly a nickel per dollar, Grom reports. By January, Family Dollar shoppers were saving more than a nickel for every $2 spent at Walmart, and Dollar General was slightly cheaper than the big-store chain. In short: "Walmart has conceded the 'price leader' crown to Family Dollar."
So, Wal-Mart - what are you waiting for?
In an age where Wal-Mart isn't just competing with companies like Target (NYSE:TGT) anymore, getting its hand in the dollar store market seems to be the right move for the company. If I were a shareholder, I would be asking for and backing this move. Until WMT figures out a way to continue its stalled growth by monetizing this portion of its business, I'd be wary of buying into WMT at these levels.
Best of luck to all investors.
Disclosure: I have no positions in any stocks mentioned, and no plans to initiate any positions within the next 72 hours. I wrote this article myself, and it expresses my own opinions. I am not receiving compensation for it (other than from Seeking Alpha). I have no business relationship with any company whose stock is mentioned in this article.