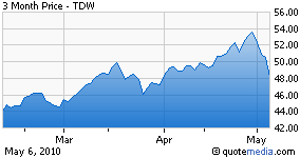 Tidewater, Inc. (NYSE:TDW) is a value play in the Oil & Gas Equipment & Services sector, distinguished by management's strong track record of deploying capital successfully and building shareholder value and a strong balance sheet. At a recent price of 51.26 it trades at a TTM P/E of 8.4 and a P/B of 1.09. The dividend is .25 quarterly, to yield 1.95%.
This prospect came from the following screen: domestic companies, market cap > 500 million, forward P/E < 12, current P/B < 1.2, 2007 P/B > 1.2. The thinking was, to develop a list of companies with real earnings and real assets, priced at a discount to historic values, and relatively close to a margin of security point. There were some familiar names on the list, companies I own or have owned successfully in the past, including many financials. Selecting from among the non-financials, Tidewater is attractive as a long-term investment based on the strong balance sheet and the skill with which management has deployed capital over the past ten years.
Overview – From the 10-K:
Tidewater Inc. (the "company"), a Delaware corporation, provides offshore supply vessels and marine support services to the offshore energy industry through the operation of the world's largest fleet of offshore marine service vessels. Tidewater Inc. is one of the most internationally diverse companies in the offshore energy industry with over five decades of international experience. The size and composition of the company's vessel fleet includes vessels that are operated under joint ventures, as well as vessels that are stacked or have been withdrawn from service. At March 31, 2009, the company had a total of 430 vessels, of which 10 were operated through joint ventures, 61 were stacked and 11 had been otherwise withdrawn from service.

The industry is capital intensive, cyclical, physically hazardous, and in recent years has been marked by a transition to newer, larger and more technically advanced vessels, and more deepwater exposure. There will be many newly built vessels coming into the market over the next 4 years, displacing older vessels which become more expensive to maintain as they age. Major customers prefer newer vessels for safety and reliability reasons.
Capex - Here is a discussion from the fiscal 2009 (fye 3/31/09)10-K:
In 2009, the company has continued a significant vessel construction and acquisition program that began in calendar year 2000. This program has facilitated the company's entrance into deepwater markets around the world in addition to allowing the company to begin to replace its core fleet with fewer, larger, and more technologically sophisticated vessels. The vessel construction and acquisition program and the expansion program were initiated with the intent of strengthening the company's presence in all major oil and gas producing regions of the world through the replacement of aging vessels in the company's core fleet. During this decade, the company has purchased and/or constructed 157 vessels for approximately $1.9 billion. Between April 1999 and March 2009, the company also sold, primarily to buyers who operate outside of our industry, 353 vessels and scrapped or disposed of 85 vessels. Most of the vessel sales were at prices that exceeded their carrying values.

To date, the company has funded all of its vessel commitment programs from current cash balances, operating cash flow, and funds provided by its $300.0 million senior unsecured notes, its revolving credit facility, and various leasing arrangements. At March 31, 2009, the company had 46 vessels under construction for a total capital commitment of $991.9 million, of which the company has already expended $392.3 million.
The company systematically upgrades assets, has been for years, primarily from operating cash flow, and has been able to sell off unwanted assets at amounts that exceed the carrying costs.
Industry Cycle – Management is experienced and disciplined in dealing with cyclical ups and downs. From the 3Q 10 (12/31/2009) conference call transcript:
While we don't see any immediate change to the top industry conditions being experienced now, we know improvement will come. We hear about green chutes from various offshore participants. Nevertheless, at least in my view, it will likely be no earlier than next calendar year before this optimistic tone is reflected and significantly improved offshore sector fundamental.

We've been through this cycles many times before. We know to expect better days ahead. We just don't know exactly how many days ahead it will be. When they do arrive though, as stated earlier, our earnings momentum capability should be significant because of the investments we have made and will continue to make in our business.
Safety Record – a reassuring note was the emphasis on safety reflected in the 3rd quarter earnings conference call transcript. After Tesoro (TSO), Massey (NYSE:MEE) and BP (NYSE:BP) all experienced multi-fatality explosions, it is good to see management in an energy related company express some concern for safety and say that it is good business. This is not a recent development: I checked the 2009 10-K and it is reflected there also. From the transcript:
We have now gone almost 18 months or approximately 57 million man hours without a lost time accident touchwood. Equally significant is that we continue to perform better than our internal goal with respect to our total recordable incident rate with 0.13 rate for 200,000 man hours through the first nine months of this fiscal year.

I want to commend our employees for continued job well done. At the same time, I want to remind them and you that we may be only a moment of inattention away from a serious accident thus our emphasis on what we do.

Safety is a top priority here at Tidewater, not just because we want all our employees and customers to be working in a safe environment, but because in addition to the primary reasons noted, it's good business and pays off on the bottom line.
Transitioning the Fleet – There is a complex ongoing relationship between and among the elements of supply and demand here. Demand for Oil and Natural Gas drives demand for drilling platforms drives demand for service vessels. There is a possibility that the supply of newly built service vessels will exceed economically profitable demand at some point during the next few years.
Tidewater, due to their prudent capital management and balance sheet, is well-positioned to capitalize on difficulties that may be experienced by highly leveraged players in this slow-moving game. They may be able to acquire recently constructed vessels at a discount. Management gives the impression of being patient negotiators, and with time on their side they should do well.
A detailed analysis of supply and demand here exceeds the scope of this article and the capabilities of the author. The most recent transcript has a discussion of related issues: it is possible to form an impression of management's understanding of the cycle and ability to position themselves and negotiate favorable outcomes. My impression is positive.
Value Creation – This is another company where you can check tangible book value over a substantial period of time and verify that shareholders own more at the end of the year than at the beginning. Tangible book value per share increased 12% annualized over the last ten years.
Valuation – Using 5 year average EPS, 3&3/4 years actual and 1&1/4 projected, with a historical midpoint P/E on that metric, I get 5.87 X 15.85 = 93. A study of historical P/S and P/tangible book suggests 65 to 68. Margins in recent years have been extraordinary and it is not realistic to look for that to continue indefinitely. I am investing on the basis that shares will trade at 65 by the end of 2011.
Strategy and Tactics – while the dividend is not large, it is secure. Management has been actively and successfully deploying retained earnings in the business: if that is no longer possible, there is every reason to expect that they will return it to shareholders by doing buybacks or raising the dividend. As such, this is suitable for buy and hold or dividend type investors.
Tangible book at 40 per share provides margin of security and these assets have been producing EPS averaging over 5 annually. The company has been able to take them off the books at amounts greater than their carrying value.
Short interest stood at 12.74% as of 4/15/2010, an aberration in my opinion. Short selling when properly done relies on excessive valuations, or better yet fragile balance sheets, excessive debt and fluctuating cash flows, or best of all bogus management, none of which are present here. I have had mixed results betting against the shorts, but excellent results on cases of this kind, where there is a combination of physical assets and regular earnings. To each his own.
Options – The stock is optionable with an implied volatility of 41.7%. LEAPS are not available, a disappointment. However, the diagonal spread long the Oct 2010 40 calls and short the Jul 2010 55 calls makes sense to me and that is how I am playing it.
Disclosure: Author long TDW