We like pipeline master limited partnerships. We like their real asset infrastructure nature, and the strong income generated from them. Because we try to diversify issue specific risks, we have at times owned 5 to 10 individual pipeline equities in accounts with pipeline exposures (although we have reduced equity exposures recently and do not currently have pipelines in portfolios). We have been hoping someone would create a basket of pipelines. Someone finally did.
A little over a month ago UBS issued a pipeline exchange traded note (NYSEARCA:MLPI) -- not as attractive as an exchange traded fund, but still interesting. Clearly, ETNs became very unattractive with the onset of the global credit crisis in 2008, and they are not entirely out of the woods yet.
At some some point, however, we expect that ETNs will regain some footing as banking solvency becomes less of an issue. Then MLPI could become an attractive holding, once it also gains some substantial volume and liquidity. We will be watching it closely for possible use, but not yet.
The liquidity is typically low for a new ETF/ETN, probably even more so for ETNs. We always wait for pioneers to develop size and liquidity in a new fund before putting our toes in the water.
The 10-day average dollar trading volume of MLPI is about $740,000 (too little), and the Bid/Ask spread at this writing is $0.13 (too much). If you apply our maximum 1% of volume position limit, then less than $10,000 could be invested in the security, and the Bid/Ask spread of essentially 0.5% of price is unacceptable
If another sponsor comes out with a pipeline ETF, we expect that MLPI will die on the vine. MLPI solves the pipeline issue risk diversification issue, but substitutes that with single issuer UBS credit worthiness risk. We would far more prefer to see an ETF for which we gain the pipeline risk diversification, but incur no credit risk associated with the sponsor.
Until an ETF is available, and after MLPI becomes liquid, and after UBS and banks are more in the clear than they are today, MLPI could be appropriate for some accounts.
The long-term good news is the arrival of a needed product. The short-term bad news is that it is not ready for prime time.
(Click to enlarge)
Dow Jones Pipeline Index - Daily 3 Years: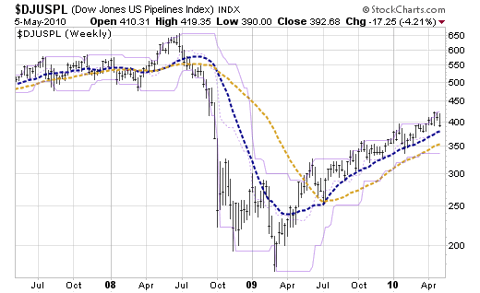 Ratio of Dow Jones Pipeline Index to S&P 500 - Daily 3 Years: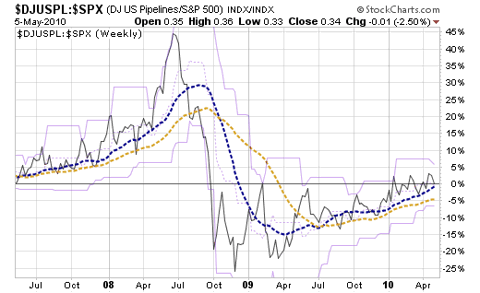 MLPI Since Inception: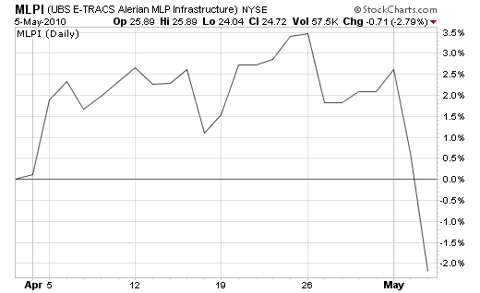 Dow Jones Pipeline Index (over MLPI inception period):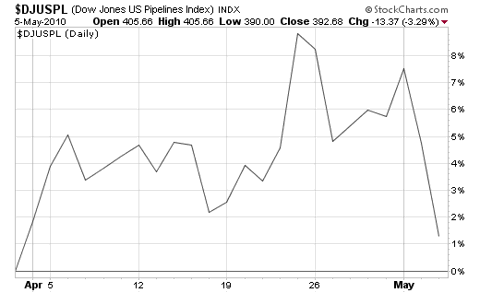 Ratio MLPI to Dow Jones Pipeline Index: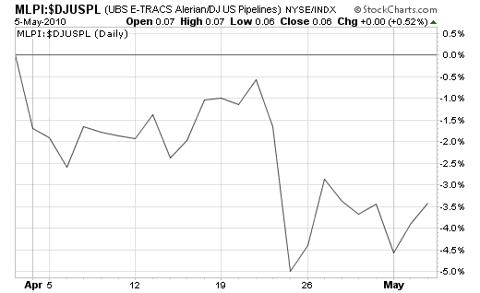 MLPI Constituents: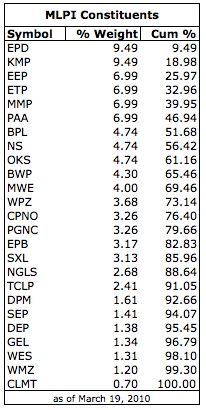 MLPI is based on the Alerian MLP Infrastructure Index, comprised of 25 energy midstream (basically between the wells and the refineries) infrastructure Master Limited Partnerships. The constituents generally earn the majority of their EBITDA from the transportation and storage of energy commodities (crude oil, natural gas and refined oil products, and to a minor degree other liquids or gases, such as ammonia). The index is free-float market-cap weighted.
Index constituent symbols are: Enterprise Products Partners (NYSE:EPD), Kinder Morgan (NYSE:KMP), Enbridge Energy (NYSE:EEP), Energy Transfer Partners (NYSE:ETP), Magellan Midstream Partners (NYSE:MMP), Plains All American Pipeline (NYSE:PAA), Buckeye Partners (NYSE:BPL), NuStar Energy (NYSE:NS), ONEOK Partners (NYSE:OKS), Boardwalk Pipeline Partners (NYSE:BWP), MarkWest Energy Partners (NYSE:MWE), Williams Partners (NYSE:WPZ), Copano Energy (NASDAQ:CPNO), PGNC, El Paso Pipeline (NYSE:EPB), Sunoco Logistics (NYSE:SXL), Targa Resources (NYSE:NGLS), TC Pipelines (TCLP), DCP Midstream Partners (DPM), Spectra Energy Partners (NYSE:SEP), Genesis Energy (NYSE:GEL), Westcorp (NYSE:WES), Williams Pipeline Partners (WMZ), Calumet Specialty Products (NASDAQ:CLMT).
The current mix of business is 44.6% petroleum transportation (includes crude and refined products), 35.1% natural gas transportation, 19.6% gathering and processing, and 0.07% other.
As of March 29, the yield was 7.01%. The ETN (indexed bond) maturity date is April 2, 2040, and the annual expense ratio charged against the return on the index is 85 basis points. The top 10 constituents account for about 65% of total market-cap of the index.
If you are comfortable holding perhaps 10 individual pipeline companies, you would probably achieve a return approximately equal to the index and not incur the 85 basis point expense drag. Of course, we don't know if the bottom 35% will outperform the top 65% of market-cap, and even if you owned 10, you might want some from the top 10 and some from the next 15.
In any event, we think owning pipeline limited partnership interests is a nice complement to owning equity REITs in the "real assets" category. Pipelines are less subject to competition, substitution and obsolescence than most real estate, which we find to be a nice attribute.
Pipelines are good equity income vehicles.
Holdings Disclosure: As of May 6, 2010, we do not have current positions in any securities discussed in this document in any managed account.
Disclaimer: Opinions expressed in this material and our disclosed positions are as of May 6, 2010. Our opinions and positions may change as subsequent conditions vary. We are a fee-only investment advisor, and are compensated only by our clients. We do not sell securities, and do not receive any form of revenue or incentive from any source other than directly from clients. We are not affiliated with any securities dealer, any fund, any fund sponsor or any company issuer of any security. All of our published material is for informational purposes only, and is not personal investment advice to any specific person for any particular purpose. We utilize information sources that we believe to be reliable, but do not warrant the accuracy of those sources or our analysis. Past performance is no guarantee of future performance, and there is no guarantee that any forecast will come to pass. Do not rely solely on this material when making an investment decision. Other factors may be important too. Investment involves risks of loss of capital. Consider seeking professional advice before implementing your portfolio ideas.