The Coca-Cola Company (NYSE:KO) has just announced yet another dividend increase, its 52nd consecutive increase. If that is not amazing enough, the company is still sticking with the same schedule: announcing the dividend increase the third Thursday of February each year.
This article was written back in 2013 when Coca-Cola announced its 51st consecutive dividend increase. With the latest increase in mind, let us re-evaluate the numbers.
Current Yield: The new annual dividend of $1.22 per share gives Coca-Cola a current yield of close to 3.30%. As mentioned in this article, this is the highest yield Coca-Cola has seen in almost four years.
Payout Ratio: The payout ratio has edged up to 63% with this latest increase, up from the 56% last year. This is a direct result of Coke's recent earnings blues with the numbers being impacted by declining volume sales, weather, and currency fluctuations. Calls for Coca-Cola to share more of the profits with shareholders have gone up recently and investors are probably not going to complain about the payout ratio edging up a bit.
Dividend Growth Rate: The 5 year dividend growth rate now stands at 8.28%. It was 8% at the time of last year's writing. The details can be found in the table below.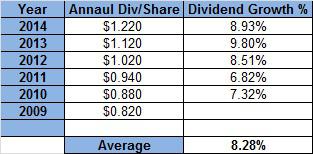 (Source: Yahoo Finance)
Extrapolation: Last year's article used an average increase of 7% per year for the extrapolation exercise. But since there are a few more questions raised about Coke's future right now, let us be a little more conservative and use 7% dividend increase for the first 5 years and 5% for years 6 to 10. The yield on cost is still likely to double for the patient investor.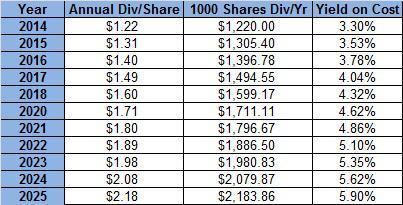 (Source: Current share price and dividend data from Yahoo Finance.)
What Does The Future Hold?:
Coffee-Cola?: Coca-Cola's 10% stake in Green Mountain Coffee Roasters (NASDAQ:GMCR) is a welcome sign for investors in our opinion. If you are looking at it as a short term gamble, Coca-Cola is already sitting on gains from this trade. If you believe it is a long term strategy (odds are it is), this is a positive sign as the company is taking steps to reduce the impact of reduced soda sales. Home-made Coke using Green Mountain's Keurig sounds like fun.
Non-Soda Growth: Yes, declining soda sales throughout the world is a big concern for Coca-Cola. But this is nothing drastically new as per capita soda consumption in the U.S has been going down for decades as the link below mentions. But what seems to have been overlooked in the recent earnings report is that the company's still beverage division (Tea, Juice, and Energy Drinks) grew 6% globally and 4% in North America as covered in this article. This is the 2nd most important division behind Coca-Cola.
Cost Cutting: Coca-Cola announced in its recent conference call that it is aggressively cutting cost (by $1 Billion) to compensate for reduced sales. While investors almost always prefer revenue growth to cost cutting when it comes to the bottom line, this shows the company is still committed to its shareholders. No matter what, Coca-Cola is well past its days of gigantic growth and the focus on productivity/cost-cutting should have a positive impact on the earnings.
Conclusion: Coca-Cola as an income stock is still holding its promise of delivering consistent and predictable dividend increases. The company is still enormously profitable with great cash flow. But, as we've seen with another dividend giant McDonald's Corporation (NYSE:MCD) recently, perhaps investors have to temper their earnings and dividend growth expectations a bit. A high single digit dividend growth seems like a realistic target for the next few years. The big question is, will you be happy with that ?
Disclosure: I am long KO, MCD. I wrote this article myself, and it expresses my own opinions. I am not receiving compensation for it (other than from Seeking Alpha). I have no business relationship with any company whose stock is mentioned in this article.