Target Corp. (NYSE:TGT) experienced a razor sharp decline in its stock price since December 2013. As you may know, the stock price declined due to hackers gaining access to the contact information of nearly 70 million individuals. As a result, Target launched some new initiatives in order to attain customers' trust again. Target offered one-year free credit monitoring to all of its customers who shopped at its US stores along with a special discount. Let's have a look at the company's future prospects and performance in order to figure out whether or not it is still a potential investment opportunity.
How Will Target Achieve Growth?
Although the company experienced a significant decline in the traffic at its stores I believe that the company will be able to regain customers' confidence through special offers and services. Therefore, I believe that there will be several factors that will help Target achieve strong growth in its bottom line in the long run. To me, one of the most important growth opportunities is Target's online sales that grew at a CAGR of 3 percent between 2008 and 2013.
Over the last few years Target has been involved in an expansion in the grocery arena. It is adding a grocery concept to its existing U.S. stores and including a grocery section within all of its new stores. Target is adding 10 to 20 new stores every year including its new smaller urban concept City Target.
At this point, Target's online sales are a very small portion of its total revenues but this figure is expected to grow significantly over the next few years. During the first quarter of 2013 Target's online sales grew by 15 percent whereas its comparable store sales declined by 0.6 percent. Given the increasing trend of online sales it makes sense to me that the company will continue to focus on increasing its e-commerce channel.
Furthermore, Target is expanding its presence in U.S urban markets as well. Target rolled out City Target stores in order to grab the urban market. City Target stores are typically smaller than the average Super Target store size by 40 percent. In fiscal year 2013, these stores performed quite well despite the slow economic recovery. As of November 2nd, 2013, the company owned 8 City Target stores. With the passage of time and as Target enhances its existence in the urban market the company will be in a better position to post decent results.
In addition, the company's rewards program also helps to stimulate its revenues. The REDcard and pharmacy reward program both help the company to materially increase its total revenues. Customers get discounts when they shop at Target using its branded credit card. According to the company, REDcard customers tend to visit Target twice more than customers who do not have a REDcard. Moreover, they spend 50 percent more than non-REDcard members. REDcard penetration increased significantly over the last few years. The figure reached 13.6 percent in fiscal year 2012 from 5.9 percent in 2009. Inflation and economic recovery will also help Target to achieve nominal growth in its revenues.
Now let's have a glance at the company's performance in the past.
Improving results
Average revenue per square foot declined during the recessionary period from $318 in 2007 to $287 in 2009. However, with the recovery of the economy, this revenue per square foot improved and reached $299 in 2012. Over the last three years revenues per square foot increased 1.37 percent. The following table gives an overview regarding the revenue per square foot.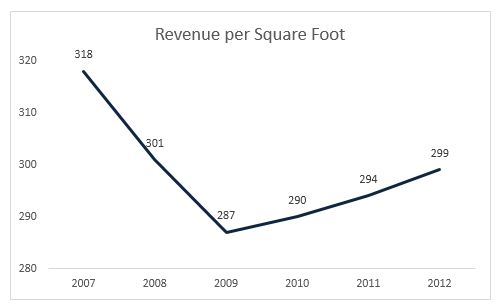 SOURCE: Annual Report
Note: revenue per square foot in 2012 was calculated using the revenues of 52 weeks.
During the first nine months of fiscal year 2013, the company's comparable store sales grew by only 0.5 percent and that is quite lower than that of the company's performance in same period of fiscal 2012.
With regard to the total number of stores, the company increased its store count despite the economic turmoil. The total number of stores increased from 1,591 in 2007 to 1,778 in 2012. This reflects a nearly 2.25 percent increase in the total number of stores. The following graph gives us an overview of the comparable store sales growth and the number of stores in the last few years.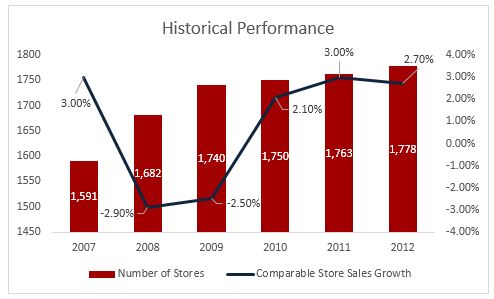 SOURCE: Annual Report
As far as the last quarter is concerned, its sales are expected to decline significantly owing to the data breach.
Final Note
I would recommend investors wait until the earnings release of the last quarter of fiscal year 2013 as the company's situation is still unclear. After the earnings release I believe if further correction is required that it will occur right after the earnings release. Therefore, to me Target seems a very good long-term opportunity as its growth plan and fundamentals support my opinion. Its policy to target urban areas and enter into the online shopping market will give a boost to revenues as well as the earnings of the company in the long term.
The company is currently paying a dividend yield of 3.07 percent whereas its dividend grew from $0.52 in fiscal year 2007 to $1.32 in fiscal year 2012 at a CAGR of 20 percent. Therefore, long-term investors should take a long position right after the earnings release by the end of this month.
Disclosure: I have no positions in any stocks mentioned, and no plans to initiate any positions within the next 72 hours. I wrote this article myself, and it expresses my own opinions. I am not receiving compensation for it (other than from Seeking Alpha). I have no business relationship with any company whose stock is mentioned in this article.