(Editor's Note: This article covers a stock trading at less than $1 per share and/or with less than a $100 million market cap. Please be aware of the risks associated with these stocks.)
Know what you own, and know why you own it. - Peter Lynch
It is too good of a quote to not use again, even though that's how I started out my last article that mentioned Cannabis Science, Inc, (OTCPK:CBIS). This is a story stock, rather than a stock being driven by numbers; earnings, revenue, sales, etc. A story that has driven this company from $0.03 per share to a recent high of $0.30 per share.
This article will review the filings and press from the company to uncover the story the company is telling. We will also go more in depth into the company's financials, including R&D spending, and look at Endocan Corporation (OTCPK:ENDO). Longs that question why I am including ENDO in this article should rethink their due diligence process.
The Rumor Mill - Tales From Retail Investors
Everyone likes a good story. I am no exception, and neither are retail investors. Whether it's Ralphy's Christmas story, the timeless Princess Bride, or the marvelous epic classics of Horatio Hornblower, stories capture our thoughts, draw us in, and allow us to share in a world bigger than ourselves. Sometimes the stories are so special, so noble, one cannot help but be drawn in; stories that anyone with a heart or soul can stand behind.
Who among us can turn a deaf ear to a story of suffering children or brave souls battling cancer, or a lifelong fight with HIV. Truly, scientists working to ease or eliminate the seizures of children or prolong and improve the quality of life of anyone suffering from HIV are real heroes. Ask anyone who has survived cancer. These people deserve our thanks, our respect, and most certainly our support and encouragement.
Go to the penny stock and Yahoo! board, and get a feel for the "street's" story. Expectation seems to be that cannabinoids are a miracle cure for neurological disorders and seizures as well as the much needed synergistic maintenance therapy to improve the lives and treatment of cancers and HIV.
However, that's not Cannabis Science's story.
The Real Story - A Timeline From CBIS.
Our story actually begins on Election Day, November 5th, 2013. By now, everyone knows the outcome and the resulting changes in the legal environments of the American states of Colorado and Washington. After that day, slow interest in any company related to cannabinoids began to build, and the number of press releases using key words "hemp" "medical - marijuana", "cannabis" or "cannabinoid" have increased drastically.
On November 15th, CBIS released a press statement claiming:
Cannabis Science, Inc., a U.S. Company specializing in cannabis formulation-based drug development, proudly announces the submission of a patent application N2010968 in Europe entitled "Composition for the Treatment of Neurobehavioral Disorders."
Shortly thereafter, on November 21st, the company announced a "broad licensing agreement" with Endocan Corporation to "use patent N2010968, entitled "Composition for the Treatment of Neurobehavioral Disorders," for Endocan studies, research and development, and consumer products."
Now, this raises a couple of different questions. First, what is patent application N2010968 entitled "Composition for the Treatment of Neurobehavioral Disorders," and how can someone "use" a patent that has only been applied for? To investigate further, we look to European Patent Office. Here are a couple of screen shots: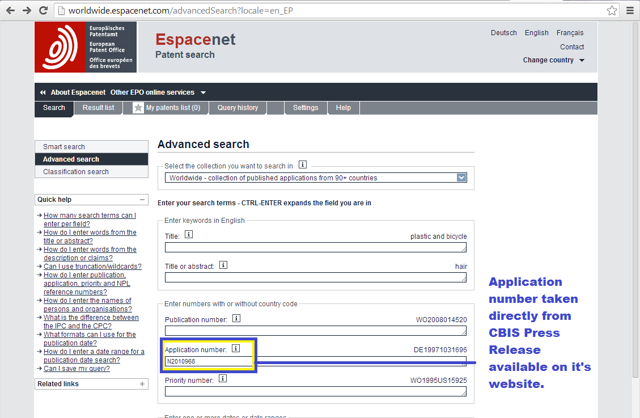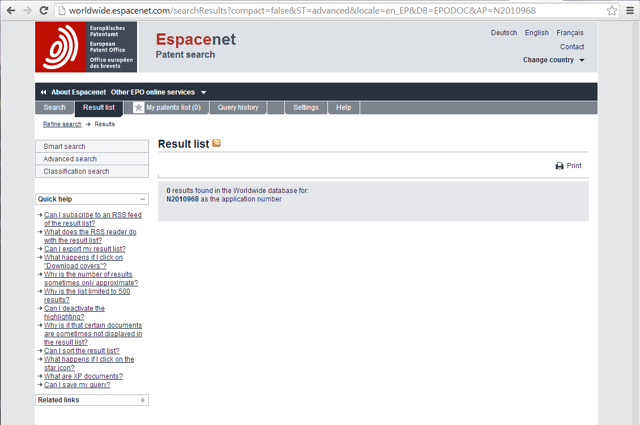 Okay, since I cannot find it, and since the application number presented and repeated in the company press releases and on their website does not comply with European Patent Application format (two letter country designation+four digit year+serial number), I am suspicious of this claim. However, I will refrain from accusatory statements at this point, and return to the time line.
Between November 21 and the new year, there were a number of marginal news items related to CBIS from unrelated penny stock announcements, commentary around unrelated third parties, and federal rent seeking activities related to the cannabis industry as a whole. There were no announcements related to medical treatments of seizures, cancers, nor HIV.
Then, on January 16th, 2014 the company announced "plans for international observational studies and research in 2014."
Plans announced by Cannabis Science to launch an observational clinical research study in 2014 will focus on patient driven use of cannabis and cannabis based products and the clinical outcomes of such use for a variety of medical conditions. Cannabis Science will seek additional funding partners as well as academic and clinical collaborators for this project.

Cannabis Science has been continuously conducting research into on cannabis and cannabinoids and in 2013 has also filed an application of a cannabinoid based patent and believes there is an enormous potential for the extension of its portfolio and filing of further patents.
However, nowhere in the press release, nor anywhere on the company website does the company outline what these "plans" are. Furthermore, there is sparse information about any research on the company's website. The only thing that implies the company has anything pending is the CS-TATI-1 and CS-S/BCC-1 programs, and the "Pipeline" page that shows the company is in "Pre-Clinical Investigation."
Since then, there are more news items from unrelated parties that mention the company, and additional announcements of rent seeking activities, but no other announcements related to medical treatments of seizures, cancers, nor HIV. That is the extent of the company's story. To summarize:
The company claims to have filed a patent in Europe, but we are not able to substantiate this claim.
It decided to let another company, Endocan Corporation license the patent that has just been applied for days before.
The company is planning to investigate how cannabinoids can be used medicinally by cancer and HIV patents.
The Financials
I have pointed out in earlier articles some of the financial information with respect to this company, but would like to highlight it a little more in depth. I have also tried to encourage retail investors to always begin their due diligence process by looking at company financials. Anyone can find and read the quarterly or annual financial statements filed with the Securities and Exchange commission. Most brokers make this information available to their customers, and one can easily find the information on Yahoo, Google, MSN, OTCMarkets.com, or even EDGAR, the SEC website itself.
The last quarterly report filed by Cannabis Science was received November 20, 2013 for the period ending September 30, 2013. At that time, the company ended with $462 in the bank. Please note; these number are in U.S. Dollars, not thousands, or millions. So, that's $462.00 in the bank. In addition, most of the company's assets are in "marketable securities" ($200k+) which, from the notes, we know are shares of common stock in Endocan Corporation. The report also includes nearly $300K in goodwill and intangibles.
This is offset by more than $3.5MM in liabilities, resulting in a shareholder deficit of almost $3,000,000. Total revenue for the entire period was just over $70K, resulting in an operating loss in excess of $1MM. And, while there is no reported research and development (R&D), I need to point out that the company notes that R&D costs are expensed as they occur. Therefore, some amount of the $530K in general and administrative expenses MAY actually be research and development cost; the amount of which, we are uncertain.
With respect to shareholder dilution, over the first 9 months of 2013, the company issued more than 47 million shares of common stock and 333 thousand shares of preferred stock. The majority was issued for debt settlement and services rendered. In light of all of this, the company included the following statement:
The accompanying consolidated financial statements have been prepared in conformity with generally accepted accounting principles, which contemplate the continuation of the Company as a going concern. The Company reported an accumulated deficit of $90,467,180 and had a stockholders' deficit of $2,968,662 at September 30, 2013.

In view of the matters described, there is substantial doubt as to the Company's ability to continue as a going concern without a significant infusion of capital. At September 30, 2013, the Company had minimal operations. There can be no assurance that management will be successful in implementing its plans. The consolidated financial statements do not include any adjustments that might result from the outcome of this uncertainty.

We anticipate that we will have to raise additional capital to fund operations over the next 12 months. To the extent that we are required to raise additional funds to acquire research and growing facilities, and to cover costs of operations, we intend to do so through additional public or private offerings of debt or equity securities. There are no commitments or arrangements for other offerings in place, no guaranties that any such financings would be forthcoming, or as to the terms of any such financings. Any future financing may involve substantial dilution to existing investors. We had been relying on our common stock to pay third parties for services which has resulted substantial dilution to existing investors.
Needless to say, the company needs to raise cash in order to continue to exist. Given the poor condition of the company's balance sheet, it is doubtful that it can receive additional loans as it lacks the financial capacity to service debt. And, it is doubtful that the company can continue operations while paying for services rendered with the continued issuance of stock. Alternatively, the company could begin to liquidate some of its marketable securities. But, this raises the question of fair value of these securities, 7.5MM shares of Endocan Corporation common stock. Therefore, let us take a brief look at the corporation.
Endocan Corporation
It should first be noted the Endocan Corporation is listed on the OTC markets (Pink Sheets) but with limited information. The last quarterly report from the company was received June 5, 2013 for the period ending March 31, 2013. Below are screen shots from the company's financial statements. Please keep in mind that the figures displayed are in U.S. Dollars.
Income statement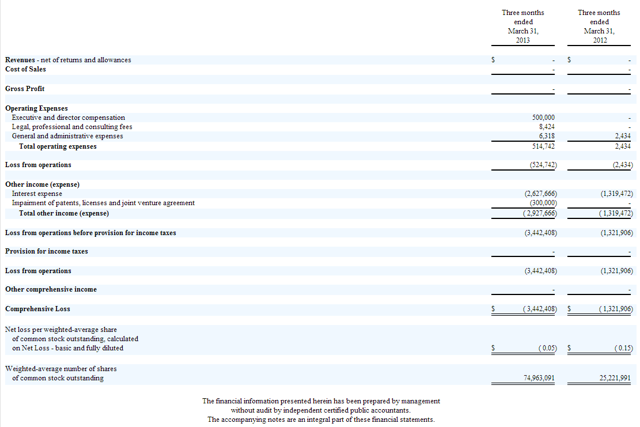 Balance sheet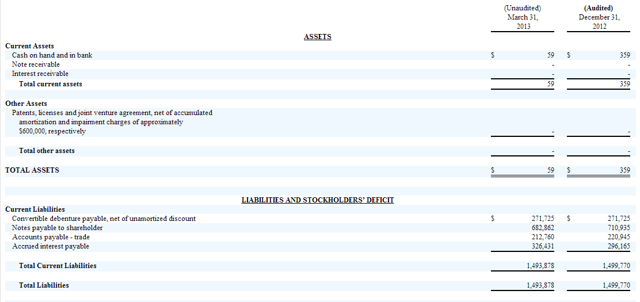 Readers can easily see that the company has no operations, as it has generated no revenue. Additionally, the totality of assets held by the company consist of $59 on hand and in the bank. Therefore, how can this company enter into a licensing agreement with due consideration with any other company? But, they obviously have, and not just with Cannabis Science.
On December 12, 2012, the Company entered into an Asset Purchase Agreement with Cannabis Science, Inc. (a publicly-owned Nevada corporation) whereby the Company acquired various assets related to the use of cannabis including resale formulas, media, activism and marketing videos and other items and the assumption of Cannabis' position in a Joint Venture Operating Agreement with Columbia Corp. and/or dupetit Natural Products GmbH.

The Company's business plan is to develop and exploit the utilization of cannabis and hemp derived products. However, there is no assurance that the Company will be able successful in this endeavor or that any future operations will result in the appreciation of our stockholders' investment in the then outstanding common stock.
This raises the question as to the value of the licensing agreement. Endocan Corporation is in an even worse financial condition than Cannabis Science, therefore it is obviously not being looked at as a serious source of financing or a white knight. Therefore, one could question the appropriateness of the announced licensing.
But, considering Cannabis Science is a sizable shareholder in Endocan Corporation (8.6% of the issued and outstanding stock), it actually makes sense for the former to license to the latter. However, there is no immediate economic benefit. And, any marginal economic profit is contingent on the ability of Endocan Corporation to establish profitable operations with its limited assets.
Recent Insider Activity
Insider sales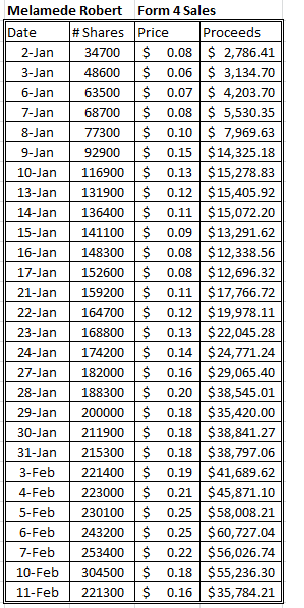 Another issue that has come to light recently with Cannabis Science is the rapid release of Form 4s filed by Robert Melamede. Dr. Melamede is identified as a director, officer, and 10% shareholder and reports his position as president. He is also identified as the Interim CFO on OTC Markets, however Mr. Robert Kane has recently been announced to fill that position.
Recently, a new friend of mine has gently reminded me of the vast number of reasons company insiders sell their stock. And, admittedly, over the years I have fallen victim to a negative bias when I see a lot of sales of small company stock by insiders. But, on the other hand, I won't raise an eyebrow when I see a massive sale reported by William H Gates III, Eric Schmidt, or Lawrence Joseph Ellison. There are as many reasons for insiders to sell as there are retail investors; taxes, diversification, rightful compensation, etc.
Therefore, Dr. Melamede's form 144 filing on November 21, 2013 is being disclosed for informational purposes only. Realizing that the company president has nearly completed his disclosed sale of 5MM shares, one should expect the filings of Form 4s to end shortly.
Summary
I understand investors being excited about the "birth" of a new industry, and I can certainly relate to rumors or stories promising medicinal relief of innocent suffering. However, I am not convinced at all that Cannabis Science is everything retail investors are claiming it to be. As a matter of fact, I'm not certain where they are getting their story.
Perhaps Cannabis Science will fully disclose the European patent application, allowing current or potential investors to more transparently understand the past and potential future research the company anticipates, or the potential results and marketable benefit of that research.
Perhaps Endocan Corporation will begin reporting again and disclose executable operational plans to begin revenue generation to compensate Cannabis Science for its license.
Perhaps either company will provide evidence of funding to alleviate the high level concern investors should have with respect to continued operations.
Or, perhaps retail investors should more carefully evaluate the appropriateness of these companies in their portfolio.
Disclosure: I have no positions in any stocks mentioned, and no plans to initiate any positions within the next 72 hours. I wrote this article myself, and it expresses my own opinions. I am not receiving compensation for it (other than from Seeking Alpha). I have no business relationship with any company whose stock is mentioned in this article.
Additional disclosure: This information is not investment advice, nor is it a suggestion to either buy or sell any of these securities. Retail investors should do their own research and fully understand the risks associated with these companies.