Intel Corporation (NASDAQ:INTC) is working through a variety of well-publicized challenges, including PC substitution by tablets and smartphones, as well as slow traction in hawking chipsets for mobile devices.
The challenges are reflected in Intel's declining margins, earnings, and returns on capital/equity AND rising dividend payout ratio over the past several years (via FactSet):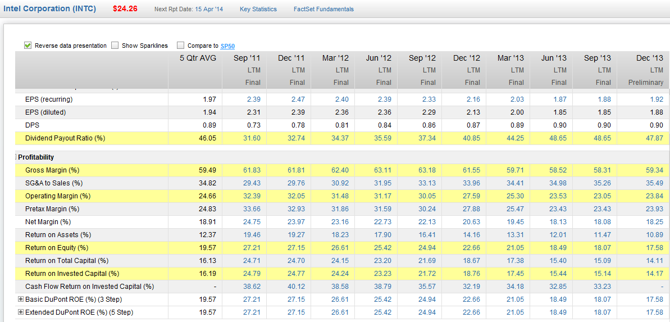 Correspondingly, the challenges are reflected in Intel's listless share price performance since 2012 -- relative to the S&P 500 Index over the past two years (via FactSet):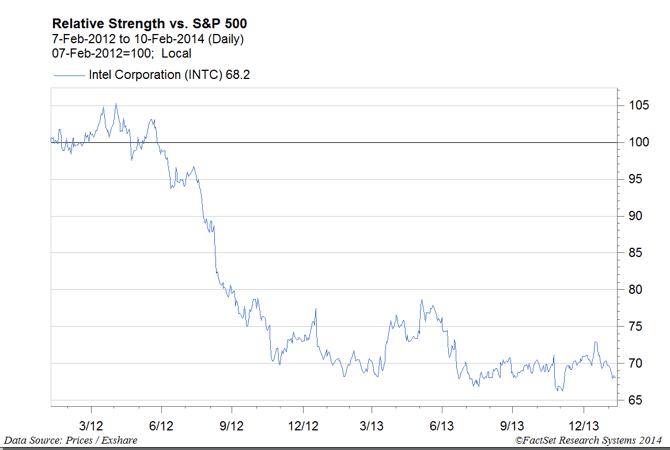 Moreover, the challenges are reflected in Intel's recent lack of dividend action -- Intel's quarterly dividend has been stuck at $0.225 per quarter for seven quarters running, breaking a streak of consistent increases since 2004 (save another seven quarter hold in 2008-09) -- via FactSet: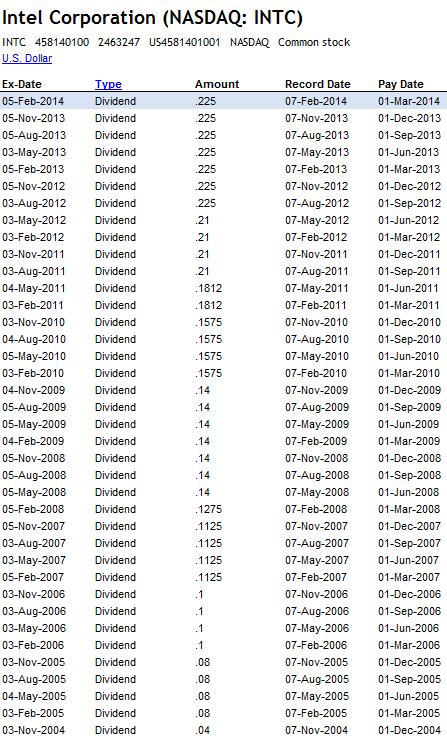 Thus, Intel's streak of consistent, annual (or better) dividend growth is in jeopardy (via FactSet):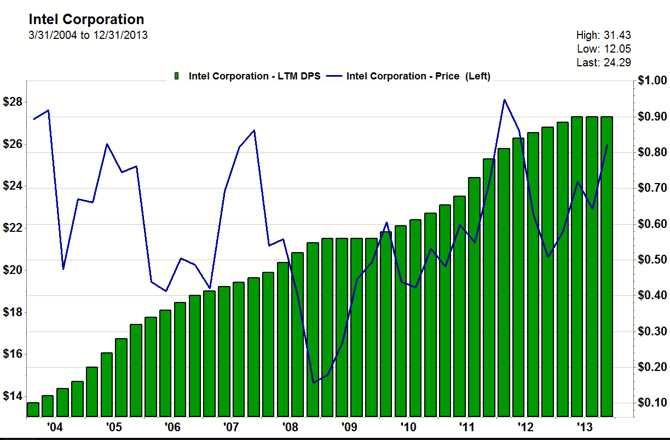 Per a prior Dividend Institute post, "Why Dividend Growth," recall that dividend growth is extremely important driver of total returns over time. Over the last 25 years, the total return of all dividend payers has been highly correlated with the rate of dividend growth during this period.
Sure, Intel remains well capitalized with net cash and investments of approximately $6.0 billion (or $1 per share). Plus, last year's free cash flow covered the company's annual dividend outlay by more than two times, which provides ample cushion to fund the current dividend. Accordingly, the company and dividend are not yet in the danger zone, where a dividend reduction might be imminent.
Yet, perhaps more than anything else, the absence of a dividend hike illustrates a lack of confidence in Intel's forward outlook by company management and its board of directors. The flat dividend is a red flag for investors.
Disclosure: I have no positions in any stocks mentioned, and no plans to initiate any positions within the next 72 hours.
Business relationship disclosure: Business relationship disclosure: This article was written by The Dividend Institute, an informational Web site sponsored by Copeland Capital Management, a registered investment advisor. A member of Copeland's Portfolio Management team authored the article. The Dividend Institute is not receiving any form of compensation for this article and The Dividend Institute has no business relationship with any company whose stock is mentioned in this article.