Last night, the world was stunned when Facebook (NASDAQ:FB) announced it would acquire Over the Top (OTT) messenger company WhatsApp for an astonishing $19 billion in cash and stock. At this moment, I'm just as stunned that the company I have been reporting on for the past 1.5 years, AudioCodes (NASDAQ:AUDC) has not been noticed for its OTT mobile VoIP solution for enterprises by sell-side analysts, buy-side analysts or Google (NASDAQ:GOOG). I believe that with Viber being acquired this past weekend for $900 million and now WhatsApp being acquired for $19 billion that it's AudioCodes turn to be noticed for its unique position in the VoIP world to deliver an outstanding OTT mobile solution as the world has officially bought into a WiFi ready world.
Next week, AudioCodes will potentially be revealing its new cloud based mobile OTT platform for both service providers and enterprises at the biggest mobile convention, Mobile World Congress (MWC) being held in Barcelona, Spain on Feb 24-27th. Here's why I believe AudioCodes can be the next Viber/WhatsApp to the world's enterprises starting right now and why Google should step up and buy AudioCodes for $15 per share ($600 million) before it will have to pay $1 billion or more in the next 12 months.
I reported in September, "We Started From The Bottom Now We're Here" that AudioCodes had 3-4 catalysts to bring it to a $1 billion valuation ($20-$25 per share). Today, you have an opportunity to grab AudioCodes shares at 1/3 the $1 billion valuation I described to the Seeking Alpha audience before it potentially announces its OTT cloud based mobile platform at MWC. Once again, I believe AudioCodes possesses a WhatsApp or a Viber engine that is more geared to the enterprise than the consumer, even though it currently supports consumers on service providers' networks. Remember, AudioCodes has been embedded in corporations around the globe for over 15 years working on dozens of different Unified Communications (UC) systems. That unique position has allowed AudioCodes to brainstorm with the IT managers for many years and helped it build a strategy in One Voice for Microsoft (NASDAQ:MSFT) Lync that allowed Microsoft to take market share from Cisco (NASDAQ:CSCO) (something Cisco had called Microsoft out on just prior to the launch of One Voice) and allowed AudioCodes to take its VoIP expertise and plan for a next generation OTT mobile solution that will bring a software intensive, High Definition voice quality, security, encryption, presence and ease of use (contacts) on both private and public networks. This platform should carry extremely high gross margins of approximately 85-90% to AudioCodes, which wouldn't take many subscribers to make it extremely profitable.
Mobile Plus:
I believe that AudioCodes' strategy will be to sell the technology and equipment to the telecom service providers that are desperately seeking an answer to the OTT business model. This type of service could be rolled out on a per subscriber basis on a monthly basis creating a high margin, annuitized business to both the service providers and AudioCodes. AudioCodes could receive an upfront fee (E-SBCs, consulting and setup costs) and then charge $3 - $5 per subscriber per month. I believe that AudioCodes is making it a cloud based solution and this seems to be confirmed by today's news as it announced "the expansion of its One Voice offering with a new cloud-based enterprise mobility solution suite for business customers". With high margins I believe it will be a windfall to the bottom line. I additionally believe that there are many high barriers to entry when it comes to the software behind this platform.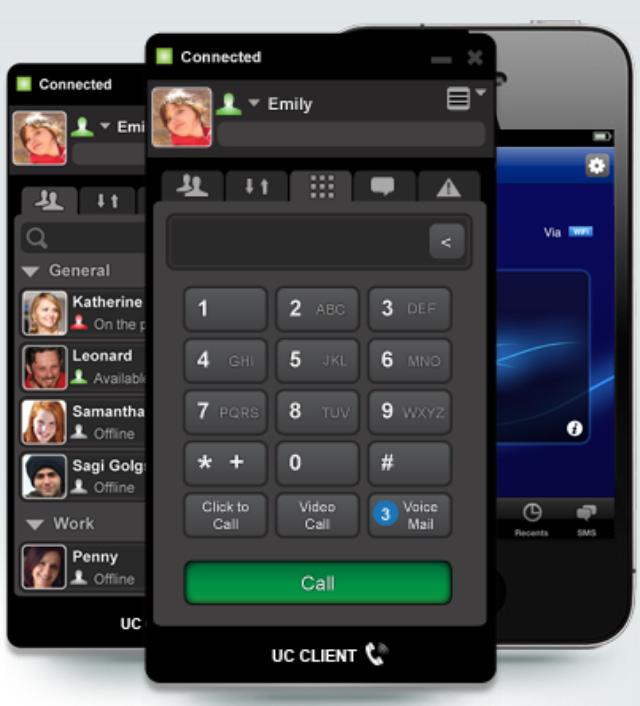 (Source: Audiocodes Ltd)
With their own OTT solution, enterprises would be more likely to make its UC services available to employees on their mobile devices. A soft client platform would be downloaded onto an employee's mobile phone and a Client Management System would be installed in the enterprise office. The result is that when the employee is on the road, he is still connected to the company server. The employee can make secure, high definition, voice quality calls over Wi-Fi, or cellular calls that go through its E-SBC servers; they have presence, IM, access to contacts, and all the calling features they would have in the office, and all through the enterprise's OTT network.

(Source: Audiocodes Ltd)
The world has over 3 billion people employed, so it's safe to conservatively say that 200-300 million of them will work for some sort of enterprise of 50+ employees. These enterprises want employees using secure, high quality and ease of use applications to protect their own networks and provide the right tools for their employees to get the job done right. AudioCodes has the ability to deliver the highest quality product in an OTT world. I believe we will hear and see from the company as early as next week that it's game on with its new revamped mobility plus.
(Source: Audiocodes Ltd)
An example of how I see this playing out with enterprises is evident with the recent BroadSoft (NASDAQ:BSFT) - Sprint (NYSE:S) deal. Sprint selected BroadSoft's BroadWorks platform to enhance its VoIP services for its consumer and business customers. AudioCodes has been working with BroadSoft on its VMAS product for many years now and they recently solidified their relationship with their collaboration with "One Voice for Hosted Services". I believe the deal with Sprint could bring AudioCodes' OTT solution to center stage in the coming weeks.
Further evidence of AudioCodes' growing relationship with enterprises came out of the Microsoft Lync Conference this week as an attendee at AudioCodes' private event reported:
"What really intrigued me was the size of the companies involved. It's easy to find case studies of smaller organizations deploying Lync Voice, but to see so many companies of such significant stature deploying Lync Voice was impressive. Before the event, I was given a list of the companies who were attending, and just for kicks, I looked up how many employees each had. The largest had over 140,000 employees while the average of all of them was just under 30,000.

Most of these companies had deployed AudioCodes Mediant 1000 session border controllers, many with remote Lync survivability. AudioCodes has just released a new version of its Mediant 9000 SBC, which will support from 2,000 up to 12,000 Lync media sessions. Given the direction these deployments are going, it will not be long before we see enterprises deploying these larger-sized SBCs in significant numbers."
You can make the case that AudioCodes has positioned itself as the OTT for enterprises in the future. That said, it has great positioning with Microsoft Lync and the number one hosting player BroadSoft to work a cross selling arrangement to enterprises of 1,000 employees up to enterprises of 120,000 employees as noted above. Hats off to AudioCodes' management for positioning itself as a pivot player to hosting companies, enterprises and service providers.
Google:
Google started with GoogleTalk, and then it developed WebRTC, a browser that allows web browsers to communicate with one another. It is an open source working group project, supported by major browser developers Mozilla and Opera. If you are connected to the internet whether on your mobile phone, desktop, or laptop you will be able to call, video chat, or send data to anyone else browser to browser. Last month it entered the video conferencing market leading one sell-side analyst, Raymond James' Tavis McCourt to state:
"Effectively, one can think of this as Google's foray into unified communications (UC), and although the company doesn't quite have a strategy as ambitiously laid out as Microsoft Lync or Cisco's (CSCO), it probably means that is coming, with Chrome as the operating-system (OS) base and Gmail/Calendar as the tie-ins to productivity apps."
As Google sets its sights on the $20-$30 billion dollar UC market, to me, a devoted AudioCodes follower it makes the most sense for Google to step up and acquire the AudioCodes team to solidify its OTT needs and build on its mission to dominate the UC space like it did search, maps, advertising and many other initiatives.
In early 2013, Google was rumored to be purchasing WhatsApp for $1 billion, but obviously that deal never got done as Google balked at WhatsApp's asking price. I believe Google cannot afford to let AudioCodes slip thru its fingers and let Microsoft, IBM (NYSE:IBM), Dell or a large service provider (Liberty Media (LMCA) or Comcast (NASDAQ:CMCSA)) take it to the altar. Google can develop a Viber and WhatsApp in one with the takeout of AudioCodes. Facebook is paying $42 per WhatsApp subscriber, Rakuten paid $3 per Viber subscriber and Google would be paying only $2 per AudioCodes subscriber with a takeover of $15 per share.
Over the past few years, two other Israeli OTT mobile platforms have been acquired. Telefonica acquired Jajah for $145 million and I reported in early 2013 that many Jajah employees had LinkedIn (LNKD) ties to AudioCodes' R&D people, a sign that both teams know each other very well. In fact, AudioCodes has Telefonica as a customer for its OTT mobility plus platform. Last year, Genband acquired Fring for $50 million which after today's acquisition of WhatsApp looks like a steal. Israel seems to be a hotbed for VoIP and OTT networks and from my vantage point I wouldn't bet against AudioCodes delivering an OTT solution that is a tailored fit to enterprises and brings nervous service providers a solution on how they can battle against what seems to be 1 billion daily turnstile jumpers.
AudioCodes has had an OTT solution in place for better than 4 years which probably garnered $3-$4 million in annual sales at best through its MailVision partnership. I believe the company took an aggressive stance on OTT over a year ago when the hot topic or buzzword was Voice over LTE (VoLTE). AudioCodes saw OTT as a less expensive answer to VoIP expansion for the worried service providers as opposed to VoLTE and it knew it had the right OTT platform to offer enterprises. That's one of the main reasons AudioCodes stealthily bought MailVision (no press release) via an acquisition in May 2013. Next week, AudioCodes owes it to its shareholders, post this incredible WhatsApp acquisition to say to Wall Street, Service Providers, enterprises, and last but not least Google - WhatsUpp?
Disclosure: I am long AUDC. I wrote this article myself, and it expresses my own opinions. I am not receiving compensation for it. I have no business relationship with any company whose stock is mentioned in this article.