Goodrich Petroleum (NYSEMKT:GDP) announced operating results on February 19th. It announced disappointing mechanical issues, resulting in a delayed result on one well and a much lower than expected peak production rate from a second well. Goodrich stock is down considerably in the past few days, in anticipation of, and then as a result of, these results.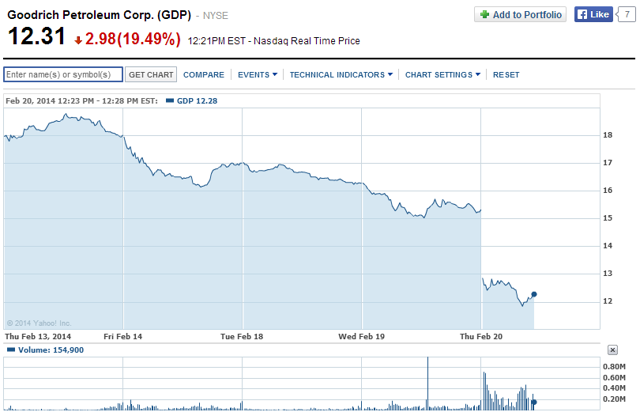 And Goodrich has fallen considerably from a high of over $28 in the past 6 months to a recent low of ~$12 per share, a stunning 57% decline. This was driven first by delay of release of Tuscaloosa Marine Shale well results, and then the recent announcement of such results.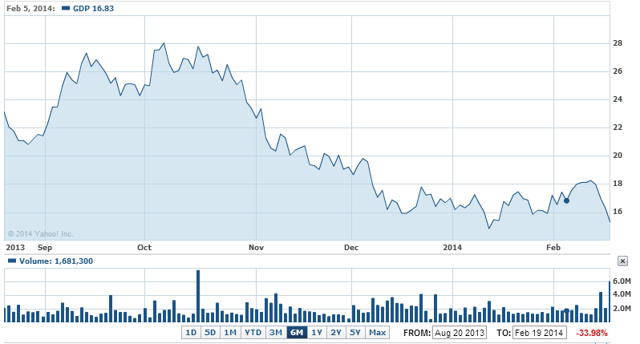 This validates an argument I made last year regarding relative valuation of Goodrich and another undervalued comparable company active in a different play. I argued in this article that Goodrich's stock in the high 20's was pricing in success in the TMS and that there were other places to find exposure that was actually more likely to succeed at a substantially lower valuation. Here is a chart of comparative results of Goodrich versus the alternative over the past 6 months: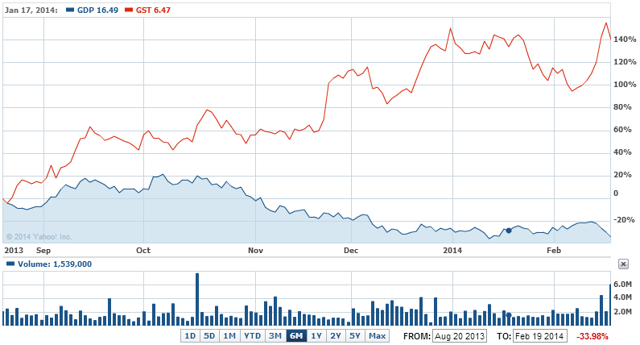 The focus of this article is not on the alternative investment I proposed as an alternative to Goodrich, as that stock has already run considerably. Rather, there is another alternative I wrote about recently which follows a similar argument - dozens of successful, high rate of return well results. An "off the run" play type that few others are participating in. And a great setup where the stock is trading at a fraction of proved reserve value and is more than doubling production year over year for the third year in a row. I discuss this investment idea, Austex Oil (OTCPK:ATXDY) in more detail here.
Keep this alternative in mind as I review the impact to other TMS focused companies. One company that is ramping up in the play is Sanchez Energy (NYSE:SN). Sanchez got into the play via a related party transaction, according to an excellent Wall Street Journal article. They paid over $100 million to buy 40,000 acres, or over $2,000 per acre. SN stock ran up considerably after Goodrich's earlier announced positive well results, as well as on the back of production growth in the Eagle Ford. SN could trade down if the company has similar operational issues as Goodrich.
Another company that entered the play recently is Comstock Resources (NYSE:CRK). Comstock achieved an excellent return on an acquisition, exploitation, and divestiture play in the Permian basin. It is now redeploying that capital in the TMS and the Eagle Ford. Comstock has traded up recently on the back of improving natural gas prices, but if it deploys material capital to the TMS and has unimpressive results, it could also be negatively impacted.
And importantly, numerous reports have come out indicating that Halcon Resources (NYSE:HK) has made a big bet on the TMS and that it will be announcing its position in the play in the next week. Halcon has had unimpressive results in the Utica and other unconventional plays, and has achieved good recent results in the East Texas Eagle Ford. Halcon will bring considerable capital and technical resources to bear in the TMS, but Goodrich's recent results should be kept in mind in assessing appropriate risk and upside from the play.
That being said, I have taken a small, speculative position in Goodrich very recently, as the stock has fallen to sufficiently attractive levels for me to build such a position. And I have taken a material position in Austex, as I think the return potential is even greater for Austex than it was for the other TMS alternative I proposed last year, which is up ~160% while Goodrich is down considerably since then. As usual, consistent strong well results and economics and considerable growth at a low valuation should carry the best risk-adjusted returns.
Disclaimer: Opinions expressed herein by the author are not an investment recommendation and are not meant to be relied upon in investment decisions. The author is not acting in an investment adviser capacity. This is not an investment research report. The author's opinions expressed herein address only select aspects of potential investment in securities of the companies mentioned and cannot be a substitute for comprehensive investment analysis. Any analysis presented herein is illustrative in nature, limited in scope, based on an incomplete set of information, and has limitations to its accuracy. The author recommends that potential and existing investors conduct thorough investment research of their own, including detailed review of the companies' SEC filings, and consult a qualified investment adviser. The information upon which this material is based was obtained from sources believed to be reliable, but has not been independently verified. Therefore, the author cannot guarantee its accuracy. Any opinions or estimates constitute the author's best judgment as of the date of publication, and are subject to change without notice.
Disclosure: I am long ATXDY, GDP. I wrote this article myself, and it expresses my own opinions. I am not receiving compensation for it (other than from Seeking Alpha). I have no business relationship with any company whose stock is mentioned in this article.