We love finding stocks that investors have fallen out of love with. One such stock that has been beaten down by Mr. Market, with the help of Michael Kors (NYSE:KORS), is Coach (COH). You've got the S&P 500 that's up near 35% during the last two years, while Coach is down nearly 35%.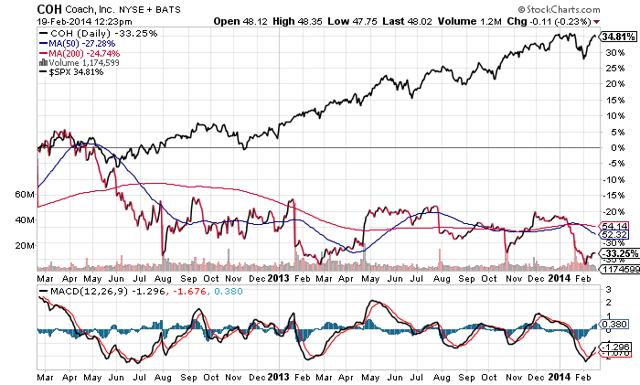 Coach still has a name that resonates thoroughly the luxury retail market. It still puts out premium handbags. It's still entering new accessory markets. It still has a strong specialty brick-and-mortar presence via specialty stores and in high-end department retailers such as Macy's (NYSE:M) and Dillard's. It still has a strong ecommerce platform throughout North America, China and Japan.
However, there's one name that continues to threaten its market share. Kors is that name. The Kors' brand has proven to be just as fashionable and in many cases more affordable.
A tale of two quarters
Coach released fiscal 2Q earnings that missed consensus estimates yet again. This time, the miss was on the top and bottom lines. EPS came in at $1.06 per share, nearly 14% below the expected $1.11. This comes as comp store sales in North America were down by 13.6%, gross profits fell by more than 9%, and gross margin contracted three percentage points.
On the other end, Kors' most recent earnings report was stellar, beating expectations. Its EPS came in at $1.11, compared to consensus of $0.86. Revenues were $1.01 billion, against the expectation of $859 Million. North America, its key market, showed a 50% jump in sales and a 24% increase in comp store sales. Kors is also looking to up-scale, going after more of Coach's market share in the higher-end fashion accessory market.
Back to Coach, and the bright spots for its quarter. In reality, it's not just a bright spot for the quarter, but also a meaningful part of its long-term earnings growth story. During fiscal 2Q, Coach's international sales were up 2%, with a 25% increase in China. The company refrained from providing fiscal 3Q guidance, but consensus of $0.62 per share would suggest a decline of more than 26% in EPS Q/Q and 8% Y/Y.
An image problem too?
Coach still resonates with customers based on its quality and brand name alone. However, one concern is that its presence in outlet stores has presented the brand as less "trendy." With the help of its new CEO and Creative Director, I look for the company to accelerate the transition to a lifestyle brand by adding clothing and footwear. Lifestyle is a $30 billion business, with the footwear/outerwear market being as large as the handbag market.
Along those lines, Coach has launched its Legacy Lifestyle connection for men and women. With the help of this, the men's business should generate $700 million in fiscal 2014 and touch $1 billion in three years. It should be noted that the men's business grew almost 20% in the second quarter and remains on track to grow by the same percentage this year.
The new creative director, Stuart Vevers, should at least provide a quick shot in the arm with his new product offerings. He'll also be looking to boost the AUR (products at prices of $400 and more only account for 22% of revenues) and sales of the up-market products, which, if successful, will go a long way in re-positioning Coach as a top tier brand.
Putting a stop to market share hemorrhaging, or at least slowing it
To help put a stop to the market share losses in North America, Coach will be looking to accelerate its square footage expansion. Global square footage is expected to grow by 9% in 2014, with fifteen new stores in North America.
Now, do I like that form of growth? Not necessarily, but in this case, it appears to be a necessary evil. The move should help slow the market share losses in North America, giving the company just enough time to get ahead of the curve in China. Square footage in China is expected to grow 25%, adding 30 new stores.
That's where the big opportunity is, one that Coach has to get out in front of to help restore earnings growth and investor confidence. Assuming the China handbag and accessory market grows at 15% over the next five years, it'll be an $8 billion market. Compare that to the U.S., which is currently $10 billion. And being modest with market share, assuming it captures 15% to 20% -- similar to Japan -- there's a $1.2 billion opportunity, which would be over $900 million in incremental revenue. Using the company's high 20% guidance for EBIT margins in the region, China could add over $1 per share to earnings in less than five years. On its current $3.00 to $3.25 EPS base, a $1 increase is quite meaningful.
Don't throw the lunch out just yet
Although Kors has undoubtedly eaten a chunk of Coach's lunch when it comes to North American market share, that doesn't mean this well-branded, well-run, company isn't attractive from an investment standpoint. With that said, there might still be value to be found in the stock. Given the company's operating structure, it won't take much for the company to see a meaningful turnaround in earnings. Its return on investment is an impressive 43%, compared to Kors 39%.
Valuation wise, the company is cheap, and for good reason. Its market share declines means the stock will trade sub-industry averages until it can justify that it's a growth story. Assuming the company is done growing, its current multiple is quite fair. You could invest in the company for the 2.8% dividend yield and near 6% free cash flow yield and be done.
So, the company is priced for virtually no future growth. However, any surprise could lead to a nice pop in the stock, which comes as any meaningful expectations have been taken out of the stock. Analysts are heavily conflicted with what Coach's future holds. Fiscal 2015 EPS estimates range from $3.02 to $3.75. -- meaning Coach trades at a forward price to earnings multiple of somewhere between 13x and 16x. If the stock does show signs of slowing the market share bleeding in North America and China expansion/growth goes as I expect, I'd look for the company to quickly trade up to $58 by year end.
Disclosure: I have no positions in any stocks mentioned, and no plans to initiate any positions within the next 72 hours. I wrote this article myself, and it expresses my own opinions. I am not receiving compensation for it (other than from Seeking Alpha). I have no business relationship with any company whose stock is mentioned in this article.