Kinder Morgan Energy Partners (NYSE:KMP) is selling 6.9 million shares intended to repay commercial paper and for general partnership uses. The stock sale was severely criticized here at SeekingAlpha. Specifically, the article suggested the stock sale was poorly timed and should have been used to repay more expensive long-term debt rather than shorter-term debt. While no one likes having their positions diluted by equity offerings, this is how KMP and other MLPs finance themselves. Every year, KMP sells equity and debt "to repay commercial paper and for general partnership purposes." This February's offering is not a departure from KMP's previous equity offerings. The company makes debt and equity offerings each and every year. Anyone investing in KMP - or, for that matter, any MLP - should be prepared for this inevitable event. KMP does not time its stock issuance to take advantage of a high stock price. Rather, it sells stock when the company needs money to buy pipelines or repay debt.
Below is the history of KMP's equity offerings. Notice that its equity offerings are used almost always used to repay short-term debt and for general partnership uses and are not timed to take advantage of high share prices. Rather, KMP issues stock to meet its capital needs. However, stock offerings are often followed by higher share prices.
Kinder Morgan Energy Partners Always Prepares Investors For Its Stock Offerings.
This offering should come as no surprise. As it does every year, KMP alerted shareholders about its capital needs during its investors annual meeting in January.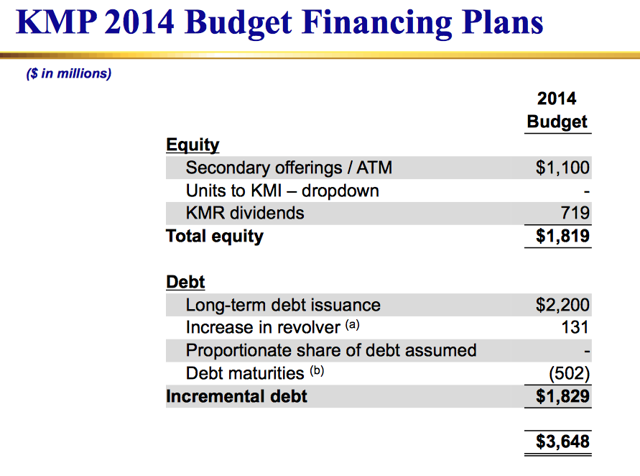 Bottom Line
KMP's stock offering provides the capital to fund the company's projects and debt. This issuance should not surprise anyone. Without stock and debt issuance, there would be no expansion capital. Over the last 20 years, these stock offerings have served KMP well. After all, KMP shares have increased in price by 1200% - not including their bountiful distributions.
Disclosure: I am long KMP. I wrote this article myself, and it expresses my own opinions. I am not receiving compensation for it (other than from Seeking Alpha). I have no business relationship with any company whose stock is mentioned in this article.
Additional disclosure: The opinions in this document are for informational and educational purposes only and should not be construed as a recommendation to buy or sell the stocks mentioned. Past performance of the companies discussed may not continue and the companies may not achieve the earnings growth as predicted. The information in this document is believed to be accurate, but under no circumstances should a person act upon the information contained within. We do not recommend that anyone act upon any investment information without first consulting an investment advisor as to the suitability of such investments for his specific situation.